Janet Jackson's Relationship Status In 2018 Might Make You Scratch Your Head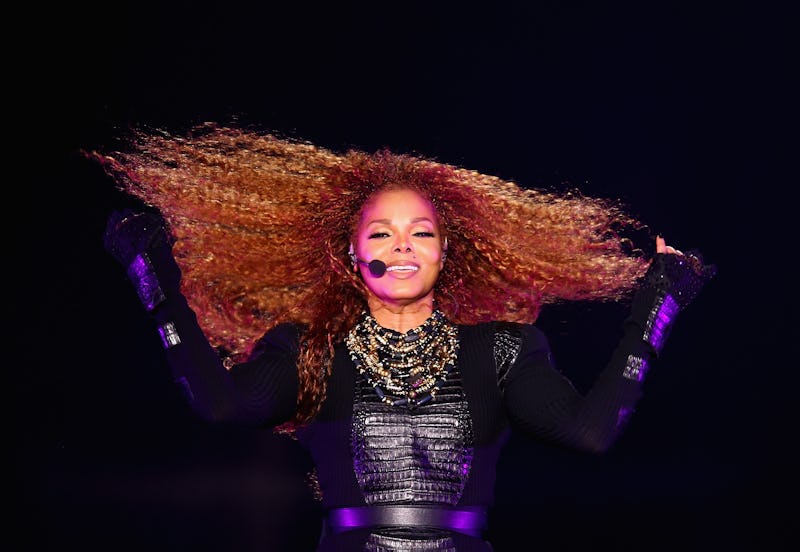 Francois Nel/Getty Images Sport/Getty Images
With the Billboard Music Awards now right around the corner, fans have plenty of questions about who Janet Jackson is dating in 2018. While details about the current status of the legendary performer's love life have never been confirmed by the singer, rumors that Jackson had rekindled an old romance with a former flame have been swirling for months now. The speculation began sometime last year after Jackson's marriage to Wissam Al Mana ended.
As a recap, Jackson and Al Mana wed in 2012 and welcomed their son Eissa Al Mana in January 2017. Just a few months after giving birth, Jackson and Al Mana split in April 2017.
Many may remember that Jackson's pregnancy prompted her to delay half of her Unbreakable world tour in 2016. The legendary singer took to social media to share a video announcing the hiatus in April 2016, while thanking her fans for their support during the tour's delay.
Jackson said in the Twitter video:
"We're in the second leg of the tour and there actually has been a sudden change ... My husband and I are planning our family, so I'm going to have to delay the tour. Please, if you can try and understand that it's important that I do this now. I have to rest up, doctor's orders, but I have not forgotten about you. I will continue to tour as soon as I possibly can."
In the months following their breakup, rumors began swirling that Jackson had gotten back together with ex-beau, Jermaine Dupri, according to E! News. The former lovebirds, who split in 2009 after seven years together, were spotted hanging out together and reportedly "getting close again," according to a November 2017 story from E! News. An insider for the outlet went onto share that the duo are "consistently in contact." In December 2017, Dupri and Jackson were reportedly spotted "cuddled up in a private booth holding hands" at STK restaurant in Atlanta, according to a source for People.
However, Dupri talked about the rumors with Entertainment Tonight in January: "I never knew us not to be friends. These stories are just all over the place. I never knew us not to be friends. People keep making up these stories."
While her current relationship status is a mystery, she has other things to focus on. Of course, there is her 1-year-old son, Eissa. Jackson recently told Billboard that being a mother to her child has transformed her life:
And while we're talking about positivity, let me also say that my son, even in his short 17 months on the planet, has showed me that love, no matter how deeply you believe you have experienced that emotion, can always go deeper. Love is limitless. And for someone like me, raised in show business where self-concern is always a priority, how fortunate I am now to be concerned, first and foremost, with the welfare of someone else. Day after day and night after night, holding my baby in my arms, I am at peace. I am blessed. I feel bliss. In those moments, all is right with the world.
And on Sunday, May 20, Jackson is set receive Billboard's Icon Award at the 2018 Billboard Music Awards, according to E! News. Jackson will receive the honor, joining past legends such as Cher (who received the award in 2017) and Prince (2013's recipient).
Jackson is no stranger to the ceremony, winning 10 BBMAs throughout the years. She has been nominated for a total of 18 Billboard Music Awards between 1990 to 2001. In addition receiving the honor, the "Control" singer is also scheduled to perform, marking a moment that will become her first television performance in nine years.
Jackson's relationship status may be unclear for now, but it sounds like she has plenty of love and success in her life already.