Why This 'Big Brother' Houseguest Is Going To Keep You Entertained "24/7"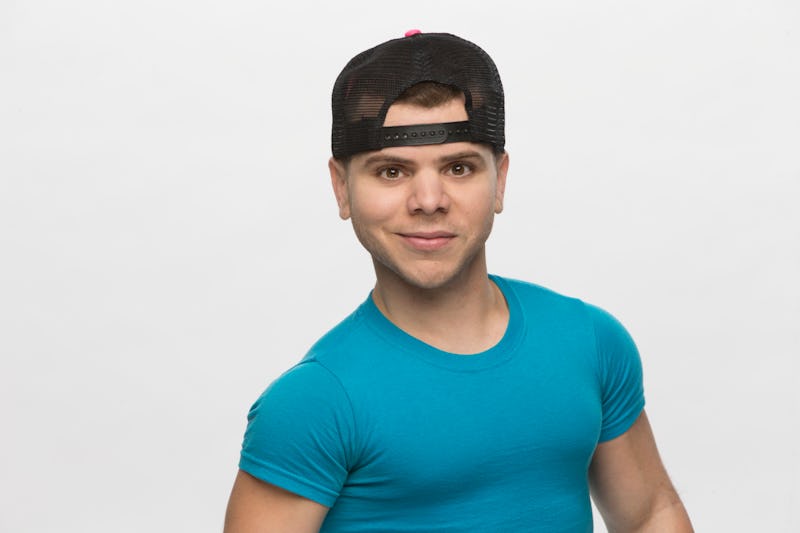 Sonja Flemming/CBS
Big Brother will turn twenty this year when its upcoming season premieres on June 27. As always, there will be 16 new cast members competing for a grand prize of $500,000. After all these years, the show is still notorious for featuring interesting characters that fans will either love or hate, so let's check some of these newbies out, shall we? One house mate already looks ready to stir up some drama. So who is JC from Big Brother 20 and how does he plan on winning the grand prize?
According to CBS, JC Monduix is a 28-year-old professional dancer from Miami who now resides in California. His official bio says that JC isn't s all that worried about making friends in the house. "I'm very good with people. It could be difficult to be liked by everyone, but I will do my best," he said.
JC also said that he's only 4'8" and has a "very short fuse" when it comes to his height, which means that his cast mates should be careful about what they say to him. But he's not really a fighter. Overall, his strategy appears to be winning people over by way of being a sweetheart. He added, "I am already thinking about [my strategy for winning]. I am going to be the sweetest small guy that everyone would want to hug and kiss."
Other than his CBS bio info, there's not a whole lot out there on the internet about JC. He's got almost 7,000 followers on Twitter, but his account is now private, perhaps because of the show. So we don't know yet what he tweets about, but we definitely will soon.
Possibly dancing, since his career seems to be really important to him. In an interview with Entertainment Tonight Canada, JC elaborated more on what kind of dancing he works in. "I do professional dancing. Not really break dancing, I do more choreography dancing," he said. JC added, "Nothing too crazy, just following choreography for big shows and music festivals. Always with some other people. And we also have crazy headpieces and crazy outfits. So we have to be able to work with all that stuff and move and not fall onstage."
When asked if he was going to be dancing in the house during his time on Big Brother 20, JC said that viewers might catch a glimpse of some sweet moves, but that's not all he has up his sleeve. "I'm gonna be so bored, probably sometimes — I'm gonna dance, I'm gonna do strategy, I'm gonna send people home, I'm gonna win competitions. I'm gonna give you entertainment 24/7," he promised.
Since he hasn't been sleeping on strategy, other people in the house better look out. If you're unfamiliar, the format of Big Brother requires houseguests to make alliances and deceive others, all in the name of putting each other up for eviction and voting on who has to go. Of course, there are always a ton of twists, turns, and surprises that shake up the season, which is why JC is smart to plan ahead. The last person standing wins the grand prize.
According to JC, his key method of playing the game is going to be to keep quiet and fly under the radar so he doesn't become a target for the other people in the house. Hopefully that way, he can last as long as possible before needing to turn the tables and become more antagonistic with his play. "I'm just gonna go in there and not try to be this super amazing player [or] super amazing guy, no, [I'll be] super quiet. It's gonna be really hard," he said in the same Entertainment Tonight interview. "I'm trying to prepare myself mentally to be quiet. If you need something I'm gonna go help you. [I'll] be the baby of the house, killing them with kindness," JC added.
"I think I have a good chance to win. I have to be positive about it," he said in an interview with CBS. With that attitude, JC is heading into the game with a great outlook. But once he's thrown into a house with 15 other personalities, all of that planning could easily be for naught.