Laura Anderson Has Reportedly Got A New BF & He's An Ex 'Love Islander'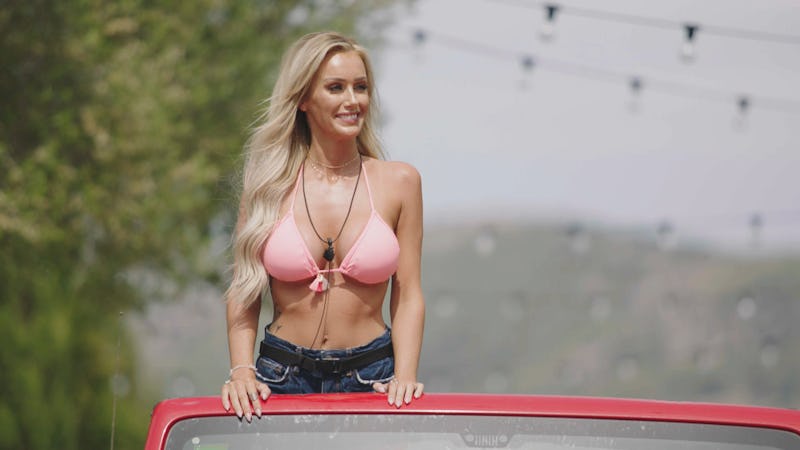 ITV/Love Island
There's some buzz about Love Island again and before you jump to conclusions, nobody's split up again. (Well at least, not that I know of.) While the couples from the latest cycle have been dropping like flies recently, one of my favourite Islanders has apparently had a second shot at love and I'm crossing my fingers and toes for her that it's true. So, who is Love Island's Laura Anderson dating?
Although it hasn't been officially confirmed, Laura has hinted at the fact that she has a new man following her split from model Paul Knops and I'm ready to break out the bubbly. And, according to a new report by The Sun, Laura is now dating Max Morley from Love Island Series 1. The paper claimed on Wednesday that Laura and Max have "been going on secret dates for a number of weeks" and that a relationship is on the cards for the pair. "They're really starting to get close and are definitely very well suited," a source told the paper. "He has really fallen for her and things are going well between them."
I've reached out to both Laura and Max's reps to see if there's any truth to the rumour, but am yet to hear back. However, when I do, you will be the first to know. But on the DL, I'm my straight-talking, badass queen has finally met somebody deserving of her.
Laura split with her Love Island beau Paul in September. At the time, their reps stated their hectic work schedules were to blame, however, allegations later surfaced indicating the break-up wasn't as amicable as previously thought.
On Monday, The Sun claimed that Laura was not happy after they parted ways and had an hour long phone call with Paul's other ex in a bid to "dig up dirt" on him. But she took to social media to deny the allegations, painting her as a "bitter ex". On the contrary, she said that she has long moved on and is "happily seeing someone."
Her Instagram story, which was screen-shotted by CapitalFM, was a text post which read: "Regarding today's press; I think its quite clear from how I acted in the villa that I'm not a 'bitter ex'. Regardless of what has been inaccurately printed and what I was informed about Paul, I'm not the one selling stories on the matter."
Yiiiikes, that's a loaded accusation if I've ever seen one. But she quickly veered away from the matter, revealing she was over her ex Knops and moved onto greener pastures. She continued: "Paul is in the past and I'd like to keep that way."
If the rumours about Laura and Max are true, then it's little wonder she wants to stop talking about Paul. BTW, if you're scratching your head over who Max Morley is, allow me to fill you in: he's a fellow Love Island graduate from the 2015 cycle. He wound up winning his series alongside Jessica Hayes, however their romance — like Laura and her ex Paul — just wasn't meant to be and they split just over a month later.
Well, I don't know about you, but I'm hoping Max and Laura have finally found their types on paper in each other. I've got high hopes for this one.