You Can Help This Man Who Was Injured Saving His Fiancée From The Charlottesville Car Attack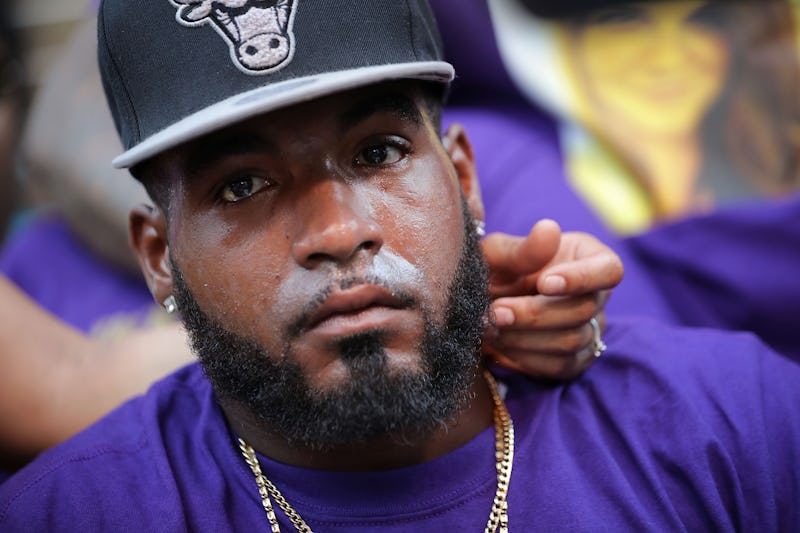 Chip Somodevilla/Getty Images News/Getty Images
Protests in Charlottesville, Virginia, ended tragically on Saturday when an alleged "Unite The Right" rally attendee drove his car into a crowd of counter-protesters peacefully marching against white supremacists — killing one woman and injuring dozens of others. Now, concerned people are looking to help a man injured protecting his girlfriend in Charlottesville by crowdfunding to cover his medical costs.
As the New York Post reported, Marcus Martin, 26, was injured after pushing his fiancée Marissa Blair, 27, out of harm's way when chaos broke out at the protest. The moment was captured in the Post's front page, with Martin mid-air behind the Dodge Charger that allegedly plowed into the crowd of protesters.
Due to the physical nature of Martin's work — he makes his living as a landscaper — and his various injuries, creators of the campaign write that they are looking to raise enough money to help cover his medical bills and offset his lost wages. Per the GoFundMe campaign description:
Marcus was severly [sic] injured when a terrorist drove through a crowd of peacful [sic] protestors on August 12th in Charlottesville, VA. Marcus heroically made a split second decision to save his fiance's [sic] life by moving her out of harm's way, and in the process suffered a broken ankle, broken tibia, and several torn ligaments. Marcus works as a landscaper and will not be able to return to work and earn a wage for an unknown length of time.
In an interview with the Daily Mail, Blair — who said she also knew Heather Heyer, who was killed in the attack — described the scene and said that Martin didn't hesitate to save her from the vehicle. They were chanting "Whose streets? Our streets!" and decided to turn left that the intersection when they heard "a commotion from the top of the street."
"It happened so fast. I felt myself shoved out of the way," Blair told Daily Mail. "[Martin] had pushed me out of the way. ... It was so fast. All he could think was to push me. He saved me then he was under the car. I checked myself and then immediately thought, where's Marcus?"
In the harrowing moments that followed, Blair said she started to look for Martin and thankfully found him "with no blood on him."
Reflecting on the incident she said:
It was senseless. People said we were wrong for being there but it was that guy [driver] who was wrong. Why would anyone think that it's okay to do this? He rammed into us.
As the aftermath of the Charlottesville protests bring about more difficult conversations, the stories of the helpers and the heroes — and the ways people can help them — are a great way to feel less helpless.