Here's Everything That You Need To Know About Ariana Grande's Beloved Nonna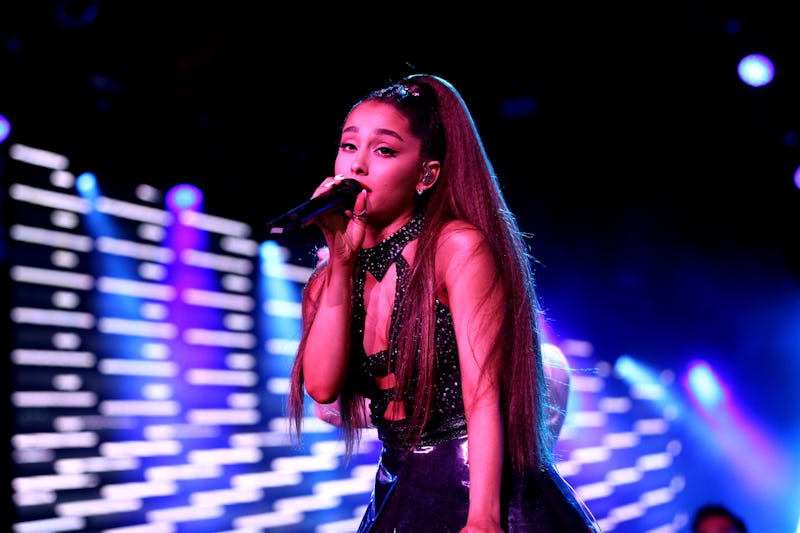 Rich Polk/Getty Images Entertainment/Getty Images
It's no secret that Ariana Grande loves her grandparents. The singer has been open about the major role they've played in her career, and Ariana Grande's grandma is a huge influence on the singer. Nonna, whose name is Marjorie Grande, has been a source of wisdom and inspiration for the singer since she was a kid. These days, Nonna still plays a major role in Grande's life, and the singer often posts quotes, pictures, and videos of her grandmother on social media. Nonna, who was born in 1925 and is 93 years old, is still very close with the star.
Fans are likely familiar with the singer's late grandfather, Frank Grande, who encouraged her music career, as well. Nonna might be more of a mystery, but she's been supporting Grande's singing for just as long. In 2014, Grande appeared on the Today Show with her grandmother. In the interview, Nonna said she's known her granddaughter had talent ever since encouraging her to audition for a local production of the musical Annie in Boca Raton, Florida. "When she was about six or seven years old, I made her audition for Annie," she said in the interview. "She auditioned and became a star. She became Annie." Nonna still has this confidence in Grande's talent, and continues to support her music.
Grande often posts about Nonna on social media, giving fans insight into their close relationship. In October, the star posted a sweet birthday message for her grandmother on Instagram. The video showed the singer asking for an opinion on her outfit, and Nonna offered words of encouragement. "Go show them how glamorous you can be on the stage," Nonna said. In the caption, Grande shared a special birthday message, writing:
"hbd to the queen of the galexy [sic] and the baddest b*tch to ever grace the planet i love u, qm."
It wasn't the only recent time the God Is A Woman singer shared a sweet moment with Nonna. In August, the star shared a funny Twitter thread about her grandmother. The Sweetener singer wrote: "she said 'ur a tough cookie like me! and everyone wants to be around you cause ya just like me ya see?' sksjsjs". That wasn't all — Grande continued: "she also told me this morning that she thinks i have outstanding knees....? and that i got them from her.....?" Clearly Nonna believes that a love for music is not the only thing that runs in the family, and Grande promised this isn't the only time her grandmother has made hilarious comments.
One fan praised Nonna for her self-love, and Grande confirmed that this was just one perfect quote, but that there were many more. The singer also promised that there would be more updates from her grandmother, as most of her quotes are just as good. On Twitter, she wrote: "no no no this isn't even half of it. i'm really gonna post everything she says from now on bc it's insane she's so funny and dope and inspiring. not a f*ck given."
It seems true that Grande has inherited many traits from her strong and funny grandmother. The singer had to get her own sense of humor from somewhere, and from the few moments she's shared on social media, her grandmother is clearly super funny. In August, she also shared a video dancing with her grandma to "Get Well Soon." Her grandmother has a huge smile on her face that seems to show how incredibly proud of granddaughter she is.
In the past, Grande has been open about her love for her grandparents. In 2012, she shared a short video titled "Frank Meets Babe" on YouTube. The video tells the story of Marjorie and Frank Grande, from their first dates to starting a family. "We enjoyed the same things music, dancing, dining out," Frank said. Unfortunately, Grande's grandfather passed away after a long battle with cancer in 2014.
Grande continues to pay tribute to Nonna, showing just how meaningful their relationship is. In August, the singer brought the family matriarch on stage during a performance of God Is A Woman during the VMAs. In order to show her appreciation for the women in her life, the star welcomed her mother, grandmother, and cousins onto the stage at the end of the performance. The song ended with Grande holding her Nonna and mother's hands, and the sweet moment shows what a powerful influence her grandmother is in her life.