Penn Badgley Got Hitched To This Lovely Woman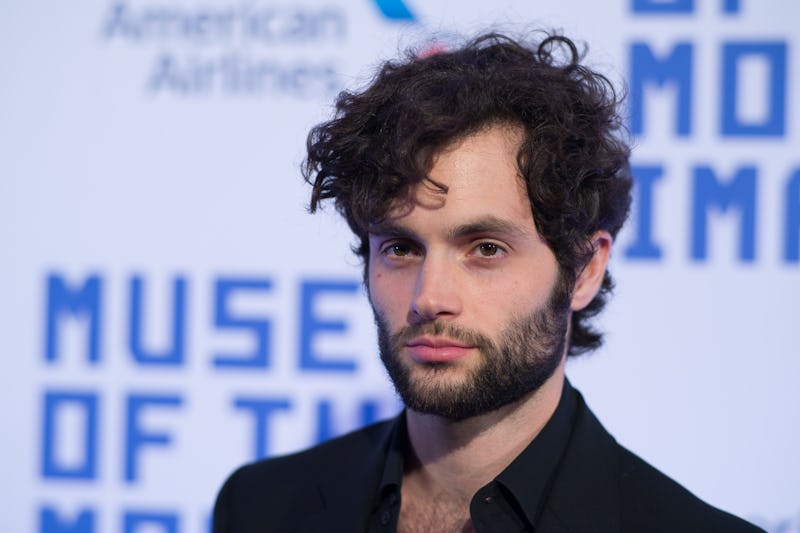 Dave Kotinsky/Getty Images Entertainment/Getty Images
Hey Upper East Siders, I have the biggest news ever. It's being reported that Penn Badgley is married, according to E! News. Could it be that Lonely Boy is no more, and Dan Humphrey has settled down with someone other than Serena van der Woodsen? And, if so, who is Penn Badgley's rumored wife? As it turns out, the Gossip Girl star is allegedly married to Jemima Kirke's sister, Domino. Kirke and Badgley's relationship was first reported back in July 2014, and it seems as though the couple's relationship has moved to the next level. Now, congratulations are in order!
A source allegedly confirmed to E! News that the couple got married at a courthouse in Brooklyn on Monday. It's impressive that the Gossip Girl star managed to get married under the radar, without alerting the media, and without text alerts being shared city-wide. Photos of Badgley's nupitals have made their way on to the internet, and his low-key wedding is super cute. In a similar vein to Pretty Little Liars star Troian Bellisario's wedding, Badgley opted for a small ceremony with a bohemian vibe, and his wife Domino Kirke's elegant white lace dress looked vintage and stunning.
Kirke's long brunette hair will totally remind you of her sister who stars in Girls as Jessa.
Post-Gossip Girl, Badgley's career has moved into music, and his new wife is also a musician. Kirke previously recorded with Mark Ronson, and her music was also featured in Lena Dunham's Tiny Furniture. In June 2015, Kirke told Into The Gloss,
"When I'm not doing music, I work in hospitals a lot. I'm a labor coach and doula — I assist women through childbirth, so I am there for the whole experience of labor."
It's incredibly interesting to read about Kirke's career, as in Season 4 of Girls, it was revealed that Adam's sister Caroline (played by the incredible Gaby Hoffmann) had become a doula. Perhaps Kirke was the inspiration for Lena Dunham's script?
In May 2015, Vogue called Kirke a "triple threat", in reference to her being a mother, a musician, and a doula. She told the magazine, "I felt this pressure to just be the singer in my family or the musician in my family. But once I had my son I was like, 'No, I can do all of it.'" With such a talented family, it's no wonder that Domino Kirke is every bit as ambitious as her sisters.
While most will know Jemima Kirke's work on Girls, the third Kirke sibling, Lola, is also a familiar face. Not only did she star as the lead in Noah Baumbach's movie Mistress America, she also appeared in Gone Girl.
In Jan. 2017, Domino Kirke told Vice that her son was born eight years ago, meaning that Badgley just became a stepfather. Major congratulations are in order for the artistic, and super productive, couple. Hopefully, there will be lots of musical collaborations in their future. Lonely Boy is definitely no more.