This Commercial Starring Paralympic Gold Medalist Rico Roman Is Beyond Inspiring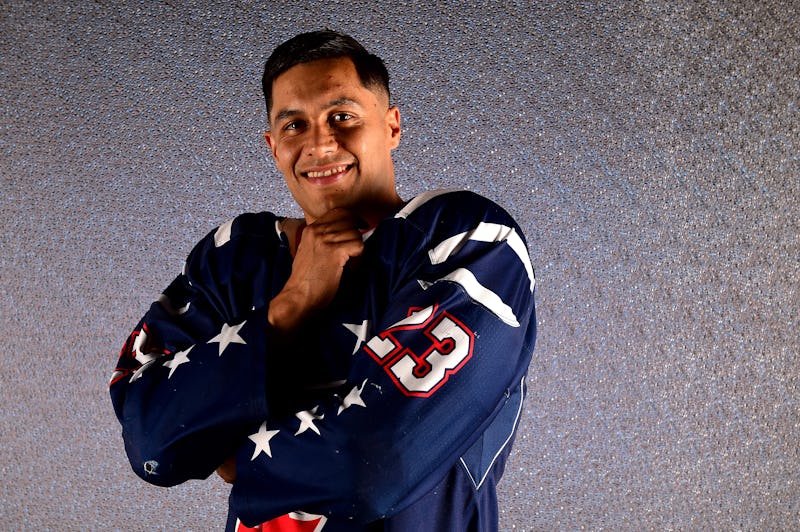 Harry How/Getty Images Sport/Getty Images
It feels like every Olympian is inspirational is some way, but one USA athlete's story struck a chord with Twitter. A moving Olympics commercial from Comcast has people asking who is Rico Roman? The two-time Paralympian is an Iraq War veteran, a Purple Heart recipient, and a Gold Medal recipient. It's no wonder that Roman's enduring spirit is touching hearts — this USA athlete is living proof that it's never too late to find a new love in life.
According to Roman's official Team USA bio, the Paralympian is a retired Army Staff Sergeant whose leg was amputated in 2007 after he was wounded by a improvised explosive device. In 2008, he was introduced to the sport of sled hockey, and by 2009, his love for hockey was cemented. He went on to win a gold medal at the Sochi 2014 Paralympic Winter Games, giving this brave veteran one amazing second act.
In his Comcast commercial, Roman explains how hockey gave him another outlet to serve his country. The athlete says,
"Life has a way of testing your grit, where it questions what you're made of. Nothing's easy, but at the end of the day we have to dig deep and push past those points. I was in my third tour in Iraq when my vehicle was hit by an IED, I looked down and I knew I was out of the fight. My first thought was about my guys. I didn't want them to come get me. You wouldn't want to see your brother or sister get hurt. But I know there was nothing I could tell them to not come rescue me, because we're family. And they saved me. That's the thing that the military teaches us — that sense of brotherhood, that sense of teamwork, and that's the sane thing with hockey. You get that bond again."
His words seem to have struck a chord with many people who are watching the opening ceremony. Roman's drive has taken his from the battlefield to the Olympics, and his appreciation for how hockey has changed his life is absolutely beautiful.
In an interview with NBC, Roman explained that prior to being introduced to sled hockey in 2008, he had no experience as a hockey player whatsoever. The athlete grew up in Oregon, which he told NBC isn't "a hockey state." However, he quickly fell in love with the sport and the renewed sense of camaraderie that it gave him. Roman tried out for the national team in 2010, but he didn't make the cut. That's all it took for this veteran to commit himself to being the best that he possibly could be at hockey.
Roman told NBC,
"I worked really hard to get better. One of the national team players noticed, and said he'd heard about me and told me to keep up the good work. That really inspired me and made me think that one day, I'd be the national player telling an up-and-coming player to keep up the good work!"
Now Roman is at his second Olympics and inspiring people around the world with his talent and story. For veterans and non-veterans alike, Roman's refusal to give up and his journey to the Olympics is both touching and totally badass.
Whether you're a longtime fan of Roman or you just discovered this remarkable athlete in his Comcast commercial, he's one to watch at the 2018 PyeongChang Games. Sled hockey is an amazing sport full of passionate Paralympians — and Roman is determined to help lead Team USA to victory.
As Roman told NBC, he definitely has a strong competitive streak. When asked which teams he sees as rivals, the Paralympian said,
"Canada and Russia, although I'd never take any team we compete against lightly. All it takes are a few lucky goals to turn the table on any match."
If Roman has his way, there's no doubt that Team USA will stay focused and take home the gold.