Everything You Need To Know About 'Bachelor' Frontrunner Seinne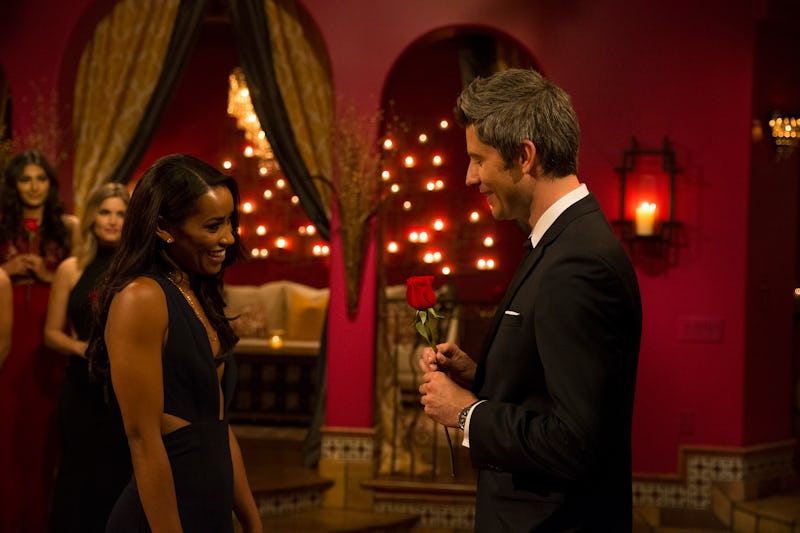 ABC/Paul Hebert
Every season of The Bachelor seems increasingly filled with women with stacked resumes. Seinne, even among a group of impressive ladies, is already a standout on Arie Luyendyk's season of The Bachelor (editors: Amy Barbour, Debra Light). The Yale alum and commercial real estate manager was a standout on night one for her elegance and honesty in what is most likely a pressure-filled situation. Time will tell who are the frontrunners this season, but so far Seinne is definitely in the mix, and she is clearly a captivating person. So, who exactly is Bachelor contestant Seinne? Her social media gives us a peek inside her life.
But first, a stamp of approval from The Bachelor host himself: Chris Harrison, who fully supports Seinne and believes she made a wonderful first impression. Harrison spoke to People magazine about the women who stood out after the premiere. Of Seinne, Harrison said, "This girl is flat out impressive. She's incredibly intelligent and she definitely has this zest for life that Arie is in awe of. He's a little bit mesmerized by her."
With an endorsement from Harrison himself and a so-far smitten Bachelor, Seinne doesn't seem like she will be going anywhere anytime soon. Thus, it's time to dive into Seinne's life, to find out who the impressive woman Arie may fall in love with really is.
She's An L.A. Lady
RealityTVWorld reported that Seinne previously lived in Newport Beach, California. Seinne tweeted out in November that she is now "officially an L.A. resident," so it seems like she has moved. While Newport is only about an hour outside of L.A., it's still a change for the Bachelor contestant, who's now in the heart of show business land.
She's "Aunt Seinne"
Seinne appears to be very close to her family, recently posting about a birthday lunch she had for her mom. In the above Instagram, she posts about how much she loves being an aunt, captioning the photo, "Hanging with this sweet little 🐒 #angelbaby #auntielove." She has multiple photos on her Instagram showing off her "#auntielove," so it's clear that she's proud of the role she plays.
Yoga Is Her Jam
The Bachelor mansion can often be a stressful place to live and fall in love. Former Bachelorette Kaitlyn Bristowe has been one of the most open about the anxiety she experienced on the show, telling Entertainment Tonight, "I lost hair [throughout the season], like chunks! I had a bald spot at the back of my head from stress."
In a high pressure situation like dating on national television, it's good to have something to ground you. For Seinne, yoga seems to be the answer. She posted the above Instagram with the caption:
"Bitter sweet emotions during the last weekend of teacher training. I've been so incredibly humbled by this experience and I've learned that yoga is so much more than a physical practice. Yoga is a union of mind, body and soul. Yoga is home."
Hopefully, her yoga can keep her grounded and relaxed throughout the love-finding process.
She's Team Bulldogs
Seinne is an Ivy League graduate. According to RealityTVWorld, she graduated with a BA in economics from the prestigious university. According to her LinkedIn, Seinne was an involved student at Yale being a member of the Yaledancers, the Yale Dramatic Association and Yale's Black Women Coalition.
Her resume was impressive before she graduated college and has only increased since graduation. According to her LinkedIn she now works as an associate at Latitude Management Real Estate Investors.
She's Supportive Of Her Fellow Ladies
Some of the contestants have taken to Twitter to talk about the season so far. Seinne's tweet shows that she's supportive of her fellow competitors, calling the group of women "amazing." While this may seem small, it's nice to see that even though they all shared one race car driver, there is still a lot of love and friendship between the women.
Crowns Before Roses
Seinne posted this throwback photo of her as Miss Teen Long Beach. With or without Arie at the end of The Bachelor, this is a woman who is royalty. Who needs roses when you've already won a crown? All joking aside, while she is a frontrunner this season, Seinne clearly comes out on top with or without Arie's heart — and her Instagram alone is proof of how fab her life is.