Teresa Palmer's Creepy New Role As A Witch At Oxford Uni Will Give You Chills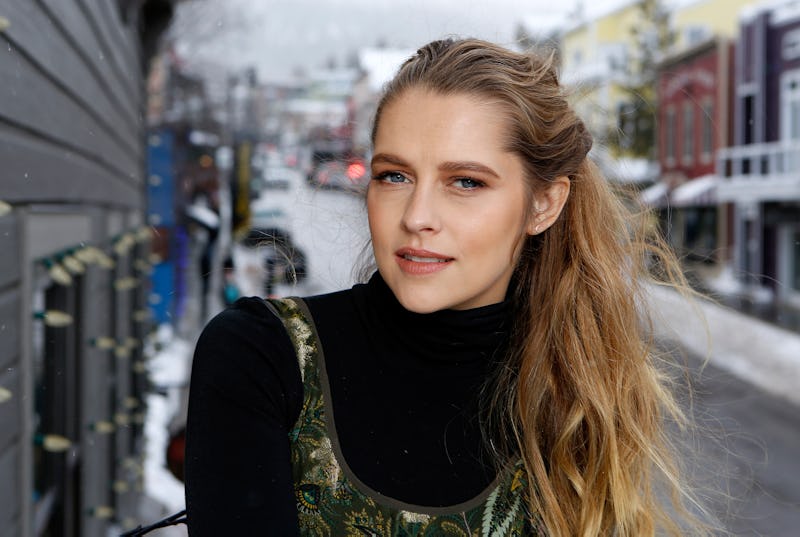 Rich Polk/Getty Images Entertainment/Getty Images
A new day, a new series. You may be struggling to keep up with all the latest releases but here's one more to add to your list. A Discovery of Witches is a new supernatural drama centred on an ancient conflict between vampires, witches, and daemons. With an a cast full of familiar faces, one actress particularly stands out. But who is Teresa Palmer?
The Australian star has a long list of films to her name. Whether it's playing Adam Sandler's love interest in 2008 Disney film Bedtime Stories or starring alongside Nicolas Cage in The Sorcerer's Apprentice, you're guaranteed to recognise Palmer from somewhere.
One thing that's clear about the 32-year-old is that she always strives to turn even the most basic of female roles into strong powerful ones. In the 2009 sci-fi blockbuster I Am Number Four, she turned into a badass alien and had to master the art of stunt work. And in 2016, she showed off her emotional side alongside Andrew Garfield in war drama Hacksaw Ridge.
Now, she's taking on the character of Diana Bishop in A Discovery of Witches. The eight-part series has been adapted from Deborah Harkness' All Souls trilogy of books and sees Palmer playing a witch who has swapped all things mystical for a life of academia.
After she discovers a super old book, she's pulled into the aforementioned fight and comes across a vampire slash geneticist (played by The Crown's Matthew Goode). Along with those two, the series stars a whole host of famous faces including Game of Thrones' Owen Teale, Doctor Who's Alex Kingston, and Waking the Dead's Trevor Eve.
Palmer has hit headlines in recent years for her parenting choices. The actress has two sons — Bodhi and Forest — with fellow actor Mark Webber. In 2016, she became the subject of controversy after breastfeeding her eldest son, who was two at the time.
Palmer penned a response to critics on website YourZenMama; a supportive parenting site which she set up with friend Sarah Wright Olsen. "The social discrimination against women who breastfeed their older toddler can be immense," she wrote, adding: "I know women who won't feed their two-year-old in public for this reason. From dirty looks, to whispers and nasty comments, it is downright bullying."
Highlighting scientific evidence that appears to show the benefits of long-term breastfeeding, she continued: "I am personally really inspired by the idea of letting Bodhi choose how long he breastfeeds. It is my hope that the social pressure to wean your child starts to fade. The sad fact is that until breastfeeding ceases to be sexualised, we will be fighting this battle."
The star has also spoken about breastfeeding on the set of her new series, telling the Radio Times that she felt sorry for her co-star, Goode: "Poor old Matthew, it's just out. It's like much more conservative with breastfeeding around here. In L.A., everyone breastfeeds publicly. Here, I whip it out and Matthew runs away!"
In another interview, she revealed her love for Wales where a good deal of A Discovery of Witches was filmed. (Oxford and Venice made up the other two locations.) As reported by The Irish News, Palmer hopes that audience ratings will be high enough for another series to be commissioned. "Fingers crossed we are coming back for another season because I have really fallen in love with Cardiff," she said.
If you'd like to make sure that happens, you can catch A Discovery of Witches Fridays on Sky One at 9 p.m.