Here's Why The Man In The Cindy Crawford Super Bowl Ad Looks So Familiar To You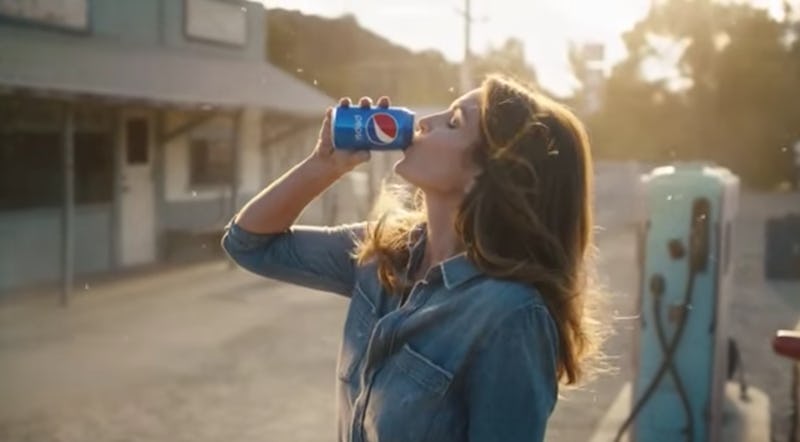 Screengrab via YouTube
Whether or not you're a sports fan, one thing's for sure: Everyone is going to be talking about the Super Bowl commercials this year. One major ad spot on the horizon? Cindy Crawford is reprising her iconic Super Bowl ad from 1992 — but, this time, there's a twist. Crawford's 18-year-old son, Presley Gerber, will star alongside her in the 30-second spot. And while Pepsi has only released a seconds-long teaser for the new ad so far, it's already giving off major throwback vibes.
The original ad features Crawford in a white tank top and denim shorts, chugging a Pepsi she buys at a gas station vending machine. (Oh, and there are two mystified young boys watching her from behind a fence.) The clip was instantly unforgettable — in fact, Crawford explained in a press release that starring in the 1992 ad "was a big moment" for her and that people still recognize her from the commercial. That's pretty impressive, considering it's been 26 years since it aired.
"To this day, people come up to me to talk about how much they loved my original Pepsi spot from '92," Crawford said in the press release. "The commercial was a big moment for me and has spanned generations. I am proud to play a role in this iconic pop-culture phenom and excited for fans to see our new take on the Pepsi spot during [the] Super Bowl."
In the 2018 version, Crawford sports a denim look — this time a button-up chambray shirt — and chugs a gas station Pepsi can once again.
We don't know exactly what role Gerber will play in the new ad, because Pepsi is saving the full video for its debut during the Super Bowl LII on Sunday. It won't be his Pepsi debut, though — Gerber and his sister, Kaia Gerber, also appeared together in a cameo from a 2002 Pepsi ad with Crawford. Clearly, they've been a Pepsi family for a while now.
The Gerber siblings are already following in their mom's footsteps, too; both are models, with Presley Gerber signed to IMG Models. A quick scroll through his IMG page will show that he is no stranger to being photographed; he may only be 18, but he's already built an impressive portfolio for himself. The new ad might be many people's first introduction to Crawford's son, but he's already made major strides in the fashion world. Earlier this month, Gerber walked in the Balmain show during Men's Paris Fashion Week 2018. Naturally, Crawford herself was in the front row to support her son.
He seems to be running in model crowds, too. He was seen with model Charlotte D'Alessio in Malibu last month, and he's also dated model Cayley King. He also has an impressive 570,000 Instagram followers. According to his IMG page, Gerber spends time living in both New York and Malibu. When he's not modeling, he also loves surfing, the agency notes.
Crawford's son won't be the only new face in the commercial, either. There will also be three more celebrities featured: people who've starred in previous Pepsi videos over the years. That means that anyone from Britney Spears to Jennifer Lopez to David Beckham could also appear in the video. Or maybe Justin Timberlake and Pink will appear in the spot, considering they're already involved with the Super Bowl (and have been featured in past Pepsi ads). This year in particular, Pink is set to sing the national anthem at the event, while Timberlake will perform the halftime show.
The upcoming Super Bowl ad is a part of the soda giant's "Pepsi Generations" campaign, which Pepsi hopes will honor "the brand's rich history in pop culture for 120 years." Pepsi will also be releasing some products in throwback-style "retro packaging" in conjunction with the campaign. And Crawford's Pepsi spot is far from the only high-profile ad that will air during the Super Bowl LII. Budweiser has also created a moving commercial about disaster relief; the company has donated to places in need of water, including Puerto Rico, Florida, California, and Texas. There's also a Skittles Super Bowl commercial starring David Schwimmer to look forward to, as well as a Kraft spot about the power of family.
Whether you're rooting for the Eagles or the Patriots — or if you're just watching the event to spend time with friends and eat some great food — there will be plenty of moments to keep you entertained, even during the commercial breaks.
Correction: A previous version of this story incorrectly stated the years since Cindy Crawford's Pepsi commercial aired. It has been updated with the correct information.