This Taylor Swift Song HAS To Be About Kanye & The References Are Mindblowing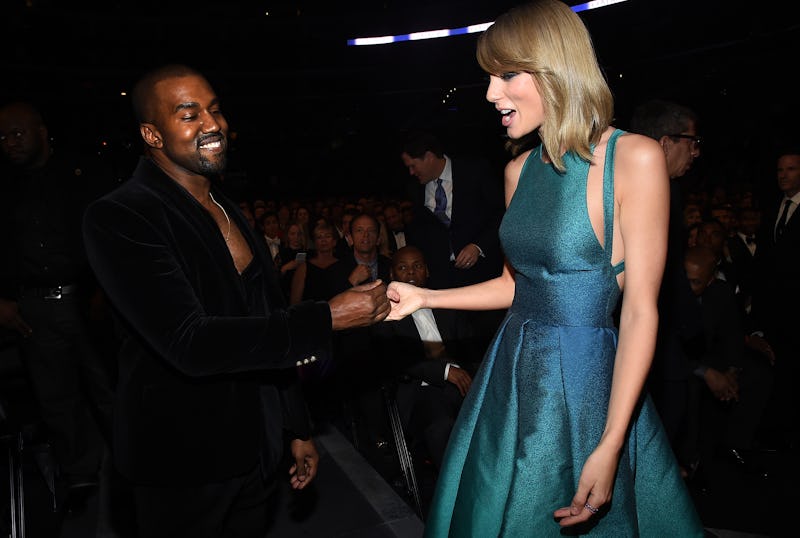 Larry Busacca/Getty Images Entertainment/Getty Images
Grab your spelunker helmet, microscope, cryptex, and scalpel, because Reputation by Taylor Swift is finally out, and there are lyrics to dissect. Without further ado, please welcome track 13 to the microscope stage. It's time to figure out who "This Is Why We Can't Have Nice Things" is about. Or at the very least, try to piece together the maybe-clues that may or may not be peppered throughout tune. Are you ready for it?
The song begins with Swift waxing poetic about all of the soirées she hosted over the summer, à la the the titular character from The Great Gatsby. But the fun comes to a screeching halt when someone "rain[s] on [her] parade," prompting her to seal the gates to her party palace. Just as Jay Gatsby learned, Swift's party marathon couldn't last forever.
With that, the chorus begins and Swift explains why she and the person who summoned a torrential downpour at her get-together "can't have nice things."
This is why we can't have nice things, darling
Because you break them
I had to take them away
This is why we can't have nice things, honey
Did you think I wouldn't hear all the things you said about me?
This is why we can't have nice things
But who broke the "nice things"? Is it an ex? An estranged friend? One of her cats?
Enter: The second verse. When the second verse shows up, the ambiguity politely excuses itself from the room:
It was so nice being friends again
There I was giving you a second chance
But then you stabbed my back while shaking my hand
And therein lies the issue
Friends don't try to trick you
Get you on the phone and mind-twist you
And so I took an ax to a mended fence
What's this? She's singing about an friend-turned-enemy who used a phone to "mind-twist" her? Hm. Hm. Hmm. Go ahead and let visions of the 2009 VMAs, Swift's intro to West's Video Vanguard Award acceptance speech, "Famous," and Kim Kardashian's infamous Snapchat posts dance around in your head.
The pre-chorus keeps the momentum going:
But I'm not the only friend you've lost lately
If only you weren't
So shady
Well, this sure sounds like a nod to 'Ye and JAY-Z's public rift. Oof.
And finally, there's the bridge. And oh, what a bridge it is. Near the end of the tune, Swift channels her inner Gatsby and raises a glass to some of the people in her life.
Here's a toast to my real friends
Is this... is she... could it be an allusion to a certain ditty titled "Real Friends"? Hm. Hm, hm, hm.
The bridge continues,
They don't care about that he said, she said
And here's to my baby
He ain't reading what they call me lately
And here's to my momma
Had to listen to all this drama
And here's to you
'Cause forgiveness is a nice thing to do
Haha, I can't even say it with a straight face
Does this entire bridge remind you of anything? The hook to "Runaway" by Kanye West featuring Pusha T, perhaps? Given Swift's connection to this particular Ye song, an intentional reference to the "Let's have a toast to the douchebags" hook doesn't seem too implausible. When Rolling Stone declared the My Beautiful Dark Twisted Fantasy track the best song of 2010, the publication wrote, "'Runaway' is Kanye's musical response to the Taylor Swift affair, but it's much more than that: a nine-minute meditation on romantic failure and public infamy."
The "Taylor Swift affair" is, of course, the "Imma let you finish" incident. Say it all together now: Swift's "You Belong With Me" won Best Female Video at the 2009 VMAs, West interrupted her acceptance speech and said Beyoncé's "Single Ladies (Put a Ring On It)" was the best video of all time, and the foundation of their feud was laid. One year later, 'Ye performed "Runaway" at the VMAs. The same night, Swift performed "Innocent," a song inspired by the "Imma let you finish" incident. So again, if Swift was indeed alluding to "Runaway," it wouldn't be a random move.
Of course, "Runaway" isn't the only song in music history to call for a toast; Yeezy's a brilliant innovator and artist and all, but he didn't invent singing about raising a glass in someone's honor. So yeah, it could be nothing more than a coincidence. All of this could be nothing more than a coincidence. But where's the fun in that? Don't rain on this theory parade.