This New 'Black Lightning' Character Could Signal A Major Outsiders Connection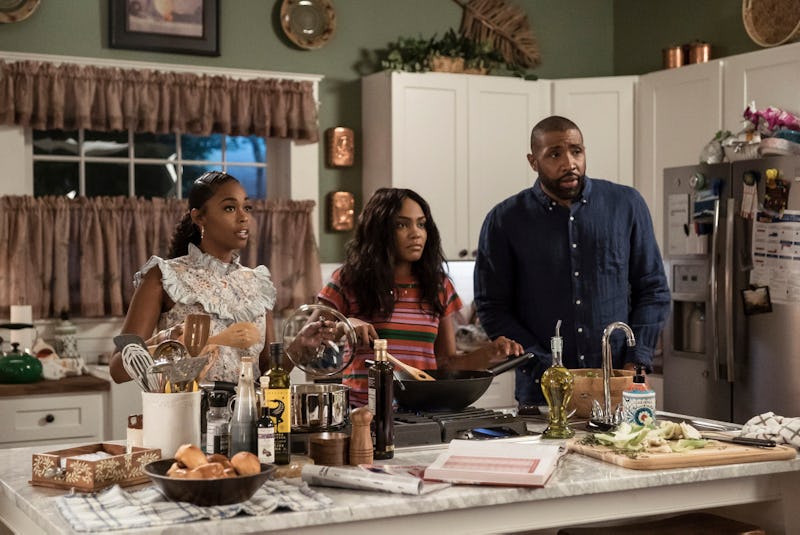 Annette Brown/The CW
Spoilers ahead for Black Lightning Season 2, Episode 2. Things are continuing to spiral out of control in Freeland. On this week's episode of Black Lightning, Wendy Hernandez escapes from the A.S.A pods after a few of them become unstable, shaking her awake from the sleep-like state she's been stuck in for many years. Her powers certainly give Black Lightning a run for his money, and based on her potential connection to the comics, she may end up becoming an integral part of the Pierce family's mission.
When viewers first meet Wendy, she's just stumbled out of her pod into a chaotic scene: Moments before, an unnamed boy arose from his pod and blasted a scientist with a powerful ray of light. Soon, Lynn arrives to find a traumatized Wendy standing in the corner. She tries to calm her down, but Wendy is understandably frightened, and seems to be experiencing some kind of psychosis. When a team of workers try to corner her, though, she suddenly generates a blast of wind, knocks out a wall, jumps from the building, and disappears into the night.
Of course, Lynn immediately tells Jefferson about the incident and warns him that the girl is very powerful. Jefferson goes to see Gambi for more information and finds out her name. Apparently, she'd been in captivity for 30 years. At the time of her capture, she was a brilliant girl heading to nursing school with aerokinetic powers — meaning that she can move and manipulate wind like Black Lightning does with electricity.
While Anissa and Jennifer had to learn how to control their powers, Wendy is already quite effective at using hers. She goes back to places that she frequented in her "former" life and wreaks havoc in a hallucinatory rage. This leads to a big fight between Wendy and Black Lightning. She's on the verge of blowing him into oblivion when he manages to get the upper hand and shock her back into reality. In the end, she decides to go back into the pod because she has no friends or family, but she may end up playing a larger role than Black Lightning is letting on.
Though there isn't a Wendy Hernandez in the DC Comics world, there is a Wendy Jones/Windfall. According to Comic Vine, the character is a young meta-human with aerokinesis who started off as a villain in The Outsiders comics. Windfall was a part of the Masters of Disaster collective that nearly killed Black Lightning before she eventually switched sides to join the Outsiders team.
It cannot be a coincidence to have a character with the same first name and powers pop up in the Black Lightning universe. Plus, IMDb has the character listed as Wendy Jones instead of Hernandez, so this almost confirms that she will become Windfall. Some fans may still be skeptical because this Wendy is Latina compared to the white, blonde comic character, but it still works because Windfall's race is not inherently tied to her characterization. And the hints at the formation of an Outsiders team are too big to ignore.
First, the aforementioned IMBb page hints at Wendy's return in Episode 4. And, two other Outsiders characters are playing a role this season. Grace Choi disappeared after Anissa ghosted her in Season 1, but she suddenly reappeared in this same episode. There's still no signs of her superhuman strength from the comics, but she has to be here for more than a prop in Anissa's love life, right?
What's more, TV Line confirms that the meta-human/vampire Looker will make an appearance at some point this season. Windfall, Looker, and Grace Choi can easily team up with Black Lightning, Thunder, and Lightning (assuming she decides to be a hero) to form a cool version of the Outsiders. In the comics, they were all a part of the collective at various times, but this roster would be female-centric, lining up with showrunner Salim Akil's desire to put women's stories at the forefront of Season 2. Not to mention that it would be a great way to build toward an epic showdown against Tobias.
Of course, Wendy could also go in an opposite direction and somehow end up on Tobias Whale's dwindling team. He's already lost Syonide, and Khalil/Painkiller is not yet fully onboard with being a baddie, so he could probably use the help. At this point, it could go either way, but Wendy Hernandez's air-bending powers could be exactly what Black Lightning needs to help clean up the streets of Freeland.