Y'lan Noel's Love Life Is Far Less Complicated Than Daniel's On 'Insecure'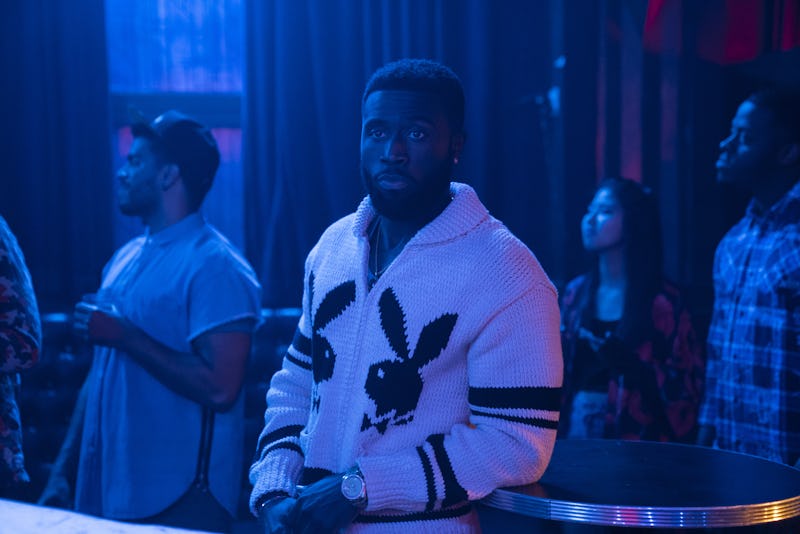 Merie W. Wallace/HBO
With Issa living at Daniel's apartment in Season 3 of Insecure, a major question for this season is if these two will get together for good this time around. However, you might be more curious about the real person who plays the aspiring music producer, too. Because he's pretty great. Y'lan Noel in real life is a bit of mystery — and he likes it that way, apparently.So if you have been investigating, trying to find out if Y'lan Noel from Insecure is single, you won't be able to find any clues from selfies. However, Noel has been open about why he isn't on social media in interviews and he's even revealed his relationship status. And let's just say members of the #DanielHive have a chance.
The second episode of Season 3, "Familiar-Like," put a spotlight on Daniel's insecurities. Issa encouraged him to put aside his pride to pursue a new artist and get serious about selling his beats. The Daniel that Insecure viewers are seeing now is a much more well-rounded human than the person that Issa was enamored with back in Season 1. Creator Issa Rae and showrunner Prentice Penny spoke during the post-show "Wine Down" last week about how they intentionally focused on who Daniel really is when creating Season 3. And as you start to learn more about Daniel, you might also want to learn more about the actor behind the character — Y'lan Noel.
But Noel's life is not an open book. The 30-year-old actor doesn't have a presence on Instagram, Twitter, Facebook, Snapchat, etc. and he explained why to The FADER in a 2017 interview. "I like social media, it just doesn't agree with me. I'm just a monk, I'm like a recluse," Noel said. "I'm not interested in people being interested in me. They'd be mad at me. It would be pictures of wheatgrass smoothies and National Geographic polar bears. It would be the weakest Instagram known to man."
Many people would beg to differ that his Instagram would be weak. But Noel elaborated more about this personal choice in a June interview with New York City's radio station Hot 97 while promoting his first film, The First Purge. "I like social media for other people, but for me, I'm sort of a private dude," Noel said. "In between action and cut that's kind of where I want to live in a public light."
He did note to Hot 97 that the one pro he does see for an actor to have social media is that they can control the public's perception of their personal life — including their romantic relationships. "If you do have social media, you do sort of get to control the narrative about you versus if you don't, they could be saying anything about how I feel about who I'm with or anything like that and I can't plug in," Noel said.
But after that comment, Noel did actually reveal his current relationship status. One of the DJs chimed in and asked, "So who are you with?" And Noel responded, "I'm single, bro. But you asked me that question, now I can control the narrative without social media."
Noel also spoke about how he was single in the June Comedy Issue of GQ. He said that he's "a purist when it comes to relationships," which is his reason for being single right now. He also noted that during his sex scenes in Insecure (of which there are many), his top priority is making the female actor feel comfortable. And this interview further proved that his Instagram game would be anything but weak since he has a beloved dog — a chihuahua named Mello — whom he apparently has a bunch of hilarious pictures and videos of. "I don't have any conversations where I'm not talking about my dog," Noel told GQ. Ugh, can we get this guys an Instagram account already?
Noel has also spoken about the differences between him and his Insecure character. As he told The FADER, he initially auditioned for Lawrence because he related more to him. And he revealed to HBO in an interview that he was anxious about portraying the suave and confident Daniel back in Season 1. Noel said, "I'm going to be honest: I was nervous about playing Daniel. I love being around women — I have a lot of strong women in my family — but I've always felt a bit awkward, well, insecure, around women I've had crushes on. Daniel doesn't seem to have any of that awkwardness."
In a recent interview with Newsweek, he did admit that he's more similar to Daniel now than he was in Season 1. "There are some sensitivities Daniel has and protects that I also protect. I'm probably more close to Daniel in more ways than I'm going to say," Noel said. However, Noel noted to both HBO and Hot 97 that he still never would have done what Daniel did in Season 1. "I'd like to go on record that I, Y'lan Noel, would never broadcast my interests in a woman who is already taken. I would never attempt to stick my spoon in another man's pudding. That's something that I take to heart," Noel told HBO.
Still, even when he doesn't personally relate to Daniel, Noel thinks people can learn about themselves when watching Insecure. "What I enjoy the most about Insecure is it holds up a mirror to real life," Noel told Newsweek. "If you're paying attention and you're watching consciously, you are able to make better decisions about who you are, the people that are around you. In a way, I feel like the show makes us better people, especially when it comes to relationships." Which means that when Noel does enter a relationship, his partner may just have Insecure to thank.