Lena Dunham's 'AHS' Season 7 Character Is Still A Mystery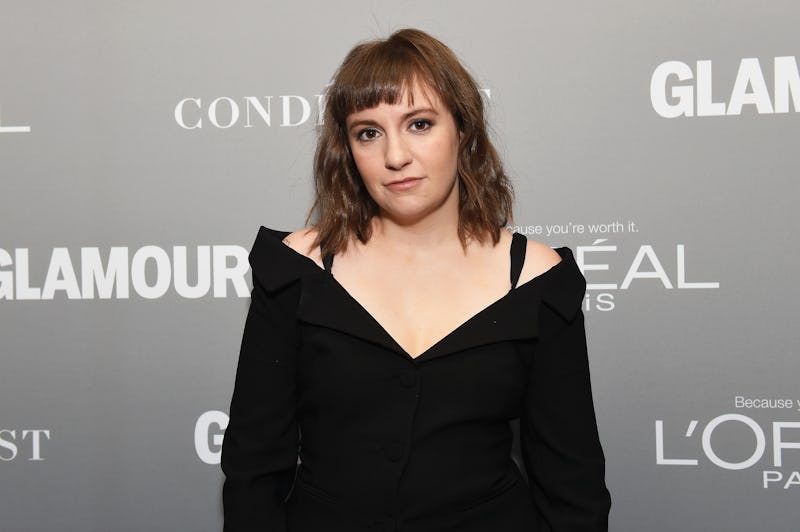 Emma McIntyre/Getty Images Entertainment/Getty Images
Sure the title is still a mystery, but Ryan Murphy has certainly not been shy about teasing American Horror Story Season 7. Especially when it comes to the cast, which already includes series mainstays like Sarah Paulson and Evan Peters, along with AHS newbies like Billy Eichner, Scream Queens' Billie Lourd and Teen Wolf's Colton Haynes. Now, fans know that Lena Dunham will be joining American Horror Story Season 7. What they don't know quite yet though is who Dunham will play.
"Thrilled that my talented friend Lena Dunham is joining the AMERICAN HORROR STORY family," Murphy tweeted Wednesday night. "Always wanted to work together, and now we r!" No surprise, he didn't reveal anything more than that. Though, Deadline has reported Dunham may only appear on AHS for one episode. The only thing else we got was an excited Sarah Paulson answering a fan's question of what is going on here in a tweet: "Magic and dream of all dreams."
Sure, it's not really an answer that reveals any actual details, but it managed to raise the level of excitement for a season that has already got people pretty damn excited. Mostly because Murphy said earlier this year Season 7 would be based on the 2016 election. He even told Watch What Happens Live! host Andy Cohen that there's a possibility Donald Trump could be a character on the show. "Maybe," was his answer. While it's hard to believe Dunham is playing Trump, the thing is, you never know. It would be a ironic approach to cast a fervent Hillary Clinton support as a fictional version of Trump, now wouldn't it?
The clues Murphy has revealed to help fans guess the new season's title, which he says will be announced today, aren't much help in decoding Dunham's role because they've been all over the map. Murphy's shared images of American flags, a man covered in bees, an adorable puppy, and a terrifying announcement that Twisty the Clown from AHS: Freak Show is back. It's hard to imagine what these all have in common.
Some fans have tried, with one guessing on Instagram that the theme could be something as terrifying as "the worst of 2016." And they make some interesting points: "2016 election, various bee-related deaths reported in 2016... clown sightings were also a thing in 2016. So is this season of AHS basically everything that happened in 2016 with a sick, gore-filled twist?"
This week an international teaser from FX Latin America was leaked, which featured a non-Twisty, but still utterly frightening, clown which is just another helpful reminder of why clowns are so hated. (A rep for FX told Bustle, "This teaser was created by the international broadcaster, specifically for their local promotion. It is not representative of the FX US campaign.") But it also seems to strongly hint that clowns are playing a pretty big role in this season.
Is the Girls creator and star going to play a clown? Does her latest role have something to do with that very short haircut she just got? The caption — "Your mom's therapist friend she leaves your dad for." — certainly sounds like it could be a character in a Ryan Murphy production, right? Or, does it have something to do with all those wigs she was recently trying on? Honestly, your guess is as good as mine, which is all part of the AHS fun.