New 'Who' Companion Pearl Mackie Is A Breath Of Fresh Air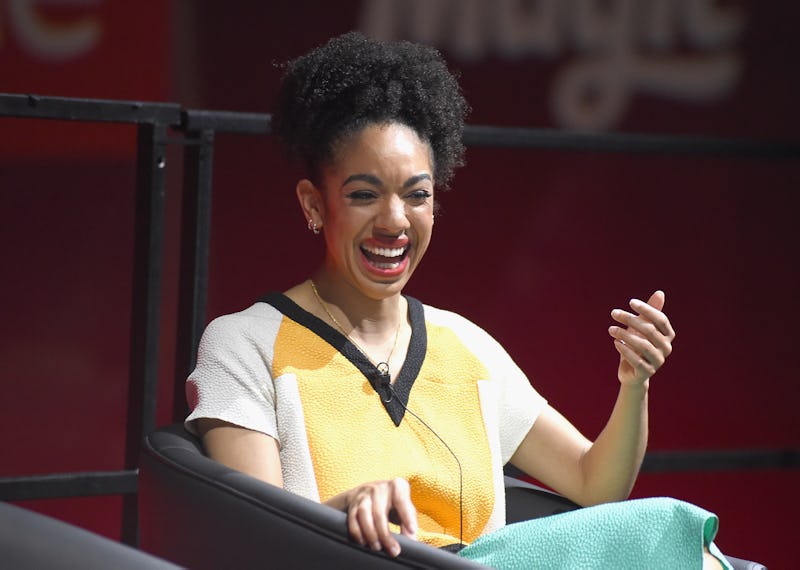 Tabatha Fireman/Getty Images Entertainment/Getty Images
It's the beginning of the end of Peter Capaldi's Doctor Who run, with his final season as the Doctor premiering on Saturday, April 15. But as fans say their goodbyes to one character in the Doctor Who universe, they're also saying "hello" to a new companion, who may bridge the gap between Doctors. Bill Potts is the new companion audiences around the globe are anxiously waiting to meet. So who plays Bill on Doctor Who? Get to know Pearl Mackie, the actor behind the Doctor's new co-pilot, before her TARDIS debut.
While Mackie is an experienced stage actor, Doctor Who is her breakthrough screen role. In an interview with The Guardian, Mackie said, "This is by far the biggest thing I have ever done, which is amazing ... And also a bit mental." Obviously, scoring a part on a hugely popular show like Doctor Who is huge for Mackie. But the arrival of Bill also marks a milestone for the show itself. The character of Bill is the first openly gay, full-time companion to be featured on Doctor Who. And the actor playing her thinks it's been a long time coming. "It shouldn't be a big deal in the 21st century," Mackie told The Guardian. "It's about time, isn't it?" (Writer's note: Yasss!)
In addition to LGBT visibility, Mackie also discussed the importance of racial diversity on screen. Mackie said in the same Guardian piece:
"When I was little there weren't that many people who looked like me on TV, so it's great to have two little kids thinking: 'OK, she looks like me so I'm going to dress up as her, and I don't need a different kind of face make-up, I don't need to straighten my hair ... When Alicia Keys came out that was a big thing for me because she was mixed race as well ... There were a lot of people I liked on screen, like Judi Dench, she's wicked, but that's very different to having someone where you think, 'She looks like me, maybe I could do that.'"
It's definitely apparent that Mackie is cool and outspoken. Here's what else you need to know about the Doctor Who newcomer.