Karen's Relationship With Her Dad In 'Daredevil' Season 3 Explains So Much About Her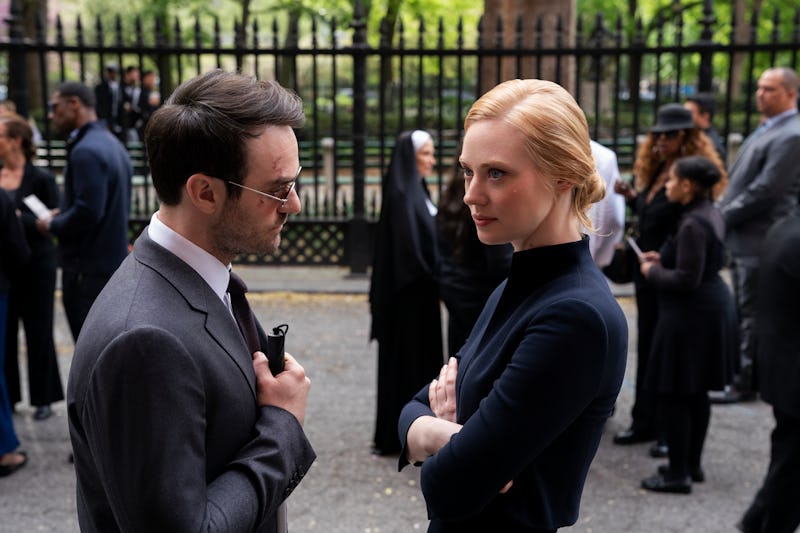 David Lee/Netflix
Spoilers for Daredevil Season 3 ahead. It was never a secret on Daredevil that Karen Page had a dark past. She was way too comfortable with a gun and a crime scene to suggest otherwise, but Season 3 of the Netflix series finally shed some light on her backstory. Who is Karen's dad on Daredevil? Paxton's relationship with his daughter is complicated and tragic.
In the comics, Paxton Page was a nuclear physicist also known as "Death's Head" who gained superpowers in an accident that drove him insane. That doesn't appear to be the direction that the Netflix series is taking. Played by Lee Tergesen (Oz, The Purge), Paxton is a kind (if sometimes lovingly incompetent) diner owner whose relationship with Karen is strained after her brother dies in a car accident.
Tergesen is best known from Oz, where he played Tobias, but has also been in shows including Homicide: Life On The Street, Desperate Housewives, Generation Kill, Army Wives, The Americans, American Horror Story, Defiance, and The Purge — as well as many, many others. He's also Terry from Wayne's World. Daredevil Season 3, Episode 10 titled "Karen" revealed Page's, with all due respect, somewhat trashy Vermont upbringing in the fictional Fagan's Corners. She worked at the family diner, named Penny's Place, by day and sold drugs by night. Her boyfriend lived in a camper. Later, we learn that Karen doesn't feel that she can leave her brother and father alone, due to a sense of responsibility for them since her mother died of cancer.
She also got into Georgetown University, and though she deferred twice her brother accepted for her and insisted she get out of town. Unfortunately Kevin soon dies in a car crash while Karen, who was high at the time, is behind the wheel. The small town cops omit Karen's involvement in Kevin's death in order to prevent her family from suffering further, however, Paxton kicks his daughter out of the house and the family in the aftermath.
"Thank God your mother wasn't alive for this," he tells her. He won't even let her stay for the funeral. "I need you to leave," he says. "I don't want you here, Karen." Earlier in the season, in present time, Karen calls her father from New York City to see if she can hide out in Vermont for a while, and he tells her that while she's always welcome to call, he still doesn't want to see her or have her in the house.
It's possible that, in his own way, Paxton was letting his daughter go for her own good. Before Kevin died, both of them wanted Karen to get out of town and start her own life. Anger and grief aside, Paxton didn't want Karen to feel like she had to take care of him anymore. It's unfortunate that this is how Karen finally left Vermont, but it explains a lot about her pursuit for justice and desire to only do good, since she feels responsible for her brother's death (and her father agrees that she is to blame).
Just like that, Daredevil juxtaposes Matt — whose family left him, one by one — with Karen, whose remaining family shut her out. It's no wonder the two are so drawn to each other. They took different paths in life, but their demons are a lot more similar than they know.