This 'Chilling Adventures' Character Could Mean Trouble For Sabrina & Harvey Shippers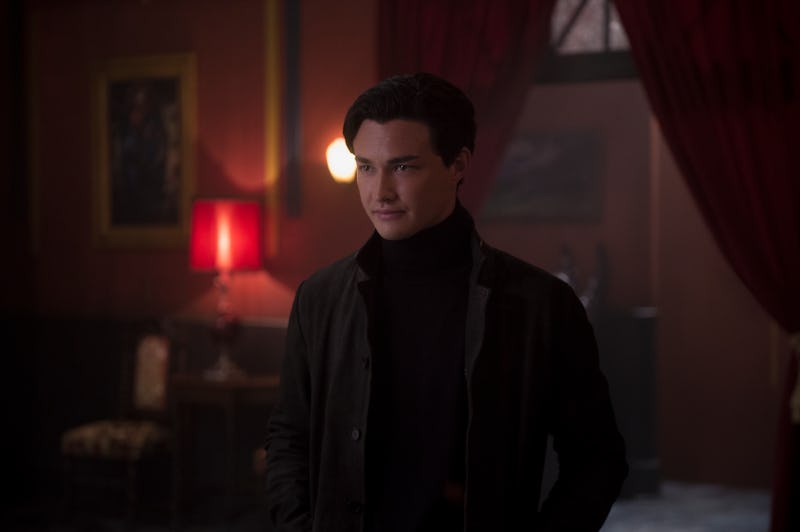 Diyah Pera/Netflix
The Chilling Adventures Of Sabrina may center on its titular half-witch, but that doesn't mean she's the only magical being about town — in fact, one in particular may be shaking up her world. Nicholas Scratch, played by Gavin Leatherwood, is a warlock who attends the Academy of Unseen Arts with Sabrina. And while anyone who watched the '90s series knows Sabrina loves her mortal boyfriend, Harvey Kinkle, Nick might pose a threat to this OTP.
Though Netflix's Chilling Adventures is based on the comics of the same name, Buzzfeed reports that Nicholas Scratch is a new character created for the TV series. He's familiar with the teachings of Sabrina's late father, Edward Spellman, and befriends her when she starts school at the academy. According to Netflix's description, "there are immediate sparks" between Nick and Sabrina — which may be disappointing for Sabrina and Harvey shippers.
It is, however, great news for Leatherwood, as it could be a breakout role. Before Chilling Adventures, he had only small parts in NCIS and grown-ish, and though he's still a supporting character, it sounds like he'll be pretty involved in the main storyline. He also previously appeared in the spooky-sounding web series My Dead Ex and Wicked Enigma, so Chilling Adventures should be right up his alley.
Beyond that, there are some clues to be gleaned about Nicholas from outside of the Archie universe. In the DC comics, Nicholas Scratch is a villain in Batman's realm. After a star hits his eye, he becomes a famous musician, then plots to take over Gotham City with his newfound influence. But it's his story in the Marvel comics that most closely mirrors Leatherwood's Chilling Adventures character: There, he's a sorcerer who lives in New Salem and is an enemy of the Fantastic Four and Patsy Walker (yes, the very same Patsy featured in Netflix's Jessica Jones).
Nicholas being a villain in both Marvel and DC doesn't bode well for Sabrina, and neither does his name. According to the Dictionary of American Regional English, both "Old Nick" and "Scratch" are names for the devil. Mr. Scratch is the name of the devil in The Devil And Daniel Webster, and Miami New Times reported that the Chilling Adventures Of Sabrina uses this classic short story as inspiration for its third episode. There was also a Mr. Scratch on Criminal Minds who was a serial killer. So if his name is any indication, Nick won't be up to any good. And previews showing him performing some sort of resurrection spell alongside Sabrina and the Weird Sisters only seem to prove that.
Now, that doesn't necessarily confirm Nick is evil. The witches and warlocks of Chilling Adventures are all members of the Church of Night, so it could be rather normal for them to dabble in some devilish dealings. But wherever his allegiances lie, this warlock will definitely be causing drama in Sabrina's love life.
In an interview with Getty Images, Leatherwood said his character has feelings for Sabrina that aren't initially reciprocated, but that doesn't stop him from pursuing her. "There's a little bit of a darkness," he explained. "[Nick is] definitely a little in opposition to Harvey, who's the all-American good guy, you know? You gotta throw in a little bad boy too."
When Chilling Adventure Of Sabrina premieres Oct. 26 we'll see if that's enough to split up Sabrina and Harvey.