Here's Who Was With Khloe Kardashian — & Tristan — In The Delivery Room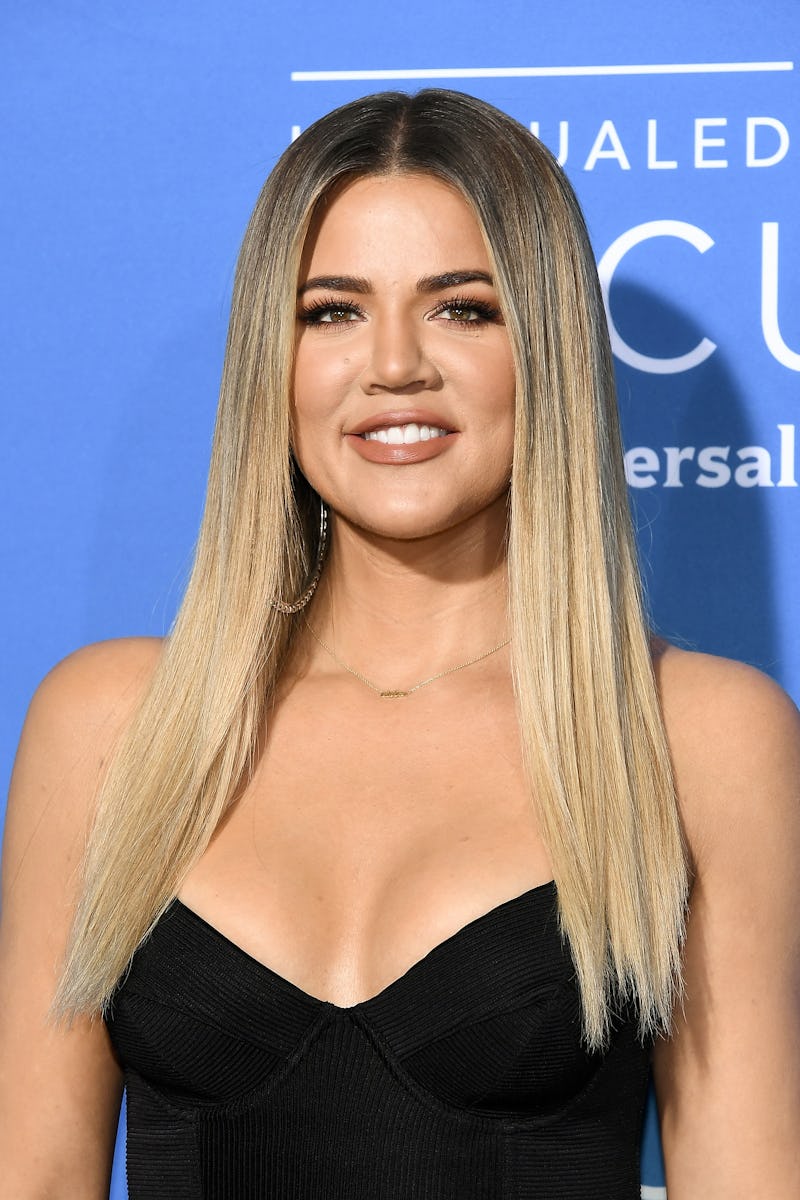 Dia Dipasupil/Getty Images Entertainment/Getty Images
After a rough couple of days for the reality star, TMZ has reported that Khloé Kardashian welcomed her first daughter into the world early on Thursday morning. According to the site, Khloé was joined in the delivery room by sisters Kourtney and Kim Kardashian, mom Kris Jenner and close, longtime friend Malika Haqq. Tristan Thompson was also with Kardashian during the birth, according to TMZ. (Bustle reached out to Kardashian's rep for comment, but did not receive an immediate response.) The newborn's name has not yet been announced, but you can probably bet that it won't be a feminine derivation of "Tristan," if the reports are true.
As you probably know, the father of Khloé's new baby recently made many headlines after TMZ released two separate videos of Thompson reportedly cheating on his girlfriend of about a year. The rumors originally broke on April 10, just days before Kardashian was due, though one of the videos of Thompson allegedly cheating dated back to October 2017.
Kardashian had just tweeted about preparing her hospital bag on April 6, and she had also recently moved to Cleveland, where she planned to give birth and live with Thompson, who plays for the Cleveland Cavaliers. The news detailing Thompson's alleged cheating couldn't have come at a worse time, and People reported that Kourtney, Kim, and Kris flew out to Cleveland to be with Khloé during the difficult occasion on April 11.
The fact that Kourtney, Kim, Kris, and Malika joined Khloé reportedly in the delivery room, which was in a hospital outside of Cleveland according to TMZ, isn't surprising news. Khloé had always planned to give birth in Cleveland, and it seems she went through with that plan despite the rumors about her boyfriend's infidelity that came out just days before the birth. As an insider reportedly told People, "[Khloé's faimily is] trying to keep her emotionally stable." Because Khloé was so far along in her pregnancy, she couldn't return home to Los Angeles, but the family's insider claimed to People that the Kardashian/Jenners plan to help transport Khloé back to California as soon as possible.
On April 10 — the day the rumors that Thompson had cheated on Khloé came out — both Kim and Kourtney had been enjoying a vacation in Turks and Caicos. They remained silent on their sister's relationship drama playing out on the tabloids, but it sounds like they were able to provide support for Khloé by reportdly remaining at her side during the early morning delivery. That is the Kardashian way, after all.
The fact that Khloé reportedly allowed Thompson into the hospital room while she gave birth might come as the greatest surprise from the recent Kardashian-fueled news cycle. After TMZ reported that Khloé was experiencing early contractions on Wednesday afternoon, the same outlet reported that the Revenge Body host wanted to allow her daughter to receive the important benefits of immediate contact with Thompson. Khloé apparently decided to put her feelings aside to foster a bond between her newborn child and her father.
The fact that the new mother apparently made such a big decision like that in the best interest of her baby reinforces what everyone already knew — that Khloé will be an amazing mother. And regardless of the intense drama that happened in the days leading up to the birth of her daughter, it sounds like the delivery room was filled with positive vibes (as the Kardashians would say). Khloé deserved a peaceful and supportive birth, and she recently pointed out that she attended each of her sisters' labors on her app. The fact that Kim, Kourtney, Jenner, and Haqq were reportedly there to cheer her on this time means that the newest baby Kardashian entered into a room full of love.