Las Vegas Police Officer, Author, And Football Coach Charleston Hartfield Killed In Mass Shooting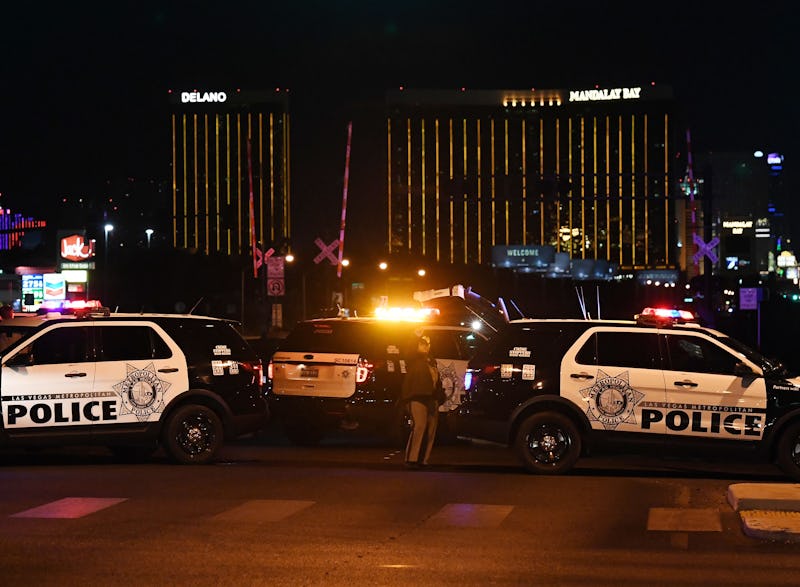 MARK RALSTON/AFP/Getty Images
Police have begun releasing the names of some of the victims of the Oct. 1 mass shooting in Las Vegas that killed more than 58 people and injured over 500. One the victims has been identified as an off-duty police officer. Who was Charleston Hartfield? This Las Vegas police officer and author has been described as a military veteran who also coached youth football, according to the Las Vegas Review-Journal. Hartfield, 34, was attending the concert and was off-duty when a gunman sprayed concert-goers attending a country music festival on the Las Vegas strip with bullets from a nearby hotel window.
Hartfield's friend Troy Rhett told the Review-Journal that he sent his friend of eight years a text late Sunday night to see if he was OK. "I figured he was probably busy helping others," Rhett said. "I don't know a better man than Charles. They say it's always the good ones we lose early. There's no truer statement than that with Charles. … Our hearts have just been very heavy since hearing the news."
Others shared their admiration for Hartfield on social media. "Hartfield was 'a great man' who 'touched many lives both on and off the field,' the Henderson Cowboys (the team he coached) wrote in a Facebook post," Newsweek reported.
Hartfield's friends are describing him as a great person, and his friend Stan King told the Review-Journal that Hartfield was "seriously one of the nicest guys ever" and "the most true-blue American guy I've ever met."
Two on-duty officers were also injured, including one who was in stable condition after surgery and one who sustained minor injuries, Clark County Sheriff Joseph Lombardo said in a statement earlier in the day, according to Heavy.
Hartfield was also the author of the book Memoirs of a Public Servant, which is available on Amazon. The book's description reads, "Documenting the thoughts, feelings, and interactions of one police officer in the busiest and brightest city in the world, Las Vegas. This memoir takes you through the personal interactions experienced by a police officer with not only the community he seeks to serve but with his partners and their personalities. Some calls are over in an instant while others stick with you forever."
During the shooting, off-duty police and military, civilians, first responders, and Las Vegas police sprang into action to help others during the chaos. Some plugged bullet holes with their fingers, others helped strangers to safety and drove the wounded to the hospital, and still other used their own bodies to shield those more vulnerable than themselves from gunfire. In a video montage from Good Morning America one witness recounted the terror of the event, and said it was unlike anything he'd ever experienced, and worse than anything he'd seen on TV or in a movie.
Witnesses reported that at first they though the gunshots were fireworks, but quickly realized that someone was shooting from an undetermined location. The shooter was allegedly firing out a window from a high floor at the Mandalay Bay Resort and Casino. Upon entering his room, a SWAT team found him dead from a self-inflicted gunshot wound and they recovered more than 20 rifles, according to the New York Times.
If you are looking for friends or loved ones, you can call 1-866-535-5654. A family reunification center is located at 400 S. MLK Blvd. in building B, Las Vegas, Nev., 89106. Additionally, Newsweek reported that the FBI is asking for anyone with videos or photos concerning the shooting to call 1-800-CALLFBI or 1-800-225-5324.
If you want to help, and you're not in the area, call your congressperson and ask them to support gun control reform and to oppose the Constitutional Concealed Carry Reciprocity Act of 2017, and donate to relief funds supporting victims of the mass shooting in Las Vegas.