Andrew Cunanan's Alleged First Victim Once Considered Him A Friend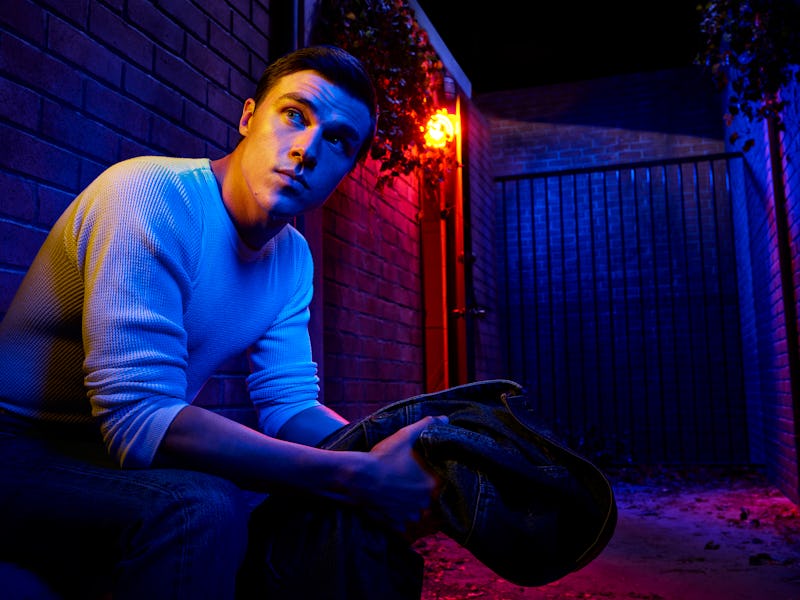 Pari Dukovic/FX
Spoilers for the Feb. 7 episode of The Assassination of Gianni Versace! Fans may have been excited to see Finn Wittrock on their screens at the beginning of the most recent episode of American Crime Story Season 2… but that excitement didn't last long, as Wittrock's character was abruptly murdered by Darren Criss' Andrew Cunanan. Who was Jeffrey Trail? The Assassination Of Gianni Versace spends so little time with the man before he's murdered, his presence is likely to raise lots of questions. Given that the season is moving backwards through time, it's likely that Wittrock, the American Horror Story veteran, will return next week to further flesh out the story of Trail and his relationship with Cunanan. But, given that Versace (executive producer: Alexis Martin Woodall) is based on a tragic true story, viewers don't have to wait for answers.
Fashion designer Gianni Versace may have been the most famous of the five people Cunanan allegedly murdered, but he wasn't the first. The bloody path that authorities believe Cunanan carved across America in 1997 began three months earlier in Minneapolis, when 28-year-old Jeffrey Trail was killed on April 27, per Harper's Bazaar. The young man was found in the apartment of 33-year-old David Madson, who would go on to become another victim, as depicted in the events of the Feb. 7 episode, "House By The Lake."
Maureen Orth's 1997 Vanity Fair article "The Killer's Trail" — which formed the basis of her 1999 non-fiction book Vulgar Favors, on which Versace is based — goes into some detail about Trail's background and his ill-fated relationship with Cunanan. Born in DeKalb, Illinois, Trail was a graduate of the Naval Academy in Annapolis who served in the Gulf War before settling down in San Diego after his discharge to work for the California Highway Patrol. There he met the charming Cunanan, and the two became "thick as thieves," Orth described, although Trail's other friends "never understood why they were best friends." The pair would often go target practicing together.
Orth's reporting determined that the two "had apparently never been intimate," but that regardless, Cunanan held a strange sway over the Navy vet, always "able to get Trail to do his bidding." Cunanan called Trail "his oldest friend from kindergarten," at a dinner, per friend Doug Stubblefield, despite the fact that they had only met a few years earlier. Eventually, around the same time, their relationship soured and Trail abruptly quit his job with the Highway Patrol. Trail's friend Michael Williams told Orth that Trail told him he'd had "a big fallout with Andrew and never wished to see him again." Both sudden decisions may have had something to do with Cunanan's request for Trail to join his "import-export business": selling drugs. Trail got a new job with a propane retail company that took him to the suburbs of Minneapolis.
In his new home, Trail met and became friends with David Madson, who happened to be an ex-boyfriend of Cunanan's. The architect had met Cunanan while vacationing in San Francisco, and the couple had continued to date long distance after his return to Minneapolis. Although that relationship had since ended, Trail still felt compelled to warn Madson that Cunanan was a liar. "You can't believe a word he says," he reportedly said, per the Vanity Fair piece.
Cunanan, meanwhile, reportedly became uncomfortable with the fact that two people he cared so much about both lived in the same city without him. According to Orth's article, he planned a trip to Minneapolis, telling friends in San Diego that he and Trail had "unfinished business." Despite the falling outs and the warnings, both Trail and Madson felt obliged to let Cunanan take turns crashing at their apartments. "He was like a relative you didn't like — you had to let him stay," Trail's friend Jerry Davis recalled him saying.
On Sunday, April 27, Trail was supposed to be out at a gay bar celebrating the 21st birthday of his boyfriend, Jon Hackett; but he told Hackett he had something "pretty important" to talk about with Cunanan first. Telling Hackett he'd meet up with him later, he went to Madson's apartment, where Cunanan had slept the night before. He never showed up to Hackett's party; the police wouldn't file a missing person's report for 72 hours, and Hackett hesitated to tell Trail's parents, since Trail was not out to them.
The next Tuesday, two of Madson's coworkers stopped by his apartment, concerned after he hadn't shown up at work for the past two days. When there was no answer at his door, they left a note asking for the superintendent to check on him. When she did, she found a body wrapped in a carpet: not Madson's, but Trail's. He had been bludgeoned with a claw hammer to the face 25 times, per Vanity Fair. Police initially considered Madson the suspect, since Trail's body had been found in his apartment, and he was still missing. But about a week after Trail vanished, Madson's body also turned up, discovered by fisherman in the tall grass around Rush Lake, Minnesota on Saturday, May 3. He had been shot three times with a gun taken from Trail's apartment.
Trail's sister Candace Parrott told People in 1997 that she'd once had breakfast with Trail and Cunanan, who her brother introduced as "Andrew DeSilva." Later, she said that Trail expressed some worry about Cunanan's fixation on him and desire for"more" from their relationship. She recounted homophobic responses to Trail's death — a larger theme that the series is exploring — remembering that people would brush off her brother's murder as "a gay situation," probably resulting from stereotypical "high-risk" behavior. But his sister spoke of Trail as a hard-working family man who would show up early to work just to see his friends. She said of his coming out process:
"I know he struggled with being gay for a while, and he was a much happier person when he accepted it. Jeff had not yet confided in my parents about his lifestyle. He wanted to find a good time to tell them. We always told him it doesn't matter—you are loved unconditionally. Now it's almost a secondary issue. They're dealing with his death."
The Assassination Of Gianni Versace will continue to tell a version of Trail's tragically short story as the crime drama travels farther back into Cunanan's life.