Karen Elaine Smith Was A Special Education Teacher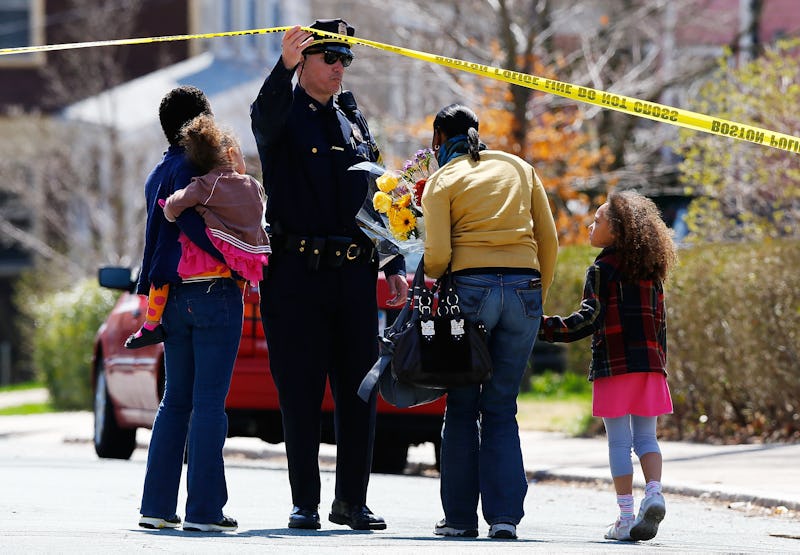 Jared Wickerham/Getty Images News/Getty Images
On April 10, the nation was shocked to learn that there had been yet another tragic shooting in San Bernardino, California. The shooting at San Bernardino's North Park Elementary School left a teacher and a student dead, as well as the shooter. Karen Elaine Smith was a teacher, and reportedly the estranged wife of the shooter.
Smith taught special needs students at North Park, described by the Los Angeles Times as a magnet elementary school that focuses on environmental issues. She was 53 years old, and it currently appears that she was the target of the shooting after Sen Bernardino Police Chief Ron Maass told reporters that "the children, we do not believe were targeted."
Also killed was Jonathan Martinez, an 8-year-old student who was reportedly standing near or behind Smith at the time of the shooting. The other student injured in the shooting hasn't been identified, but is reportedly in stable condition.
In an email to members of San Bernardino's school system, the district told staff that the shooting "is believed to be a case of domestic violence." In the same email, the district told its staff that they believe the shooting was "isolated to the campus" of North Park Elementary.
So far, there has been little information released about Smith other than her name, age, and occupation.
Maria Garcia, a spokeswoman for the San Bernardino United School District, told the LA Times that North Park Elementary school will be closed for at least two days, and that the district is concerned about the well-being of all those affected by the shooting:
We want to minimize the trauma that that not just our students, but our staff, have been exposed to.
Prior to the North Park Elementary School shooting in San Berardino, Everytown for Gun Safety reported that there were 24 shootings at elementary schools between 2013 and 2015, and another was added to that list last fall when a young shooter opened fire on a playground in Townville, South Carolina. It's unclear how many of those shootings were related to domestic violence, but they paint a troubling picture of elementary school shootings following the massacre at Sandy Hook Elementary School in 2012.
Although little is currently known about Smith, the fact that she was both a special needs teacher and a potential victim of domestic violence is enough to elicit sympathy and an urge for change. Our thoughts are with Smith and her family, as well as the North Park and San Bernardino communities at large.