A New Mexico Mother Of Three Is One Of The Victims Of The Las Vegas Shooting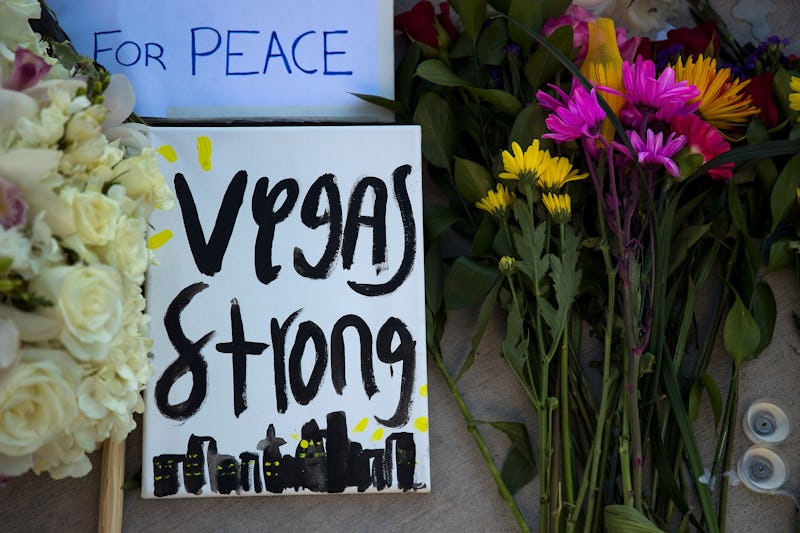 Drew Angerer/Getty Images News/Getty Images
Since Monday morning, upon hearing the news a gunman opened fire on concert-goers at the Route 91 Harvest Festival in Las Vegas, NV, late on the night of Oct. 1, Americans have been in mourning. Stephen Paddock, 64, murdered at least 59 people in the concert's crowd from a hotel room in the Mandalay Bay Resort, with an arsenal of over twenty weapons. One of those people murdered was Lisa Romero-Muniz, a mother of three and grandmother of four.
While there is speculation, neither law enforcement nor media outlets have released a definitive motive for the attack in Las Vegas. Despite that fact, rather than being labeled a terrorist as defined under Las Vegas law, Paddock has been defined as a "lone wolf," a "typical Vegas guy," and even "a friendly gambler." It seems every time a mass shooting occurs in the United States, there is a tendency to lionize the murderer, rather than taking time to honor the lives of the people slain.
Romero-Muniz was one the victims whose life was tragically cut short by the Las Vegas shooting, and will be remembered as the kind, loving woman everyone who was in her life describes her as being. The New York Times reported Romero-Muniz was attending the deadly concert with her husband, Chris, who had forgotten their previous year's wedding anniversary, and was "determined to make it up to her" by going to see country star Jason Aldean's concert.
Romero-Muniz is survived by her family, including her husband, three children, four grandchildren, and several godchildren. Yvonne Andrade, a friend of Romero-Muniz, tells The Washington Post, "She would do anything for her kids; she was always about the kids... I don't even know how to describe the heart she had." Romero-Muniz's cousin Paul Romero also spoke to The Post, recalling "[Lisa Romero-Muniz] was a very down-to-earth person," he said. "She was a very sweet person. As far as I know, she never had an enemy in the world." Romero-Muniz's husband and children have yet to release a direct statement concerning the tragic event, and their heartbreaking loss.
In addition to her personal life, Lisa Romero-Muniz was a beloved secretary — by students and coworkers alike — for Gallup-McKinley County Schools in New Mexico, where she'd worked since 2003. Mike Hyatt, school district superintendent, released a public statement regarding Romero-Muniz's death, stating:
[Lisa Romero-Muniz] was not only an employee of our school district, but was an incredible loving and sincere friend, mentor and advocate for students in our schools. As a colleague, she was also outgoing, kind, and considerate, of all those she worked with and we will miss all of these great attributes she shared with students, staff, and parents in our community.
The Gallup-McKinley County Schools press release continues, "We cannot express enough the loss that our organization feels at this time, and the heartache we feel for Lisa's husband, children, grandchildren and family." On October 2, the school district hosted a candlelight vigil to honor Romero-Muniz at Miyamura High School.
The loss of life is absolutely devastating, but you can still take action to help the hundreds of folks who were also injured during the massacre, and are now being stabilized in hospitals across Vegas. If you're in the Las Vegas area and do not have any disqualifying medical conditions, consider donating blood to the Red Cross or other various blood donation centers in Las Vegas. For those looking to help outside of Las Vegas, you can contribute to one (or all!) of the GoFundMe accounts created to help victims and their families pay for various medical or funeral expenses. If you are not able to contribute financially, please keep circulating local resources that provide vital information for families and victims. The Las Vegas crisis response page on Facebook is especially helpful, with hundreds of posts offering help, transportation, housing, and other services for those directly affected. In addition to directly helping victims, you can call or write to your representatives about gun control to help ensure tragedies like Las Vegas do not destroy more lives in the future.