The Second Kissimmee Police Officer Has Died From His Injuries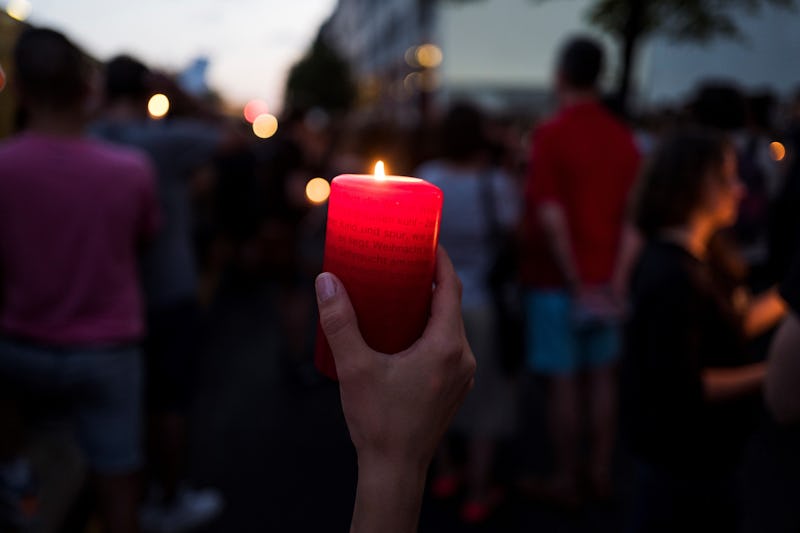 JOHN MACDOUGALL/AFP/Getty Images
A day after two Kissimmee, Florida, police officers were shot on Friday, both had died. Sgt. Sam Howard passed away on Saturday after having remained in critical condition since Friday's violent attack, which also killed Officer Matthew Baxter. The death of the second Kissimmee police officer could raise the stakes for the suspect in custody.
On Friday evening, Baxter and Howard responded to a report of suspicious persons. That's when they encountered what has reportedly been described as an "ambush" attack. According to reports from Saturday, the officers weren't wearing body cameras and they did not have an opportunity to return fire. Baxter died Friday night after the attack, but Howard only succumbed to his injuries on Saturday.
Also on Saturday, the Kissimmee Police Department reportedly arrested a suspect in the shooting. Police Chief Jeff O'Dell announced on Saturday that a man was taken into custody after a video placed him at the scene of the shooting on Friday. The suspect was reportedly transported to the Osceola County Jail wearing Baxter's handcuffs. Saturday's announcements preceded an evening of remembrance and tribute in Kissimmee, which is located just south of Orlando. Saturday's tributes included a show of support at the Florida Fire Frogs' minor league baseball game and blue light displays from the City of Kissimmee.
It's unclear what charges the suspect will face, but Howard's death could enhance whatever charges may have already been filed. Howard was 36 years old and had served with the Kissimmee Police Department for 10 years. According to the Associated Press, he leaves behind a wife and one child.
On Sunday, the Kissimmee Police Department announced on Facebook that its detectives were looking for a person of interest in connection with Friday's shooting. According to the statement, the person of interest was not a suspect.
Speaking to the media after Friday's attack, O'Dell described the challenging atmosphere that law enforcement now faces. He called incidents like what happened on Friday "senseless acts" that make it increasingly difficult for police officers to do their jobs. "It's a tough time in law enforcement," he told reporters.
Friday's attack in Kissimmee coincided with similar incidents in Jacksonville, Florida, and Fayette County in southwestern Pennsylvania. Two officers were shot in Jacksonville, and two state troopers were shot in Pennsylvania. Suspects in both of those incidents were shot and killed by police. The series of coinciding incidents highlight the ongoing dangers of gun violence throughout the U.S.