Barry & Iris' Arrow-Verse Wedding May Have Been Sabotaged From The Inside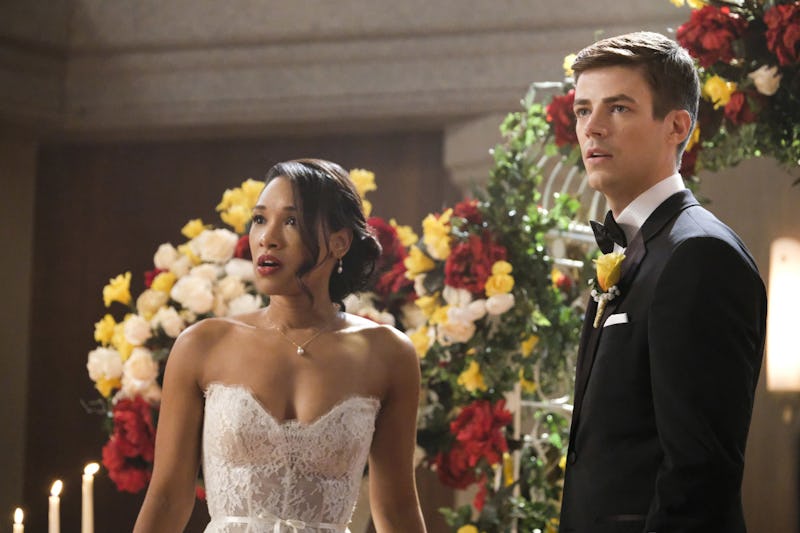 Bettina Strauss/The CW
The wedding moment comic book fans have been waiting for finally arrived tonight, but not without some hiccups or uninvited evil guests. On this year's crossover event between Arrow, The Flash, Supergirl and DC's Legends of Tomorrow titled "Crisis On Earth-X," the superheroes from each show gather to celebrate Barry and Iris' wedding. Now if anyone thought the day would go smoothly, they were seriously mistaken. A group of villains from Earth-X — a parallel Earth where Germany won World War II and where Green Arrow, The Flash, and Supergirl are evil — crash the sweet ceremony minutes before the happy couple are set to say "I do." But just before things go awry the show throws out a little (big) clue that could explain just how the villains found Barry and the gang in the first place. Just who is that mysterious waitress Barry talks to on The Flash?
The ceremony is just about to kick off when it happens. It's funny that in a room full of superheroes, no one thought for a second to keep a close eye on who was entering the chapel. Well, except the wedding planner, who skips to the front of the building to direct each guest to the bride's side or the groom's side. But like everyone else, she lets the waitstaff circle the room unbothered.
While passing out water to the guests, a mysterious cater waitress makes a beeline for Barry. Their awkward conversation only lasts for a few minutes, but she keeps offering him water that he doesn't appear to want. That sounds harmless, but the fact that she won't take no for an answer means one of two things: one, that she's really bad at taking no for an answer; or two, that there was something in that water. The unnamed woman starts to babble about how she "couldn't be more happy" to be at Barry's wedding and that she feels like this wedding "is going to be one for the ages." Oh, the irony.
Barry looks completely wigged out and confused. Her cheery smile doesn't sit well with Barry. And when he asks if they've ever met before, the waitress' quick change in demeanor is a huge clue that she's not who she appears to be. Before she walks off, she says that she's nothing more than a complete and total stranger, but the way that she grabs Barry's arm and tells him to make sure he says "I do"? Yeah, no. She's definitely up to something and she's not a nobody.
Although, maybe this last comment means she's not a villain, but instead someone who's trying to help Barry and his friends. (A prevailing internet theory wonders if she is in fact Barry and Iris' daughter from the future.) If this is the case, the mystery woman really could've given Barry a better hint at the danger brewing than the meager one she did.
Nonetheless, it's clear that this waitress is serving up more than water and hors d'oeuvres. My money is on the theory that she's also from an alternate universe and is working with the Nazis from Earth-X. It's no coincidence that literally a few minutes after she talks to Barry, things got more than a little chaotic. And where was she? Nowhere to be found. Then, at the end of the episode, when Dark Flash yells about how he's upset that the villains went ahead and stormed the building despite his orders to wait, Dark Arrow and Overgirl mention that they got the "signal" and went for it.
And who else could they have gotten the "signal" from other than Barry's waitress pal? Fans will have to wait until the end of this two-night crossover to find out all the juicy details, but something tells me that the brains behind this whole operation is hiding somewhere back in the kitchen.