This Is Why You Need To Arrive Extra Early For The 1975's 2019 Tour Dates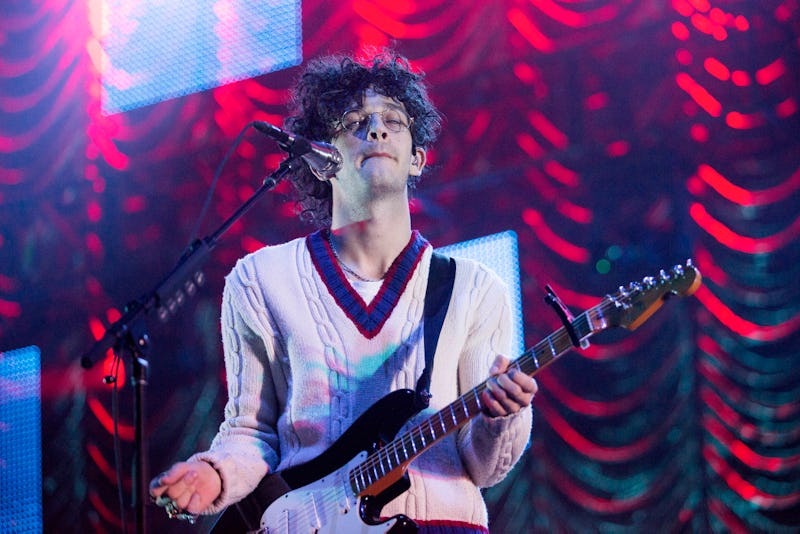 Ross Gilmore/Getty Images Entertainment/Getty Images
For most of 2018, it felt like the wait for a new album from The 1975 would never end. Now, as its release date looms, it's time to prepare for the next generation of Matt Healy and his boys' musical take on millennial culture. Following the release of their third studio album, A Brief Inquiry Into Online Relationships, the boys will embark on an expansive tour of the UK, which will take up most of January 2019. There's no doubt that the new material will sound incredible live, but who will be supporting The 1975 on their tour?
As Dork Magazine reported, on Sept. 10, The 1975 finally announced their arena tour, which'll take place all across the country — from Belfast to Birmingham — and all at a very reasonable price range ("Tickets for our show will be £20 - £35," the band's frontman, Matt Healy tweeted on the day of the tour announcement.) As Dork also reported, they'll be supported by their label-mates, No Rome and Pale Waves. It's more likely you'll have heard of the latter. Healy's been championing the gothy popsters ever since they first emerged, but it's also well worth getting to know No Rome, too.
No Rome is one of Dirty Hit's — the record label responsible for The 1975, Wolf Alice, and all your alt pop favs — latest additions. According to NME, Healy considers No Rome one of his muses, and their similar, sultry sound is showcased on "Narcissist," a song that the two made together, which was released on Oct. 12.
No Rome aka Rome Gomez spoke a bit about what to expect from his support set in January for The Line of Best Fit back in September. "The shows are going to be fun and there's going to be a big visual concept," he explained. "I really want to bring the visual aspects of the music on stage."
The 1975 and Pale Waves also have a mutual admiration for one another. "I was just so excited to hear a band that was positioned in the left, an alternative band, that was so in tune with pop sensibilities," Healy told NME in Oct. 2017, remembering the first time he heard Pale Waves. While Noisey have rather disparagingly suggested that they sound "almost exactly like The 1975," Nylon might have been a bit fairer on them, arguing that the band are "so much more than The 1975 clones."
"I guess people just hear poppy guitars these days and think, 'The 1975,' because they're the most relevant band at the moment," Pale Waves' front woman, Heather Baron-Gracie told Nylon. While there are undoubtedly some similarities between the bands — Healy has produced two of Pale Waves' singles, first off — The 1975 is more like the angsty brother to the gothy younger sister that is Pale Waves. Even so, with No Rome and Pale Waves supporting The 1975 on their huge tour, it's going to be one loved up family affair.