Speculation Around The 1975's Tour Couldn't Be More Rife, So Here's What We Know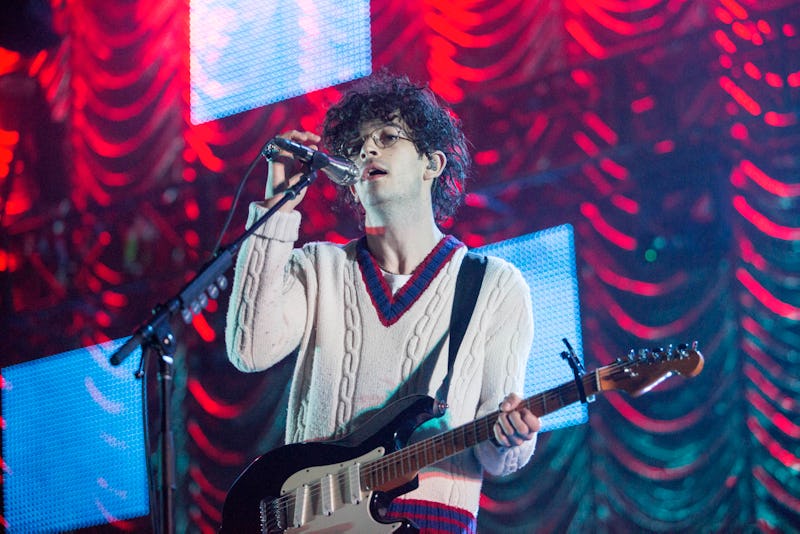 Ross Gilmore/Getty Images Entertainment/Getty Images
No fans are kept in the same kind of suspense as The 1975 devotees. Throughout 2018 the band have been posting cryptic posters in cities across the UK, sending out 1,500 care packages to fans at random, all while loosely alluding to the fact that there may or may not be a new album out this year. While fans have had their anticipation lifted a little with new music from the band, we're still left wondering: will The 1975 tour the UK in 2018?
When The 1975 last toured back in 2017 they conquered the world's most intimidating stages. From the London O2 Arena to Madison Square Garden, Matt Healy and his boys made a spectacle of their latest album I Like It When You Sleep For You Are So Beautiful Yet So Unaware Of It. And if you missed it then you missed bright neon lights, roaring crowds, and a cigarette smoking frontman who managed to captivate each person in the audience. If you experienced it, you'll want to relive it. If you missed out, you'll want to be a part of it. But when exactly will that be?
While there's been radio silence from the band when it comes to their touring schedule, their manager, Jamie Oborne, has let a little slip. The next tour was first teased back in March of this year, when, responding to fans on Twitter, the band's manager said that the UK would be their first port of call. He also boasted that the tour could be "the biggest live spectacle in the world" before promising that the fans are "gonna get a lot in 2018".
In the same month rumours started to spread that the band would announce their tour in August. And well, it's August now. Where are you boys?! Maybe we can expect an announcement in the coming days, or maybe we'll be kept in suspense. But, from the sounds of their manager, it'll be worth the wait. I've also reached out to their representative for comment.
In a recent interview with Music Week, Oborne let us know that there'll be plenty of opportunities to see "the biggest live spectacle in the world" during their next tour cycle. He hinted that it could "last 18 months or 2 years". But there's still a chance that we could get a taster of the spectacle sooner than anticipated. "If we were going to put a bet on who we'd back to do a secret set at Leeds and Reading Festivals this summer then it would be these guys," LeedsLive said of The 1975. And even if that hope's futile, we'll still take it.
The last promise made by the band itself was back at their last show, when they headlined Latitude festival last year. As they approached the end of their set, Matt told the audience that their next tour would be in October 2018, the NME reported. Although, in that same set he kept repeating "the first of June, The 1975", which he also tweeted two years before. While June 1 has been and gone, we'll have to hold Matt to his word and start saving up for October. Just make sure to sign up for Ticketmaster alerts so you can get first dibs.