Only One Person Knows Who Will Replace John McCain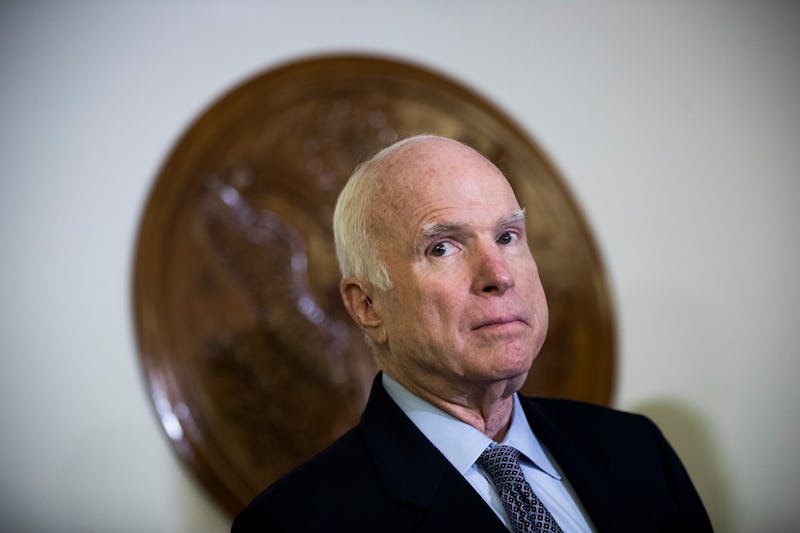 Drew Angerer/Getty Images News/Getty Images
After more than three decades in Congress, Arizona Sen. John McCain died at 81 years old. As his colleagues and supporters mourn his passing, one question looms large above Washington: Who will replace McCain in the Senate?
It's an extremely pertinent question, given how closely divided the Senate is. After now-Sen. Doug Jones won an upset victory over Roy Moore in a special election in Alabama last December, Republicans were left with just a two-seat majority in Congress's upper chamber. McCain's death has cut that majority in half, with the Senate now divided divided 50-49 between Republicans and Democrats. It's the slimmest possible margin of control, and means that until McCain's replacement is seated, any single Republican senator can torpedo a bill that's supported by every other Republican senator.
That won't be the case for long, however.
The responsibility for filling McCain's seat falls with Arizona Gov. Steve Ducey. Per state law, Ducey will appoint someone to temporarily fill the seat until the 2020 election, at which point they will have the option of running for reelection. Although the governor hasn't yet said who he'll appoint, Arizona law requires him to pick a member of the same party that held the seat previously — in this case, a Republican. This means that in all likelihood, the GOP will continue to control that Senate seat until at least 2020, regardless of who Ducey taps.
As for who will replace McCain, a few names have been floated. One of them is his wife Cindy; although she's never held political office, it's common for widows of deceased lawmakers to replace their spouses in Congress. Rep. Paul Gosar is said to be interested in the seat as well, and the Hill reports that former Gov. Grant Woods and former Sen. John Kyl are also in contention. Ducey, who's running for reelection in 2018, has said that he won't appoint himself to the seat.
It's unclear who Ducey will pick to replace McCain — and just as unclear how long that replacement will stay in the Senate. Sometimes, appointed Senators act essentially as placeholders, keeping the seat in party control temporarily until a proper election can decide a successor. When Roland Burris was appointed to fill Barack Obama's old Senate seat in 2009, for instance, he served only until that seat was up for reelection in 2010, at and then stepped down.
In other cases, appointed Senators go on to run for reelection. This isn't necessarily a winning strategy: According to a FiveThirtyEight analysis from 2008, appointed Senators who run for reelection are only victorious around 40 percent of the time. It will be up to McCain's eventual replacement to decide whether or not to seek reelection when 2020 rolls around.
Incidentally, incumbent Arizona Sen. Jeff Flake isn't running for reelection in November. This means that no matter who Ducey chooses to replace McCain, Arizona will have a completely different Senate delegation in 2020 than it did just two years earlier.
One wrinkle to all of this: Because McCain was last elected in 2016, his term doesn't actually end until 2022. This means that after McCain's replacement runs for reelection in 2020, Arizona will have yet another election for the seat during the 2022 midterms. Then — and only then — will Arizona's Senate elections be back to their regularly-scheduled timeline.