Who's Replacing Kathy Griffin On CNN's NYE Special?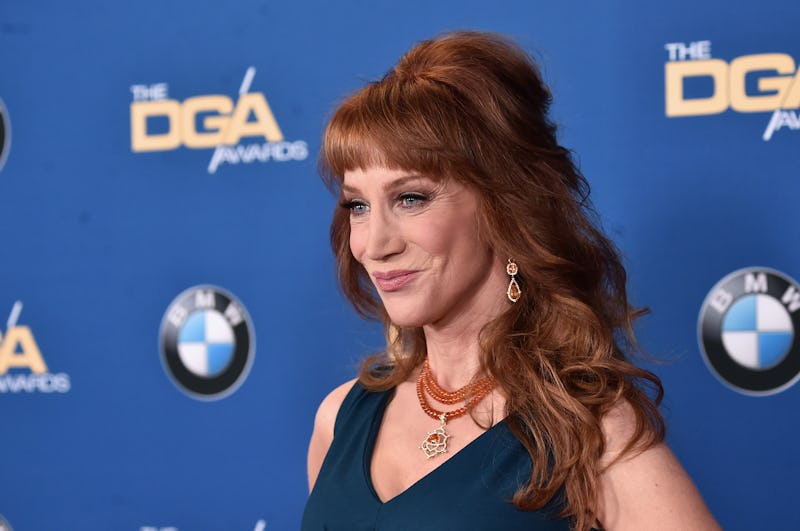 Alberto E. Rodriguez/Getty Images Entertainment/Getty Images
Kathy Griffin's recent gag about a decapitated President Trump didn't seem to elicit the reaction she was expecting. Griffin's photo has not only gone viral, but it also got her fired from CNN's annual New Year's Eve production. So, who will replace Kathy Griffin on New Year's Eve? As of now, it seems like Cooper will be standing alone, but there's still hope that the network will be ushering in a new co-host after a 10-year streak. Bustle reached out to CNN for comment, but did not receive an immediate response.
Griffin has since apologized on Twitter about the photo, writing, "I am sorry. I went too far. I was wrong." Meanwhile, both President Trump and her former co-host for the annual New Year's bash wagged a finger at the comedian. As for the public reaction, people are either agreeing that the image was just too much or supporting the comedian's freedom of expression.
Meanwhile, CNN issued a public condemnation of Griffin's act, calling it "disgusting and offensive" in a statement made to USA Today. This later lead to a tweet from CNN about Griffin's termination. As a refresher, Cooper and Griffin had been working together for the New Year's Eve special for 10 years, making this feel like quite a shift in the annual tradition of Griffin's kooky antics paired with Cooper's button-up demeanor.
Since it hasn't been announced who's going to join Cooper in next year's special (if anyone), it will be interesting to see a new dynamic. In case they need any suggestions, what about Amy Schumer, who has a similarly snarky style? Or maybe CNN will take the opportunity to pair Cooper with the likes of Chelsea Handler or Amy Poehler.
Either way, things will definitely be changing in 2018 — whether that's Cooper doing the gig solo, or with someone new by his side. Only time will tell.