People Think Briony Just Spilled The Beans On Some HUGE 'GBBO' Goss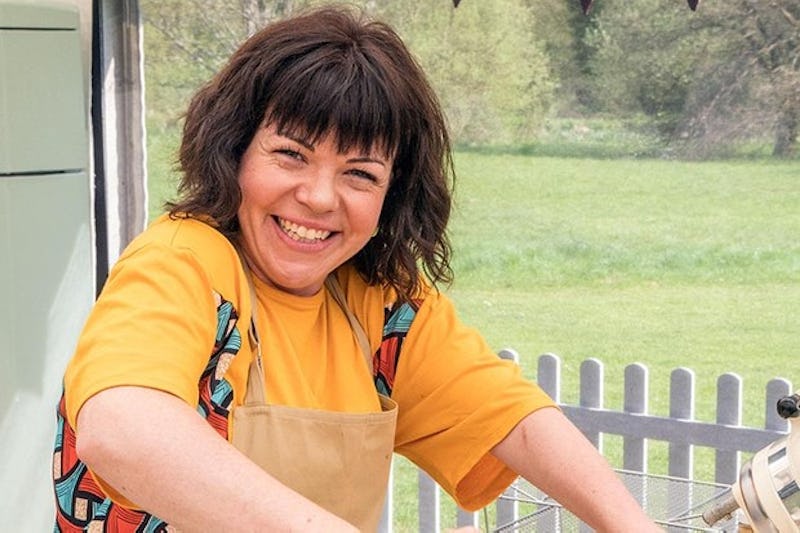 The Great British Bake Off/Channel 4
As the finale of GBBO fast approaches, everyone is hedging their bets on who will win The Great British Bake Off 2018. Who will be the ultimate star baker? Obvi we don't know who has won the gong quite yet, but has Briony Williams revealed that she is in the final? Well, your guess is as good as mine, but it does look like she may well have spilled some beans, as the Express reports.
OK, this is not like poor Prue Leith's accidental revelation last year, but fans of the show are certainly been buzzing after seeing her recent Instagram post. Her 17.9k followers (good work babe!) were excited by her sharing a new tattoo that is clearly baking inspired and like, could be to symbolise her being in the final and/or winning. OMG this is huge.
The tattoo, which is an illustration of a piping bag, whisk, and rolling pin has really set tongues wagging. Well butter my crumpet, what does it mean?! Dare I suggest the symbol of three items, meaning final three? Or like (more boring theory), it's just a tattoo to commemorate the fact that she starred on this season? Either way, you probably wouldn't get a tattoo if you crashed and burned in someway.
She published the tattoo and captioned it with a fairly straight forward but also open to interpretations little blurb.
"My cheeky little Bake Off tattoo I got a week ago now 😁 I got it because GBBO was just the most incredible, wonderful, glorious experience and I wanted something fun to represent that. I absolutely love it @bexedwards_tattooist especially the piping bag 😍"
Why is she so excited about the piping bag? Is it because a book deal is in the pipe-line? OK, maybe I am stretching this a bit too much but like, we all know fan theories are fun. Either way, I've reached out to Briony for comment, too.
One thing that is super certain though is that this season of GBBO has brought all of the usual excitement, LOLs, and of course emotional rollercoaster ride vibes. On top of the usual elements that make the show so great, is that they have been a bit revolutionary with their rounds. Last week they had the first ever vegan week, showing they are not only conscious of current trends, but also supportive of sustainability. Next week they will be doing an all new round again with a Danish theme. So expect heaps of hygge, rakes of rye bread, and what my Danish friend politely calls "audible stomachs."
As the finale of this season fast approaches and week after week more contestants leave our screens, the sad fact is, time is nearly up on this particular season. However, you can apply shortly after the winner is crowned and get your very own chance at being in the tent, quaking in your boots in front of that cool eyed silver fox Paul Hollywood.
Previous winners including Nadiya Hussain and John Whaite have gone on to have very impressive careers in the food industry, proving all the hard work and effort is most definitely worth it.
What does a rolling pin, a piping bag, and a whisk tattoo represent? As a Williams fan, I hope it really does represent getting to the final.
Watch GBBO Tuesdays at 8 p.m. on Channel 4