All Eyes Are On This Pennsylvania Special Election & There's No Clear Winner Yet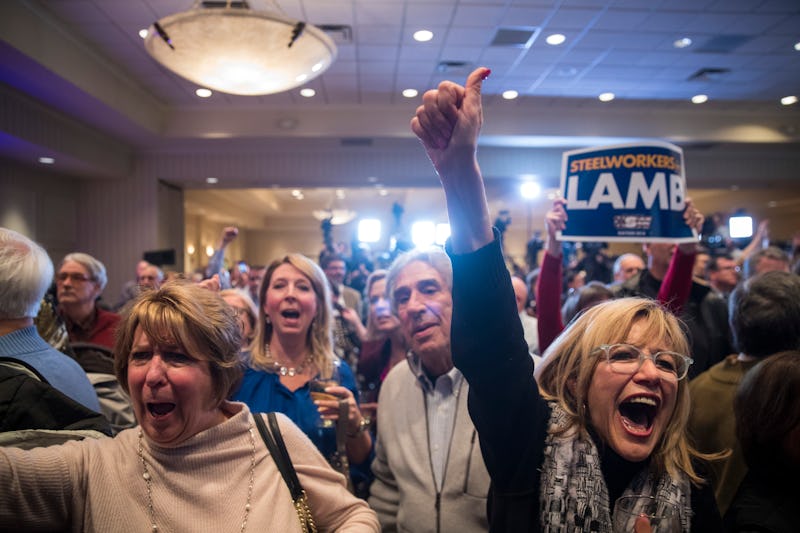 Drew Angerer/Getty Images News/Getty Images
Pennsylvania's special congressional election turned into a nail biter Tuesday night, as voters went to bed without a definitive winner in the race. Although the Democratic candidate, Conor Lamb, declared victory, who won the Pennsylvania special election is still up in the air. The race was simply too close to call before provisional and absentee ballots were counted.
"It took a little longer than we thought, but we did it," Lamb told supporters Tuesday night. However, Republican candidate Rick Saccone gave a similar speech the same night: "We are still fighting the fight. It's not over yet."
News networks called the race for Lamb, but the ballot count won't be finalized until Monday afternoon at the earliest. The tally Monday morning had Lamb ahead of Saccone by just 0.2 percent. Libertarian candidate Drew Miller took 0.6 percent of the vote.
Pennsylvania's 18th Congressional District voted heavily for Donald Trump in 2016, so the turnout for Lamb is an optimistic sign for Democrats who hope to flip more seats in Congress from red to blue in the November midterm elections. Trump fully endorsed Saccone, telling Pennsylvanians last week that the country needs Saccone to "Keep America Great." He even nicknamed Saccone's opponent "Lamb the sham."
"Fundamentally, as the President's visit to Pittsburgh on Saturday reinforced, if you like Trump, you vote Saccone, and if you don't, you back Lamb," Jon Delano, politics editor for Pittsburgh's KDKA-TV, told CNN's Chris Cillizza.
Recognizing that it would be a close race, the Libertarian candidate acknowledged that some voters might blame him for diverting votes from the Democratic and Republican candidates. "We're only a few hours away from me being the most hated man in America," Miller tweeted Tuesday.
In a later tweet, he said that after looking at the numbers, he realized "there is no mathematical way" for him to win. "It was a fun race. I will not be challenging the results or asking for a recount," he tweeted, somewhat tongue in cheek.
Pennsylvania's 18th Congressional District seat was left open after Republican Rep. Tim Murphy resigned amid reports that he encouraged a woman he had an affair with to have an abortion. The scandal was escalated by the fact that Murphy advocated for pro-life policies while in office.
The state's congressional map has shifted since Murphy took office. Because the State Supreme Court redrew the district map earlier this year, the candidate who wins this week's special election will have to choose which district to run in come November. As The New York Times noted in The Upshot: "The good news for Mr. Lamb, though, is that he now lives in the new 17th District, and that might be an even better opportunity for him than the old 18th."
Either way, a Democratic victory in southwestern Pennsylvania would signal that other areas previously considered Republican strongholds are in danger of flipping. It would further suggest that welcoming President Trump's support on the campaign trail has the potential to do more harm than good. Candidates Trump has vocally supported since taking office have repeatedly lost, including both Luther Strange and Roy Moore in Alabama's special election in December.
Saccone retweeted multiple posts from the president in the days before the election. The president also tweeted strong support for Saccone the day before voters headed to the ballot box. "He will be much better for steel and business," Trump said. "Very strong on experience and what our Country needs. Lamb will always vote for Pelosi and Dems....Will raise taxes, weak on Crime and Border."
Nevertheless, Lamb is expected to win Pennsylvania's 18th Congressional District in a close race — though it's not official until all the ballots are counted.