'Big Little Lies' Book Spoilers Reveal The Mystery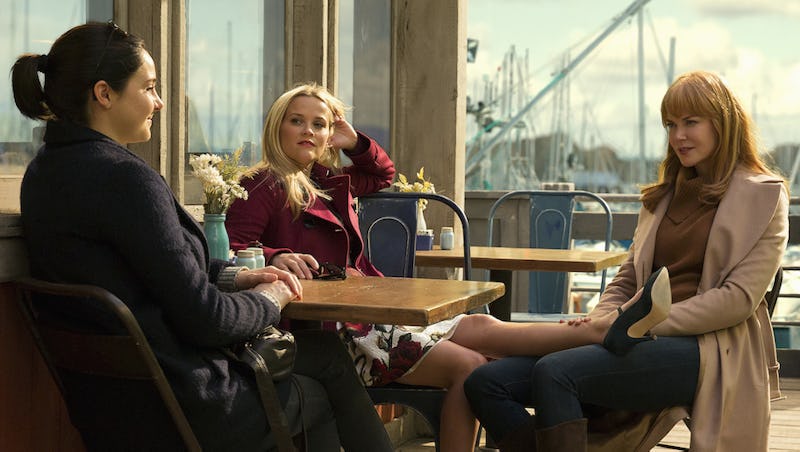 Hilary Bronwyn Gayle/HBO
Like with any good book-to-movie (or television movie) adaptation, there's a lot of hand-wringing about how closely the movie will resemble the published piece. Personally, I'm psyched for Big Little Lies, HBO's limited series adaptation of the book by Liane Moriarty. It stars Nicole Kidman, Reese Witherspoon, Alexander Skarsgard, Shailene Woodley, Zoe Kravitz, and Iain Armitage, and it follows a well-to-do group of grownups and their kids. There's intrigue! There's sex! There's lies! And there is, of course, a death. Who dies in Big Little Lies?
Major SPOILER Alert As This Is What Happens In The Book
Single mother Jane moves into a hoity-toity town in hopes of giving her son, Ziggy, a good education (the kids are all in kindergarten, FYI), but really, she wants to find Ziggy's father, the man who raped her. Madeleine and Celeste make friends with Jane quickly. They have money, but with that, they have big-money problems — Madeline is jealous of her ex-husband's new wife, Bonnie (who is much younger, of course); and Celeste is being abused by her banker husband, Perry. As the woman become closer, Jane shares the details of her son's conception, and Celeste Madeleine are convinced that Ziggy's father is Saxon Banks, who is Perry's cousin. Also, Perry starts abusing Celeste even more, and she starts making her exit plan, which includes buying a house without Perry's knowledge (this is a power move, even though Perry eventually finds out about it).
At a fundraiser for the school, everything comes crashing down — Jane sees Saxon Banks, who is actually Perry, and she confronts him (as she well should) in front of the whole school). Perry had a habit of using his cousin's name to get himself out of trouble, and eventually, Perry admits to raping Jane and doesn't really feel bad about it. Celeste and Perry argue in front of everyone, he hits her, and, enraged by Perry's actions, Bonnie pushes Perry away from Celeste and he falls off the balcony. End.
Well, not really. After Perry falls to his death (which I wish I could say that I felt bad about, but I don't), it's revealed that Bonnie's father was abusive, and seeing Perry hit Celeste stirred up all kinds of feels inside of Bonnie. Everyone who witnessed the incident opted to protect Bonnie, as everyone knew Perry was a bad man, but she eventually turned herself in in exchange for community service. And they all lived happily ever after.
Perry meets his maker in Big Little Lies, the book, but will he do the same on Big Little Lies, the show? Reese Witherspoon was the one who optioned the tale, and I think she tends to stay pretty close to her source material when adapting. The previews seem to focus on lines about murder, but there are always red herrings in promotions for new television series. There are always details you can cut out, of course, but I have faith that Perry will still head to the big bank in the sky at the end of the limited series.