The Key To Colleen's Past On 'Iron Fist' Is Revealed In Season 2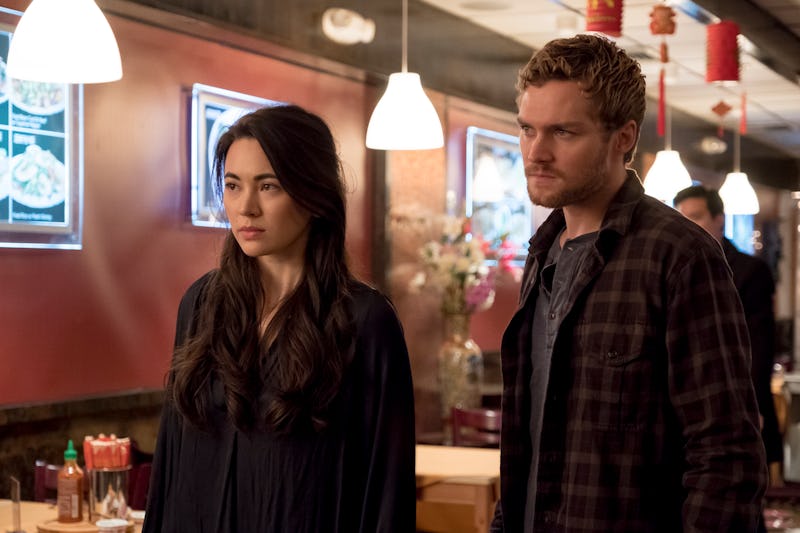 Linda Kallerus/Netflix
At the beginning of Iron Fist Season 2, Colleen has literally hung up her katana and is focused on helping her community. Spoilers for Episodes 1-6 follow. Through her work at the center, Colleen discovers she may have a connection to Frank Choi in Iron Fist. In the first episode of Season 2, "The Fury Of Iron Fist," Colleen discovers a box with her family's crest on it. Inside is a comb and a hairbrush that sparks long-lost memories for Colleen about her mother. And when she discovers that a man named Frank Choi donated the box, she goes on a search to find out more about her past.
While the majority of Season 2 doesn't deal with Colleen's family, her story starts with this clue. After she finds the box, she heads to Choi's Furniture shop to find out more about him. Unfortunately, the store has been closed for a few weeks and information about Choi is hard to come by. Choi's cousin Henry Yip owns the Silver Lotus restaurant nearby and while he initially denies being related to Choi, he eventually gives in to Colleen's tenacious behavior. After all, she does save Mr. Yip twice from the street kids who are shaking him down for more money.
Yip tells Colleen that his cousin owed money to the Golden Tigers and that's why he skipped town. But Colleen's new friend B.B. tells her the opposite in an episode called "This Deadly Secret." He says that Frank always paid the triad gang on time, but he stated that Frank was a snitch. Colleen wonders if the police could have him in custody, but B.B. think it's more likely that Frank is at death's door.
Colleen's search for her past comes to a halt after Episode 3 since she needs to help Danny with Davos, who has stolen the Iron Fist power. Yet, Jessica Henwick (Colleen) and Finn Jones (Danny) confirm to Bustle that there will be answers about Colleen's family history before Season 2 ends. Jones says that Colleen's backstory "certainly does" pan out before the season is over. And Henwick laughs at the fact that fans will have to wait from Episode 1 to Episode 10 for more reveals. "At the very end, we find a big crucial piece of information," Henwick says. Jones promises, "It's a big moment."
In Season 1's "The Blessing Of Many Fractures," Colleen revealed to Danny that she had also watched her mom die when she was really young. So the memory of her mother brushing her hair is extremely important to her, even if she doesn't often open up about her past. After her mom's death, Colleen's dad sent her to live with grandfather in Japan before Bakuto recruited this vulnerable youth to his faction of the Hand.
While Iron Fist hasn't been renewed for Season 3 yet, Colleen's family will probably play an important part if it does. And furniture owner Frank Choi is the key to that connection. So once Colleen finds him, she can rediscover her past. And once she does, it's doubtful that her katana will stay on the wall.