Jamie Owes His Life To A Ghost From His Past In The 'Outlander' Premiere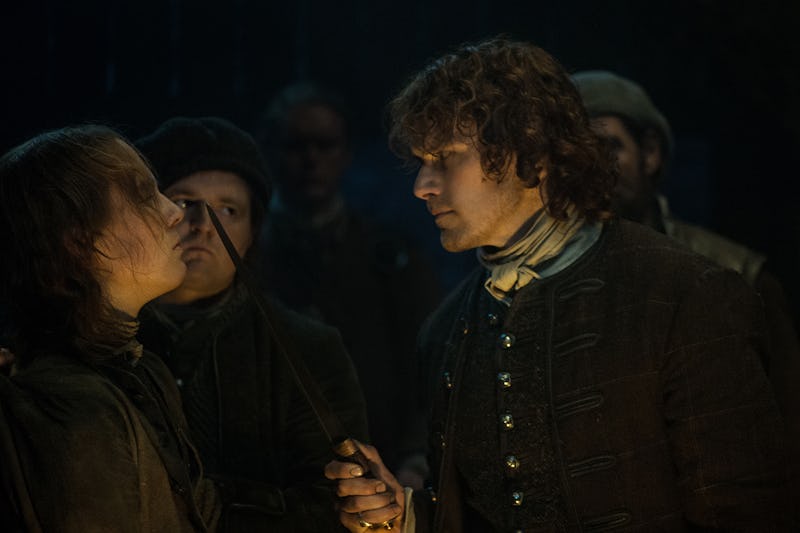 Starz
Although the Season 2 finale revealed that Jamie had miraculously survived the Battle of Culloden and escaped execution afterward, the how had to wait until the Outlander Season 3 premiere, "The Battle Joined." Spoilers follow. As Roger told Claire in the 1960s, it isn't just the final battle of the Jacobite uprising that Jamie needs to survive. After he finally kills Black Jack Randall, a badly-injured Jamie is saved by his fellow Scotsmen and taken from the battlefield. However, the British find the traitors anyway and the king has sentenced all of the rebels to death. But the redcoat overseeing this sentence saves Jamie in an act of serendipity. Who's Lord Melton on Outlander and how exactly is it that Jamie is allowed to live? It's all thanks to a promise made in Season 2.
Readers of Diana Gabaldon's books are more than familiar with the character of Lord John William Grey. But fans of only the TV show might need help remembering the character responsible for saving Jamie's life — even with a helpful previously on Outlander scene — since he's nowhere to be seen in "The Battle Joined." But in the ninth episode of Season 2, "Je Suis Prest," a 16-year-old William Grey is tricked by Jamie and Claire into giving them information about the English army when Jamie pretends that he is going to rape Claire if he doesn't. Jamie allows him to survive and Grey says, "I owe you my life. I should greatly prefer not to, but since you have forced the gift upon me, I must regard it as a debt of honor. I should hope to discharge that debt in the future, and once it is discharged, I will kill you." Jamie responds, "Then I must hope, sir, that we do not meet again."
William Grey — or John Grey, as he's better known — does not meet Jamie again in the Season 3 premiere. But his older brother does. Although he introduces himself to Rupert MacKenzie (RIP) and the other Scotsman by his title of Lord Melton, he is Hal Grey — John Grey's older brother. Upon Jamie giving his name to the British officers sent to kill him, Lord Melton recognizes him as Red Jamie and reluctantly realizes he needs to save him to uphold his family's honor.
Although Jamie doesn't want to be saved, Melton refuses to turn Jamie in or shoot him, otherwise he'd be "discrediting my brother's sworn word." And as brutal as the British have been on Outlander, they do take their manners and oaths quite seriously. So Melton comes up with the plan of putting Jamie in a wagon full of hay and sending him to Lallybroch, thinking that Jamie will die before he reaches his home. But thankfully for Claire — and Outlander fans — that's not what occurs with his sister Jenny and her husband Ian greeting Jamie when he arrives.
With young William's debt paid, you may think the Greys' involvement with Jamie is complete, but book readers — and TV fans who pay attention to casting information — know that's not the case with David Berry portraying an older Lord John Grey in the new season. And with Lord John Grey's life debt paid, fans will have to wait and see how he greets the very-much-alive Jamie later in Season 3.