This 'Midnight, Texas' Newcomer Could Link The Drama Back To 'True Blood'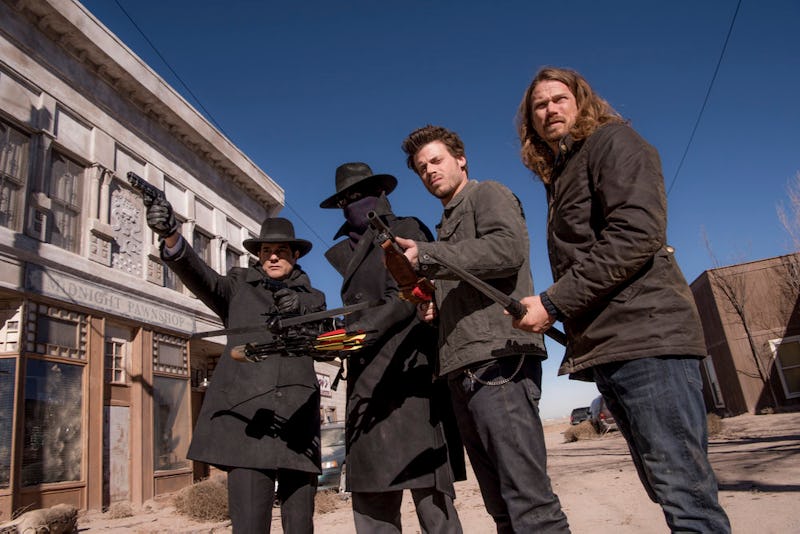 Karen Kuehn/NBC
Everyone in Midnight, Texas wants to be left alone, and it seems like they got their wish at the end of the Season 1 finale. Unfortunately, the happy bliss in light of Olivia and Lemuel's nuptials doesn't last for long. Who is Melanie Pratt of Albany Worldwide on Midnight, Texas? The supernatural town is about to become a little bit less of a hideaway. Spoilers for Midnight Texas ahead!
At the end of the episode, a little over a week after the battle to take back the town, the happy couples woke to some disruptive construction happening in their quiet hamlet. There they met the red-headed representative from Albany Worldwide, a "hospitality company" who recently bought the Rio Roca Fria hotel. Melanie Pratt is played by actor Challen Cates, and already sticks out like a sore thumb with her peppy attitude and bright suit. "This town has a very colorful history," Pratt beamed. Unsurprisingly, her attitude and plans for Midnight caused the residents to immediately butt heads with the newcomer. If the series is renewed for a Season 2, the Midnighters are going to have a lot on their plates.
Not only does this mean that the outsiders won't be able to stay hidden and safe with their found family, but the ghosts that Manfred sees clawing at the windows don't bode well for any prospective guests. There's also the possibility that all of these "tourists" will just be more evil visitors drawn to the veil. Attention is the last thing that Midnight needs.
That said, the outside world is sure to be drawn in. Who doesn't love a good haunted hotel? The mysterious renovation of the hotel figures into Charlaine Harris' second novel in the trilogy that this series is based on, Day Shift. So fans of the books might have an inkling of what's coming next.
Could the corporation and/or the new character be connected to Harris' other well-known book series? If "Albany" is referring to New York, that is an interesting choice, as most of Harris' novels take place well below the Mason-Dixon line. That said, the Midnight, Texas trilogy and The Southern Vampire Mysteries do technically take place in the same universe — and Sookie Stackhouse herself does get a shout out in Day Shift. The references to the effects of vampire blood on humans in the last few episodes of Midnight Texas should have fans buzzing with intrigue. Plus, Melanie Pratt looks more like a True Blood character than anyone on the NBC series has yet, and this type of "corporate meets supernatural" plot twist is very much in the Harris wheelhouse. Unfortunately, Albany Worldwide is not name-checked in True Blood either. There's no cross-over potential, or posthumously revealed to be a spin-off potential, just yet.
Sometimes the greatest villains in supernatural stories are the ordinary humans instead of the monsters. Manfred, Fiji, Bobo, Lemuel, Creek, Olivia, Joe, Chuy, and the Rev may be able to take on evil vampires, a succubus, white supremacists, and a demon from Hell — but they haven't had a threat like this yet. If Melanie Pratt is more of a villain than an annoyance, she'll be unlike anything that the Midnighters have faced.
Knowing this universe, even just after 10 episodes, it seems unlikely that Albany Worldwide is really interested in the historic hotel property and the chance to revitalize Midnight. There's probably some kind of nefarious plan in place. We'll have to wait for Season 2 to find out, provided that NBC picks up the series for another season.
Hopefully Cates will return as Melanie Pratt, too. Her energy juxtaposes nicely against the hardened Midnighters. Whether she's as evil as one might assume her hospitality corporation is, or eventually becomes one of the Midnight, Texas family, she definitely needs to stick around.