Misty's Replacement On 'Luke Cage' May Be More Than Just A High School Rival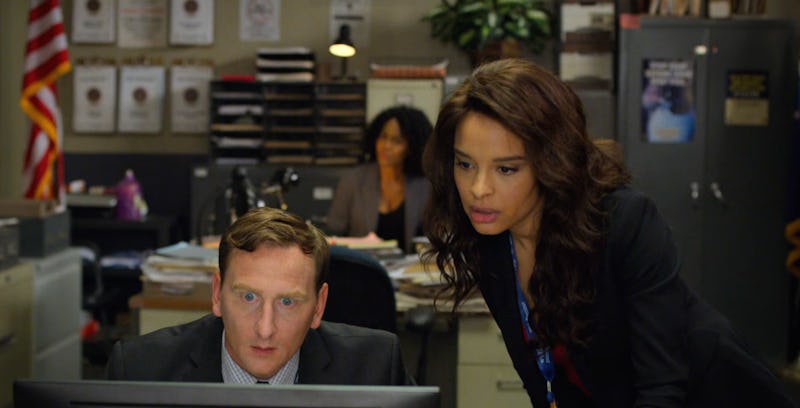 Netflix
Misty Knight (Simone Missick) has had a few setbacks in her career as an NYPD detective by the time Luke Cage Season 2 starts. Spoilers for Episodes 1-4 follow. And her life is further complicated by the arrival of Nandi Tyler in Luke Cage Season 2. Detective Tyler (Antonique Smith) is introduced in Episode 2, "Straighten It Out," as the person who's been filling in for Misty at the precinct. But Misty and Nandi have known each other long before they both became police detectives. They went to high school together. As Misty struggles to find her place in the police department again, she and Nandi butt heads. And since Nandi is a new character created for the TV show who doesn't appear in the comics, it's hard to say if their relationship will turn from frenemies to just plain enemies.
Misty starts out Luke Cage Season 2 at a low point. The police department doesn't respect her anymore since, unbeknownst to her, her partner Rafe Scarfe was revealed to be a corrupt cop. And she's dealing with the emotional and physical repercussions of losing her arm, which occurred during The Defenders. When she finally returns to work, she learns that a familiar face has taken her desk — Nandi. Misty was a year behind Nandi in high school and they both played varsity basketball. Nandi tells the new police captain how Misty took her starting spot on the team after Nandi was injured. Even though many years have passed this high school incident, it's clear that both Nandi and Misty have resentment toward each other, though they play nice at first.
As Blackfilm.com reported, this detective is brand new to Marvel, so the comics won't offer any clues about her. As for the actor playing her, Smith has had small roles in TV shows before, like Chicago P.D. and Shots Fired. But she may be better known for portraying Mimi in Rent on Broadway. (The very same role fellow Luke Cage actor Rosario Dawson had in the Rent movie.) As TheaterMania.com reported, she portrayed Mimi for years. That helps explain why a police detective has such an amazing singing voice. Nandi belts out "And I Am Telling You I'm Not Going" from Dreamgirls in the fourth episode, "I Get Physical."
While Nandi is certainly antagonizing Misty, it's unclear what her intentions are. In an interview with Fan Fest, Smith did admit that Nandi used Misty's absence to advance her own career. "She lost her arm, she's not at the [precinct] and I take full advantage of that on my entrance. That is how I enter the scene. You know, throwing a little bit of shade towards Misty Knight who is struggling right now," Smith said.
Out of character, the actors who portray Nandi and Misty actually get along. Smith told Fan Fest that she looked up to Missick on set. "I had a lot of my scenes with her and I will say Simone just really was very encouraging. I've known her husband [actor Dorian Missick] for a really long time and I really didn't get to meet her until my first day on set," Smith said. "Right off the bat we hit it off and it just became this beautiful sisterhood. I definitely had an amazing and encouraging time working with her."
At least in the first few episodes of Luke Cage Season 2, Nandi's relationship with Misty is anything but encouraging. And while Nandi is liked by the new captain and her partner Bailey (who appeared in Luke Cage Season 1), she just can't seem to get along with Misty. That could mean that like Rafe, Nandi is hiding a secret that she doesn't want Misty to discover. Or, Nandi could be a good person who just struggles to be civil with Misty — especially since Misty is more focused on what Luke Cage is doing than following police protocol.
Spoilers through Episode 10 ahead. But Smith promised to Fan Fest that something big will happen to Nandi as Season 2 continues, and indeed Misty's issues with her are more than just a rivalry. Nandi can't resist the temptation to become corrupt. In Episode 10, Misty and the new chief figure out that Nandi fed information to Bushmaster's people about the safe house that Danny provided, and Misty has the pleasure of arresting her rival.
So though she made a mistake with Scarfe, Misty is redeemed by sniffing out Nandi's betrayal, proving her investigative skills are just as sharp as ever.