How Tan's Husband Convinced Him To Accept The 'Queer Eye' Job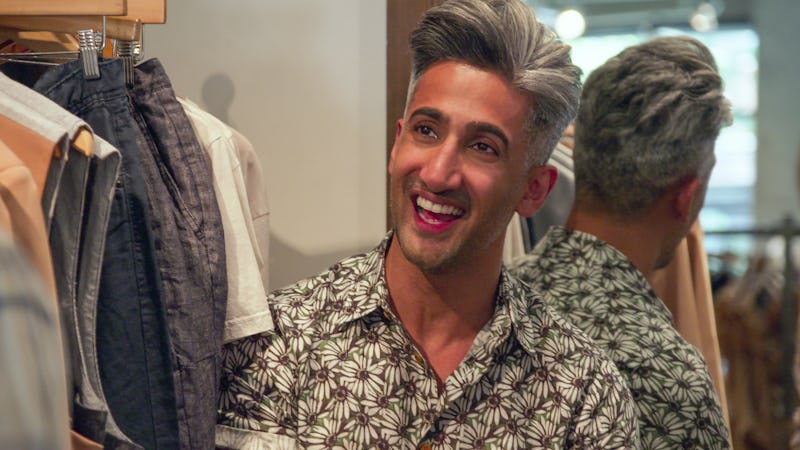 Netflix
It didn't take long for the Fab Five to worm their way into fans' collective hearts when the first season of Netflix's Queer Eye debuted on the streaming service in February. And since the second season of Queer Eye, which premieres on June 15, is sure to only increase the cast's popularity, it's high time the world learns more about these core members and the people closest to them. Take Tan France and his husband Rob, for instance.
Rob and Tan have been married for the past 10 years, according to Elle Australia, and as it turns out, he played a big part in convincing Tan to join the Queer Eye cast in the first place.
Initially, the style guru worried that representing the gay Muslim community would be a little too much pressure than he wanted to take on. "When I was first offered the show there was a time when I thought I was actually going to say 'I don't want to do it' before we started filming because I felt so much pressure," Tan admitted to the Press Association, per The Mirror. "When I speak, I don't speak for myself, I don't have the luxury of a Caucasian to be able to speak for myself. I speak for a whole community and I represent so many different communities that that felt like a lot of pressure."
However, after talking it over with his husband, Tan ended up having a change of heart. "My husband is wonderful and he reminded me that if it's not me, who? If it's not now, then when?," Tan added in the same piece. "And so I feel like it's perfectly appropriate that we now have representation and that I am that person."
It's impossible to imagine the Fab Five existing without Tan, so it's a credit to Rob's character that he played a part in helping to give Tan the extra incentive he needed to grace our TV screens. But make no mistake, Rob is much more than Tan's lifelong partner. He's also an extremely talented illustrator, whose works can be found on his Instagram page.
The account is mostly dedicated to his various works of art, though, if you look closely you can find a couple of photos of Rob and Tan pop up throughout as well. And if his bio is any indication, Rob seems to be doing rather well for himself: "I'm building inventory for my upcoming online store where I'll sell original pieces," the bio reads. "It'll launch soon, I promise. (Commissions closed, for now.)"
The Fab Five have yet to delve into too much detail about their personal relationships on the show, probably due to the fact that the contestants are their main focus for them throughout the episodes. That being said, it wouldn't be surprising if more info about their lives (and loved ones) come out during the second season. Granted, it's entirely their right to keep certain aspects of their lives private if that's what they're most comfortable with, but even without a ton of information it's clear that Tan and Rob and very happy together.
The cast of Queer Eye instantly skyrocketed to fame earlier this year by proving that a reality series can be groundbreaking in a way you never thought possible. This show isn't just about giving people makeovers — it's about breaking down barriers, whether it be in regards to race, religion, sexual orientation, and everything in between. That alone makes the show deserve significant praise, regardless of what other details the Fab Five may end up revealing about their personal lives.