Why This 20-Year-Old, Retired Bath & Body Works Scent Is Still Everyone's Favorite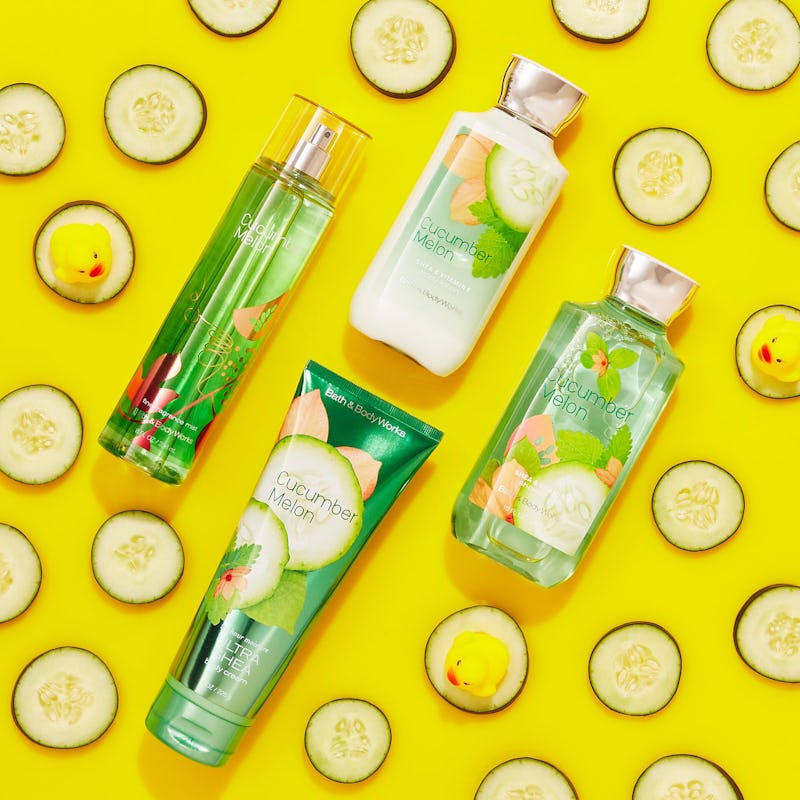 Courtesy Bath & Body Works
Crisp cucumber. Watery honeydew. Summer cantaloupe. Sparkling grapefruit. Sheer woods.
These are the exact phrases used in press releases to describe the notes in Bath & Body Works' classic Cucumber Melon scent. And sure, those words do a great job of describing the smell itself (though, admittedly I'm still unclear what sheer woods means). But if you've ever been a teenage girl in a locker room, you know that when it comes to describing the entirety of Cucumber Melon, those words don't even scratch the surface. The cultural significance of a scent like Cucumber Melon (or Sweet Pea, Country Apple, or Japanese Cherry Blossom, for that matter) is best described with a whole other set of phrases.
For consideration: Exiting into the hallways immediately after a middle school gym class. Walking through clouds of body spray before going to the mall. Splurging on an entire set of product at the holidays. Passing the tiny lotion bottles from locker to locker before class. Constantly smelling like something in between a gumdrop and a fresh bar of soap. It has truly become a timeless fragrance.
Launched in 1998, Bath & Body Works' Cucumber Melon products quickly became a staple in body care in the same way Bath & Body Works became a staple stop during every mall trip. When I think of the first time I fell for Cucumber Melon, I think of all the nostalgic phrases above, but also Auntie Anne's pretzel kiosks, of Sunday shopping sessions with my mom, and of the steady knowledge that, even if nothing else I tried on at the mall fit, there was always a lotion or a soap at Bath & Body Works that would make me feel good.
Mikalia Walley is a 22-year-old stay at home mom from Alabama who's a member of the Bath & Body Works Facebook group called "Bath & Body Works: A True Obsession." Her first memory of Cucumber Memory is also tied to a mall trip.
"That scent is literally the first scent I picked up to smell," Walley tells Bustle. "It was my first time there and I had no idea what kind of scents I was really into. But as soon as I smelled it, I fell in love."
Walley bought the whole set of Cucumber Melon products (lotion, body spray, soap, etc.) and the rest is history. Now, when the Semi Annual Sale comes along — which features discounts of up to 75 percent — she buys at least two sets of Cucumber Melon products.
"I have about 15 sets of different smells [currently]," Walley says, "four of those being Cucumber Melon, so I don't run out for a while."
Despite being almost 20 years old, Cucumber Melon has been getting its fair share of new attention as recently as this year thanks to The Fragrance Foundation's Consumer Choice Hall of Fame Award and widespread coverage of Bath & Body Works '90s scents re-launch. While many relaunches of nostalgic products are often "new and improved" versions of old favorites, the Cucumber Melon products you can buy now aren't being changed or adapted from its original 1998 version. Representatives from Bath & Body Works confirmed that the Cucumber Melon scent hasn't been altered since its original launch 20 years ago. The only notable way the fragrance has changed at all is that it's now considered a "retired scent" by the brand. This decision reflects what Bath & Body works offers customers: the comfort of the familiar with the promise of something new and exciting — if you want it.
While it might seem a little backward to think that a super popular, award-winning scent be retired, the label is a bit misleading: It's actually still very much available to buy from Bath & Body Works, along with other nostalgic fragrances like Cherry Blossom and Country Apple. Even though the Cucumber Melon was "brought back" in 2015, 2016, and 2017, it doesn't appear that this retired scent actually ever went completely away. When asked to share details about when the scent was transitioned to that retired status and if it had even been truly retired (in the sense that the company was no longer manufacturing the scent), a rep for the brand tells me they didn't have any details to share, as "any product information older than five years is archived by an outside source."
Since the brand could not confirm when (or if) Cucumber Melon had originally been pulled from B&BW shelves, I asked the unofficial experts: the fans. I posted inquiries about the scent and its retirement in Facebook fan groups (Bath and Body Works: A True Obsession, with 19,654 fans; Bath and Body Works Fanatics, with 36,804 fans; and Babes Of Bath And Body Works Uncensored, with 25,580 fans, as of publication time). That's close to 100,000 Bath & Body Works fans — and not one person could put their finger on exactly when the product went away. And, in fact, there were conflicting opinions as to if the product was ever truly unavailable. Most people couldn't remember a time when they wanted to buy Cucumber Melon but couldn't. I even contacted the person behind the much beloved (and extremely thorough) BBW history site BBW Heartland. This person (who has always preferred to remain anonymous for privacy reasons) tells me that they don't have any answers, either.
But the mystery surrounding the brand and Cucumber Melon's history hardly matters to big fans of the scent, as long as it's still very much available to buy (usually at a discount: All Cucumber Melon products have been listed as buy two, get one free, or buy three, get two free, or another BOGO/discounted deal since I started reporting this story in July).
Denise Dporzarlik is a 53-year-old preschool teacher in Connecticut who is also a member of Bath & Body Works: A True Obsession on Facebook. She tells me that Cucumber Melon first appealed to her because it was a fresh, non-floral fragrance. And although it isn't her favorite Bath & Body Works fragrance of all time, it is in her top 10 (Bath & Body Works has hundreds of scents in its portfolio, according to the brand's website).
"I probably have 15 Cucumber Melon products," Dporzarlik says. "It is a summer favorite."
If a scent being in a Bath & Body Works top 10 doesn't sound that remarkable, it's worth considering that big fans of the brand are really big fans. For example, Dporzarlik tells me she currently has about 100 Bath & Body Works products in her collection.
Both Dporzarlik and Walley explain that Bath & Body Works and its scents evoke feelings — vivid memories, or simply just a very specific shopping experience.
"The first thing that comes to mind when I think of Bath & Body Works is a comfy, colored, lit-up store," Walley says. "I just imagine all the beautiful candles sitting there, waiting to be grabbed. The bins with all the good stuff at the bottom that I have to dig for."
Even when people who don't consider themselves megafans of the brand talk about Bath & Body Works, or their favorite scent, it's different than just describing a product they like. It's more close to describing a whole world — one that's built on a combination of comfort, accessibility, and, yes, memories.
Sarah Klein is a 32-year-old health journalist from NYC, and also associates Cucumber Melon with happy childhood memories. And even though she only owns one Bath & Body Works product these days, the store still finds its way into her life in nostalgic ways.
"Funnily enough, my fiancé has a nostalgic tradition to buy his mom a load of BBW products for Christmas every year, including Cucumber Melon- and Sweet Pea-scented ones — and this past year he gave me one, too," Klein says.
These days, the brand is still promoting its mission of "making fragrance fun," but through new innovations like its Aromatherapy line, which includes seven mood-boosting fragrance blends and six essential oil products.
Whether in the form of new products or nostalgic classics, Bath & Body Works fans are passionate about their favorites. Cucumber Melon is, after 20 years and official retirement, still loved by thousands. And though it may not be everyone's favorite scent, everyone certainly remembers it. Everyone has a memory that comes to mind, and regardless of anything else, a sense of connection strong enough to span decades is a very powerful thing. And if it is your favorite (or just in your top 10), Bath & Body Works is making sure Cucumber Melon is still accessible — whether you want to buy 100 products for your collection, or just one.