Here's Why Arie Chose This Woman On 'The Bachelor'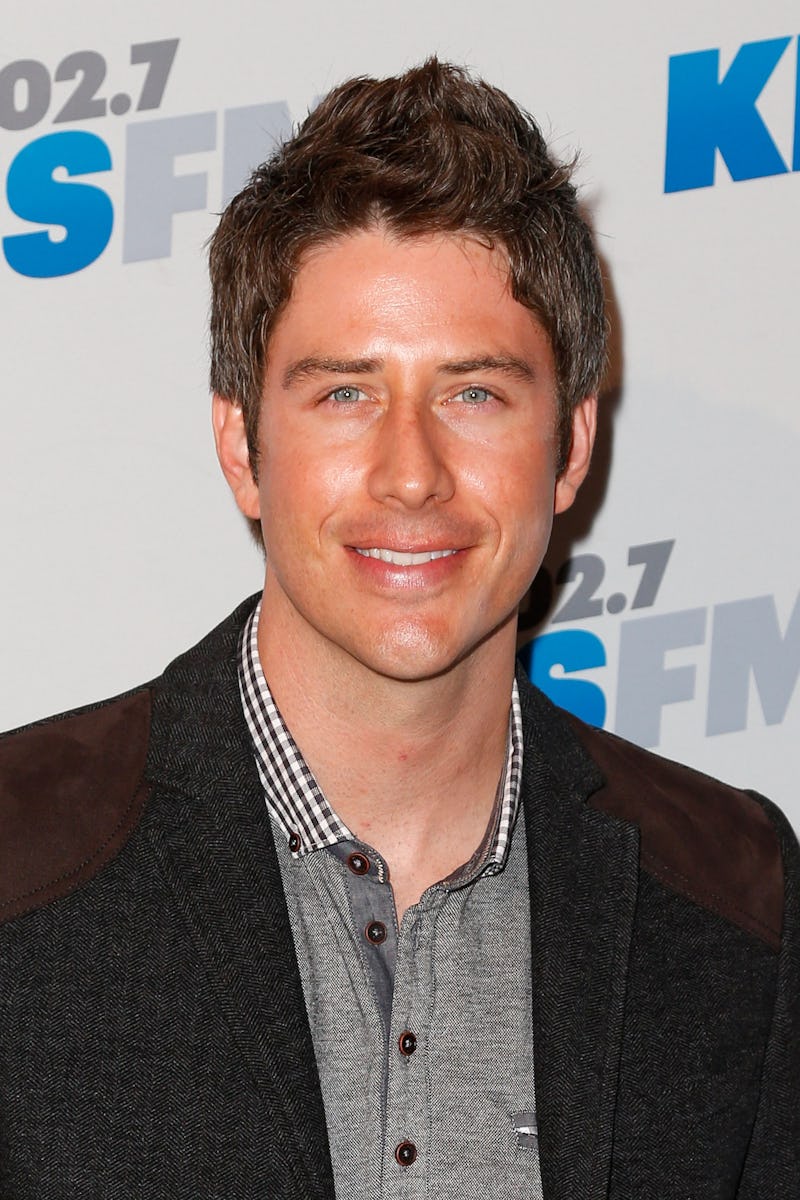 Imeh Akpanudosen/Getty Images Entertainment/Getty Images
While there's plenty more to come on The Bachelor two-part season finale (with even more drama coming on March 6), who Arie proposed to was finally answered on March 5. Arie proposed to Becca over Lauren on The Bachelor during the last rose ceremony in Peru. Before deciding who would get his final rose, though Arie was extremely conflicted since he loved both women (and told them just as much, SMH). But, in that moment, in Peru, during the final rose ceremony, Arie chose Becca. He gave her that Neil Lane diamond and it should have been happily ever after.
But, even then, it was hard to think that this love story had a happy ending since The Bachelor has been teasing that Arie might have a change of heart. But Arie had his reasons for choosing Becca over Lauren in that moment, even if he ended up regretting that decision.
During the finale, Arie told Lauren that he was conflicted about who to choose up until the morning of the final rose ceremony. But one of the reasons he went with Becca was because of her confidence in their relationship. "I feel solid in us," Arie said. And in speaking about their last night together before the finale, he said, "I could really feel how much she loved me. I could feel how much she wanted us." He also said she would make a "great mother" and an "awesome wife." So even though he said there was an "indescribable pull" with Lauren, he chose Becca in a move that seemed to be Arie following his head a little more than his heart. (And also maybe his parents advice, since they thought Becca made more sense for him than Lauren.)
However, that's not necessarily a fair assessment since Arie did confirm his deep love for Becca — at the time. "My love for you is unmeasurable," Arie said before getting down on one knee. "This morning, I woke up and I thought about you and I thought about you and our kids together. I thought about us when we're old. And I choose you today, but I choose you everyday from here on out. I love you so much." Then he asked, "Becca will you marry me?" to which she said yes.
But their happiness didn't last for very long. After producers showed fans a montage of Arie and Becca beginning their relationship outside of the Bachelor mansion, having fun, cooking dinners, and being generally adorable, the other shoe dropped. Arie told the cameras that he had found himself thinking more and more about Lauren — his runner-up — and that he felt that Becca could tell that he was distracted. He figured that it was really just in her best interest to call off their engagement. (Ugh, don't you dare pin this on her, bud.)
As Arie told it, "Sometimes when I'm doing these little getaways with Becca, I think about, 'Oh, how would this be with Lauren?' And it just kills me because I have a great woman right next to me. I go to bed and I think about Lauren. And I wake up and I think about Lauren." Ouch.
It's obviously understandable that Arie wouldn't want to stay with Becca if he didn't love her, and she wouldn't want that either. But, it's hard to know that all of this could have just been avoided if he'd figured out his feelings before proposing to Becca. Whatever his strong feelings for her at the time — it seems his indescribable pull to Lauren is what won out in the end.