Connie Britton Explains The 'Nashville' Twist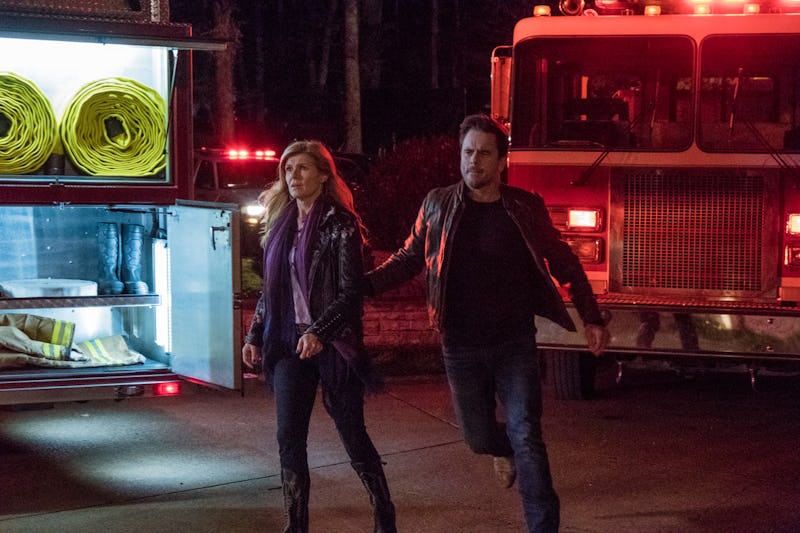 CMT
Spoilers for the Feb. 23 episode of Nashville ahead. After a shocking cliffhanger that left her life in jeopardy and an episode filled with false hope that she'd survive, Rayna died on Nashville. Yes, Rayna Jaymes, the series' main protagonist whose story fans have been following for five seasons. The twist was only revealed on Thursday night, but already, Connie Britton has explained why she left Nashville — and yes, that means she's really leaving.
First and foremost, this was Britton's decision. As she told The Hollywood Reporter, "It was something that, for various reasons, had been percolating for me. What was really important to me was that it felt like the right time." But that doesn't mean she was going to leave the show in a bad place. Britton reiterated how important it was to her to exit Nashville only when it worked on a story level.
"There were a lot of different factors that played into it; it was a cumulative thing," she told THR. "I don't need to go into great detail about what that was but for me, it felt like the timing was important and my No. 1 priority was the show and making sure that it was done in the right way." In the exclusive Variety video below, Britton seems similarly optimistic about the series' future and completely confident in its handling of Rayna's death.
Before you doubt Britton's commitment to Nashville, know that she really meant it when she said it was her top priority. In fact, she told TVLine that she offered to stay for additional episodes if needed, but the story was already heading towards Rayna's death. "I did [say] to Marshall at one point about, 'Hey, I could stay on and do a few more [episodes] if we've got more story to tell.' [But] I think at that point we were very committed to [this ending]," she told the website, referring to showrunner Marshall Herskovitz.
Britton also gave similar reasons for leaving in the TVLine interview. "It was something that had been percolating over time, and there were lots of different reasons behind it," she said and later added, "As I said, there were a lot of things that came into play. Some of them were personal. … It was just the right timing."
While we likely won't get a more specific reason, Britton did explain that Nashville changing networks this season actually made her more sure of the decision. She told TVLine:
So when the show was moved to CMT and we got these great new showrunners — Marshall Herskovitz and Ed Zwick — I was [confident] the show would be in a good place. Because one thing we learned over the summer is how passionate the fans are. ... The fans love every single one of these characters. And the show is now in a place where all of these characters can live and just be incredibly dynamic and amazing. I feel like Nashville can go on indefinitely.
Britton clearly loves Nashville just as much as fans do, so if she trusts the show to continue without Rayna, we should too.