A Major Character Returned To 'This Is Us' & Everyone Wants To Know Why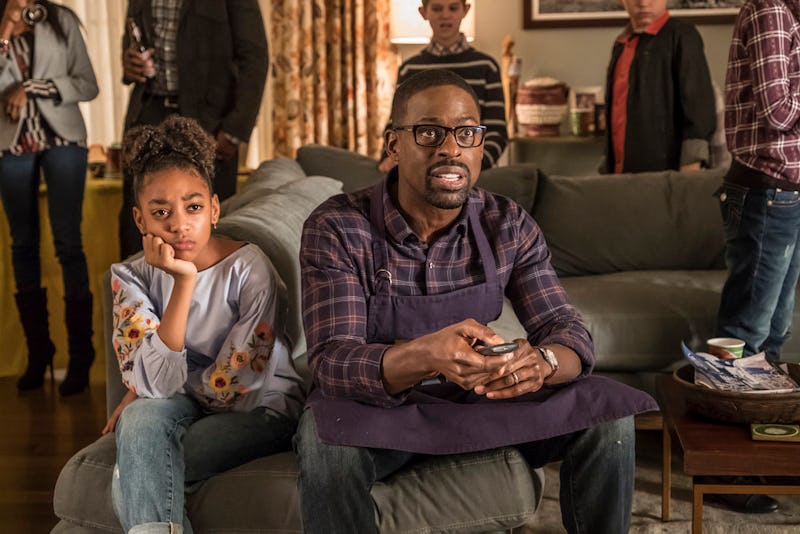 Ron Batzdorff/NBC
Major spoilers ahead for the Super Bowl episode of This Is Us (series writing: Kay Oyegun). Nothing gold can stay, but in the world of This Is Us, bad things usually (hopefully) give way to OK things. Case in point? Jack Pearson is dead, but because of the life that Jack and Rebecca Pearson gave their adopted son, Randall, he now wants to give another child a good life, too. Randall and Beth fostered Deja for a few months, but then she went back to her mother seemingly forever. Well, not so much. Deja is back with Beth and Randall on This Is Us, and her return comes as a shock. But, no one is better prepared to take this on again than Randall.
Randall always felt different growing up, because he's black and the rest of his family is white. Jack and Rebecca Pearson adopted Randall at birth, and though they did their best to make him a part of their family, it was hard for Randall to straddle two worlds at once. Still, he so appreciated having that chance at life that his birth father wasn't prepared to give him at the time. It was this that made him and Beth decide to start fostering children, and, even though Randall originally decided Deja was better off with her mother, Deja came back to the Pearson household in the Feb. 4 episode. Why? Well, we're not quite sure yet. But whether it's for an unannounced visit or for something a little more permanent, it's good that Deja feels comfortable enough with the Pearsons to seek them out in a time of need.
Deja wasn't originally so jazzed to be with Beth and Randall — her previous foster family abused her, and her mother was in and out of jail so often that Deja had no stability in her life. Deja was so used to living on the defense that she needed time to let Beth and Randall in. Luckily, she did. More than anything, Deja needs a safe space in her life, and Beth and Randall are definitely it.
It also turns out that fostering children didn't just make Beth and Randall feel good — future Tess is inspired to become a social worker because of her family's actions. Originally, Tess worried that Randall was trying to replace her in his life with these foster kids, but Randall explained that he was just trying to make another child's life good. And that little boy? The one we first saw before the winter break of This Is Us, with a case worker telling him he'd get a family soon? That case worker is actually grown-up Tess, with her father — old Randall — coming to see her at work and marveling at the job she's doing. And it's seemingly all because of Randall and Beth's big-hearted venture into foster parenting.
Though the biggest storyline of the post-Super Bowl episode of This Is Us was finally seeing Jack's death, the addition of this cute little boy was the show's silver lining. As executive producer Isaac Aptaker told Entertainment Weekly, "It's exciting because the idea of foster care, as we see, is that you don't know what's going to happen tomorrow. A lot of foster parents can identify with that. And the possibility of it being a bit of a revolving door before something sticks is so important to show — the instability of it as you try to give this child stability. I just found that to be such an interesting way to look at it."
It's interesting, too, because Beth and Randall are now in a position where their foster child has come back. Deja called up Beth and told her that she was on their doorstep, but besides that, we don't know much about why and how she got there. It seems likely that something happened with her mother again and Deja didn't know where else to turn.
But having her in the Pearson house is as good a thing for the Pearsons as it is for Deja — they get to help her, and she gets a shoulder to lean on in a time of need. Now, only time will tell exactly why she needs it right now.