Miley Cyrus Unexpectedly Deleted All Her Instagram Photos & Fans Have THOUGHTS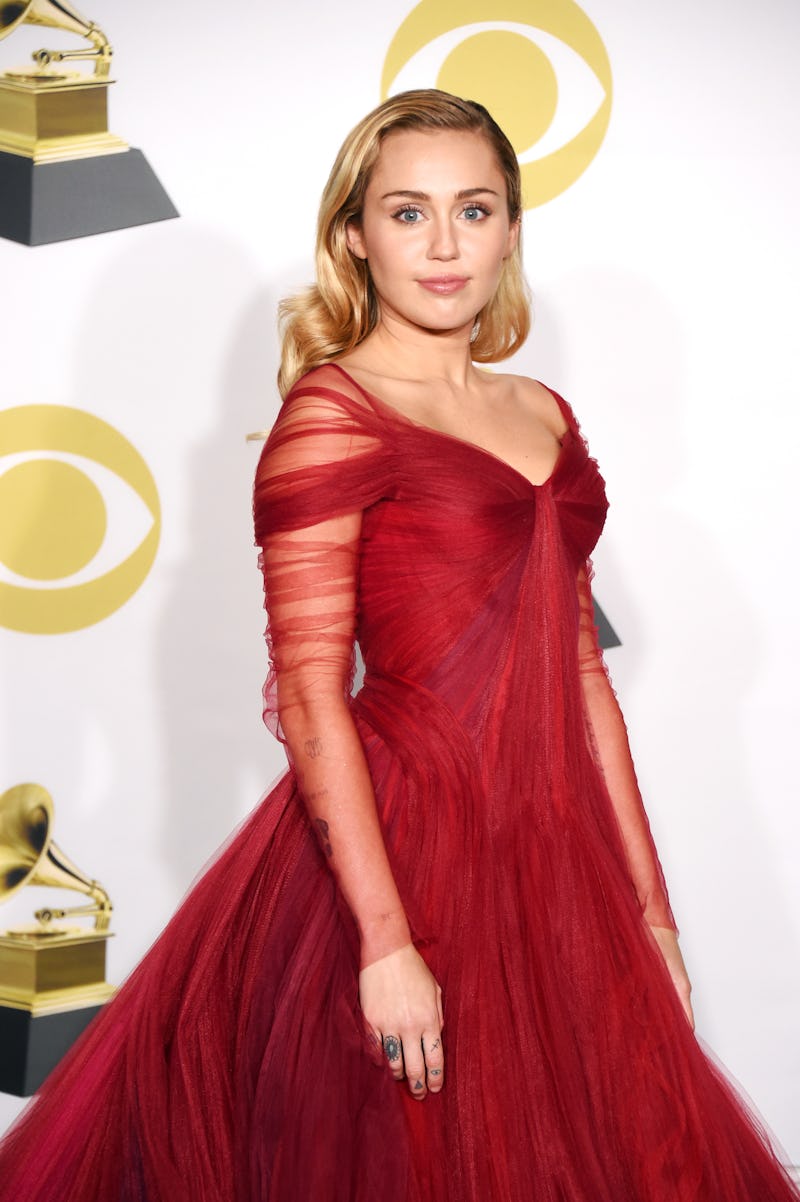 Michael Loccisano/Getty Images Entertainment/Getty Images
Fans may not be too happy about this news. On Friday, news spread that Miley Cyrus deleted all of her Instagram photos, and it's not clear why the singer made such a drastic move. A visit to Cyrus' Instagram page shows that she has zero posts available, though she's previously been active on the site. Her Story highlights, including photos from the March for Our Lives and the Met Gala, are still live on her Instagram profile. (Bustle reached out to Cyrus' agent for comment, but did not receive an immediate response.)
While there's not much evidence out there yet, fans are already speculating that Cyrus' photo deletion has something to do with Liam Hemsworth. Fans have suggested that Cyrus and Hemsworth are secretly getting married, though that doesn't really account for what's going on. After all, she deleted the photos of her and Hemsworth together, too. (For the record, Hemsworth's Instagram photos, including some of him and Cyrus together, are still live.) Whatever the reason might be, some fans have tweeted their disappointment that the couple's sweet photos together are no longer on Cyrus' Instagram page.
It's also possible that the mass photo deletion has to do with a new album Cyrus might be working on. Or, as Cosmopolitan suggested, it could just be a Friday the 13th prank. Until Cyrus explains why she did this, though, fans will keep guessing what her rationale may have been.
One theory is that Cyrus and Hemsworth secretly got married, even though it doesn't entirely make sense why she would need to delete old photos to hide something that just happened. But maybe Cyrus wants the "first" photos on her Instagram account to be from her wedding, to show that they're starting a new life together? It's a stretch, but anything is a valid guess at this point.
Plus, at the end of June, there were a number of fan tweets from people suggesting the couple is already married. Do they know something everyone else doesn't?
Others, meanwhile, are suggesting that the two of them may not have tied the knot yet, but that they're planning to soon. The photo deletion could be Cyrus' way of teasing the big reveal.
A more disappointing theory about all of this is the speculation that Cyrus and Hemsworth may have broken up. But the two of them were reportedly seen bowling with Bachelor Nation members Kaitlyn Bristowe and Shawn Booth just a few days ago, so that theory doesn't seem super likely to be the case. After everything Cyrus and Hemsworth have been through, it seems like they're in this relationship for the long haul, whether or not they're actually secretly married.
And, of course, there's also the possibility that Cyrus' Instagram purge has nothing to do with Hemsworth at all. The deleted posts could just be Cyrus' way of teasing new music. It's not unheard of for celebrities to delete their entire Instagram history, after all. Taylor Swift deleted all of her Instagram photos last year, eventually using her platform to tease new music. And in May, Blake Lively deleted all of her Instagram photos to promote her upcoming movie A Simple Favor. So, if this is Cyrus' way of promoting a new project, she's in good company.
The theory that Cyrus' mass photo deletion has something to do with a new project seems to check out, too. Us Weekly reported earlier this month that Cyrus has been working on new music. Sources told the magazine that Lady Gaga was seen at the same studio, which prompted some people to speculate that the two of them could even be working on a collaboration together. (If you're curious, Lady Gaga's Instagram posts are still live.)
Whatever is going on with Cyrus' Instagram, fans are eager to know more. Hopefully, the singer will put an end to the mystery soon.