Nick & Vanessa Explain Why They Called It Quits After 'The Bachelor'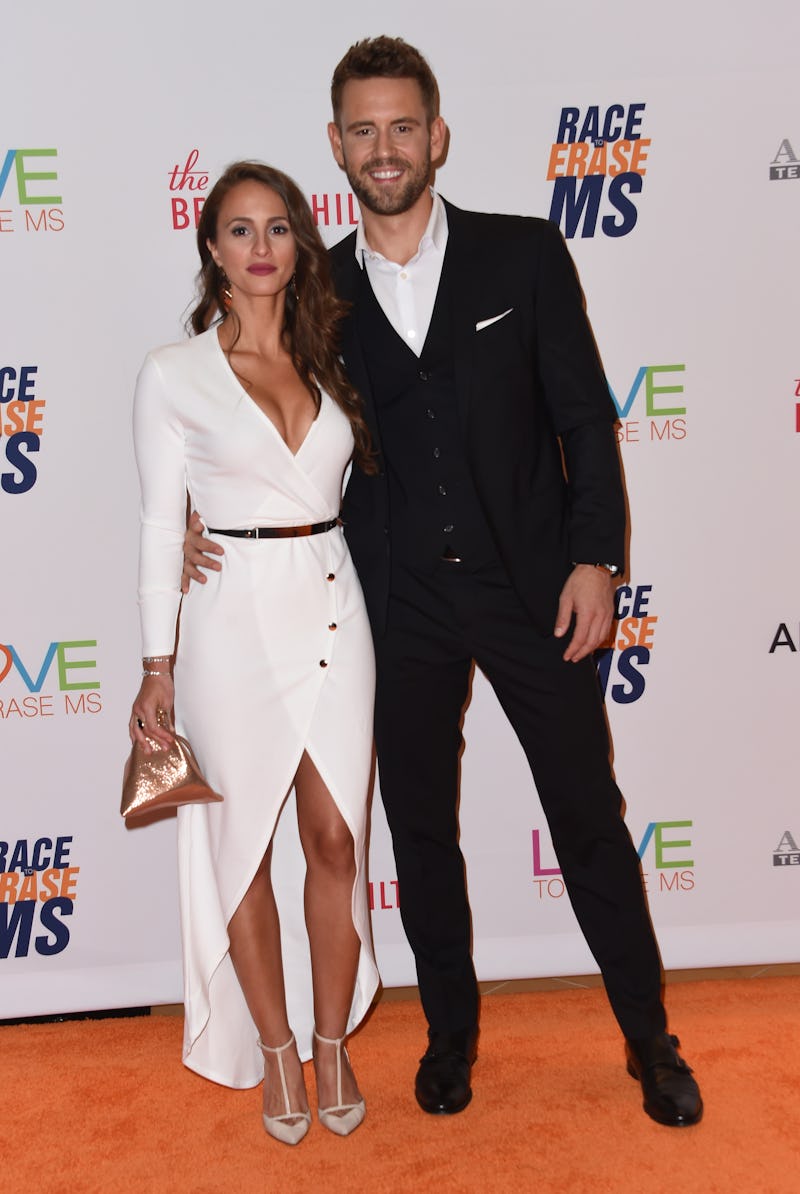 CHRIS DELMAS/AFP/Getty Images
The announcement many fans have expected since relationship began is here: Bachelor couple Nick Viall and Vanessa Grimaldi have broken up. Per E! News, the pair made it just five months post-show before deciding to go their separate ways. Of course, Bachelor Nation isn't necessarily shocked by this information (the couple's unhappy faces during After The Final Rose were pretty alarming). But, why did Nick and Vanessa break up after The Bachelor? According to them, it was not "an easy decision." The couple released a joint statement to E! News to explain their side of things, which reads as follows:
It's with a great amount of heartbreak for the both us as we have decided to end our engagement. We gave this relationship our all and we are saddened that we did not get the fairytale ending we hoped for. We will continue to be there for each other no matter what. This hasn't been an easy decision, however, as we part ways, we do so with lots of love and admiration for each other."
Fans have long suspected something was up between the pair, especially after their appearance at Evan and Carly's wedding, when a rogue camera shot caught them looking less than thrilled. (I have resting b*tch face too, I get it.)
There are many reasons a Bachelor couple splits up. Distance can be a factor, and despite the fact that the pair bounced back and forth from LA and Canada, there are still a lot of miles between the two places they call home. Perhaps the pressure of being in the spotlight got to them, especially since everyone was pretty negative about their chances from the start. There have also been rumors in the press for a while now that they were broken up or on their way to breaking up — all of that can put strain on a new relationship.
Whatever the exact reasoning, though, the most important question is, of course, which love-related show will Nick Viall go on now? Famously Single? Million Dollar Matchmaker? Bachelor In Paradise 5? ...THE BACHELOR? Oh, Chris Harrison, help us all.