Rosie O'Donnell's New Twitter Photo Is The Best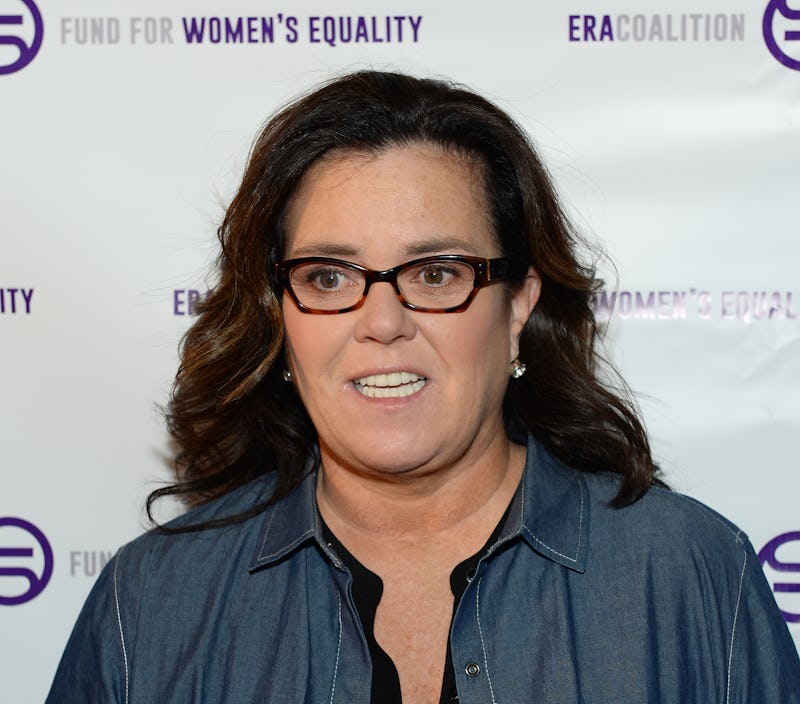 Andrew Toth/Getty Images Entertainment/Getty Images
One of the silver linings of this administration — hear me out — is how many opportunities there are to resist. At least, that's the way I'm choosing to look at it. And someone who seems to be writing a new playbook on resistance is Rosie O'Donnell, who is angling to play the role of Steve Bannon on Saturday Night Live. This week, O'Donnell updated her Twitter profile picture to one of herself as Trump's Chief Strategist. So what does this mean? Is Rosie O'Donnell actually coming to SNL? Or is she just trolling Trump? The straight answer is that we don't know, but, for once, that's actually the best possible scenario. This is a win-win situation.
Update: O'Donnell's representative has confirmed to Vanity Fair that she will not appear on this week's episode of SNL, but, hey, there are many more to come.
Earlier: The first option is that SNL took note of the swelling of public support and O'Donnell's own campaign, and has hired the actress and former Trump-target to join the cast. This would be a glorious turn of events, not just because O'Donnell would do a great job with the impression, but because I think it would really get under the President's skin. Rumor has it that Melissa McCarthy's gender-bending parody of White House Press Secretary Sean Spicer on last week's episode did just that; Politico reports that the White House was embarrassed by the portrayal, allegedly because Spicer was portrayed by a woman. This unconfirmed theory was reportedly borne out by the fact that Trump didn't do any tweeting about that particular sketch — a rarity in this new world we find ourselves living in.
However, it is worth noting that Sean Spicer addressed the portrayal, and did so surprisingly calmly, referring to the impression as "cute" and "funny." He also added a tongue-in-cheek critique of the amount of gum that McCarthy crammed into her mouth to play him. So while it's not clear exactly where the rest of the White House stands on McCarthy's impression, if O'Donnell actually has been added to the cast to portray Steve Bannon, I think that's great.
On the other hand, the second option is that O'Donnell's campaign has fallen on deaf ears, and she won't be joining the cast. Which would be a bummer, because we'd be missing out on a glorious impression. But what we wouldn't be missing out on is the golden opportunity to get under the skin of our Commander-In-Chief, because every moment that goes by without a definitive statement being made on whether O'Donnell-as-Bannon is a reality is a moment that Trump has to be stressed about it.
And you know who knows that? Rosie O'Donnell, new hero of my life. Here's the tweet currently Pinned to the top of her profile.
O'Donnell seems to know that there's no downside to changing her photo to the Jonathan Smith-created composite; whether she does or doesn't get to do the impression on SNL, she's building up anticipation. For us, the majority of the American people, that anticipation is sweet. And for Donald Trump, who by his own admission tunes in to hate-watch SNL most weeks, that anticipation has got to be maddening.
Either outcome sounds great for me, so I'll just be sitting pretty over here refreshing my Twitter feed until we know more.