This Is The Surprising Amount Of Money Taylor Swift Received From Her Trial Victory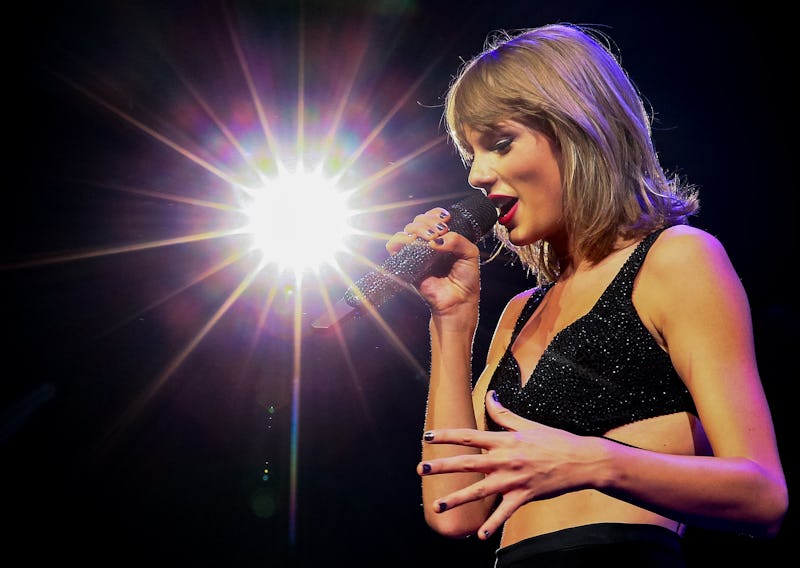 Christopher Polk/Getty Images Entertainment/Getty Images
At first glance, your happiness over the news that the jury in Taylor Swift's case reached a verdict in favor of the popular singer may have been marred a bit by the announcement that she would only receive damages in the amount of $1 from former radio DJ David Mueller. On Monday, Aug. 14, a jury found him guilty of allegedly groping Swift back in 2013. That's an absurdly small amount to force someone who's now been convicted of assault and battery to pay their victim. Was Taylor Swift really only awarded one dollar? And if so, why did she receive so little?
The reported amount of damages is indeed correct — but it didn't come as a surprise to Swift, and it certainly was intentional. Before the trial even started, Swift herself stated that she would only be seeking $1 from Mueller, to reinforce the fact that, for her, the trial was not about money; it was about getting justice against the man who allegedly violated her. According to the language of Swift's lawsuit, the dollar would serve as a symbol holding Mueller accountable, and "as an example to other women who may resist publicly reliving similar outrageous and humiliating acts." That accountability, that example — and that one dollar — is exactly what Swift received in this case.
In a statement released shortly after the verdict came in, Swift expressed her satisfaction with the outcome of her trial:
"I want to thank Judge William J. Martinez and the jury for their careful consideration, my attorneys Doug Baldridge, Danielle Foley, Jay Schaudies and Katie Wright for fighting for me and anyone who feels silenced by a sexual assault, and especially anyone who offered their support throughout this four-year ordeal and two-year long trial process.
"I acknowledge the privilege that I benefit from in life, in society and in my ability to shoulder the enormous cost of defending myself in a trial like this. My hope is to help those whose voices should also be heard. Therefore, I will be making donations in the near future to multiple organizations that help sexual assault victims defend themselves."
Swift has yet to announce which specific organizations she will be donating to, but the fact that whatever donations she does make will be coming out of her own pocket — rather than from any monetary damages she might have sought from Mueller — make the gesture even more admirable.
While one dollar might have seemed like a small amount at first, it's clear that everything about this result is a major victory for Taylor Swift and women all over the world who have experienced similar injustices.