Here's Why Meghan Markle Never Actually Put On Her Favorite Fedora At Wimbeldon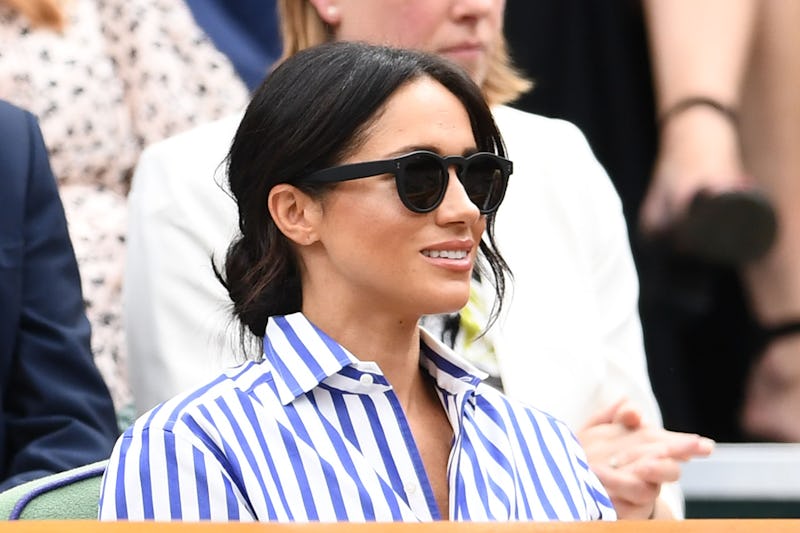 Clive Mason/Getty Images Entertainment/Getty Images
Meghan Markle attended the Wimbledon woman's final this weekend to cheer on her good friend, Serena Williams, and while she looked impeccable in her off-duty style, there were certain style rules she still had to follow even though she wasn't at an official royal engagement. Meghan Markle couldn't wear her hat at Wimbledon, but it wasn't royal protocol that barred her from doing so.
The royals have a strict set of etiquette rules they need to follow when it comes to fashion and beauty, and these protocols help them keep a streamlined and elegant image. These rules span from what kind of shoes the women could wear (the queen hates platforms and prefers them not to be worn around her), what kind of manicures they could get (only clear or light pink polishes), to how they could sit (with their ankles crossed and an egg's-width space between their back and chair.)
But it wasn't these traditional decorum rules that barred Markle from wearing her hat at the tennis tournament. Instead, it was the rules of Wimbledon.
Markle attended the women's final with her sister-in-law, Kate Middleton, making this the duchess' first outing together sans their husbands. To attend the tournament, Markle wore a crisp blue-and-white striped shirt by Ralph Lauren, and paired it with white silk pants from the same designer, making for a relaxed but elegant look.
To accessorize, she topped off the outfit with a pair of illesteva Leonard sunglasses in matte black — a pair which was named after the trendy TriBeCa street and was meant to evoke a "cool and laid-back" vibe, which is exactly Markle's aesthetic. (If you want to add this to your own sunglasses collection, you will have to wait — there's a wait list for them now, thanks to the "Markle Effect.")
Her hat, however, was a different story. Being a person who has no qualms about wearing staples from her closet more than once, Markle brought along her iconic Maison Michel straw hat to the final, but rather than wearing it, she simply carried it around with her the whole day. You might recall the hat from a couple of years ago, when Markle wore the same white panama hat to the stands in 2016.
But the reason she couldn't put the $675 hat on her head has to do with Wimbledon's rules, rather than the royal family's. There is a specific set of dress rules that the tennis tournament has for people sitting in the royal box.
"Spectators in the royal box have to follow a set of fashion rules, with guests being asked to dress smartly — and men advised to wear a jacket and tie," The Sun shared. They also ask for people not to wear hats, so they don't obstruct the view of those sitting behind them. However, fans who sit in the stands can wear their hats, as long as they're respectful and don't put one on that could obscure someone's vision.
Seeing how Markle sat in the stands two years ago when she was wearing her panama hat, it makes sense why she had to take it off in 2018, when she sat in the royal box. Before, she was a guest of Ralph Lauren's and sat in the Polo Ralph Lauren VIP Suite, and was able to wear a simple outfit of a white shirt and the wide brimmed hat. Those rules didn't yet pertain to her.
Even though Markle now has a lot more fashion rules in her life that she has to follow, she still looks amazingly stylish and is a constant wardrobe inspiration.