Here's Why The New Royal Baby Has TWO Middle Names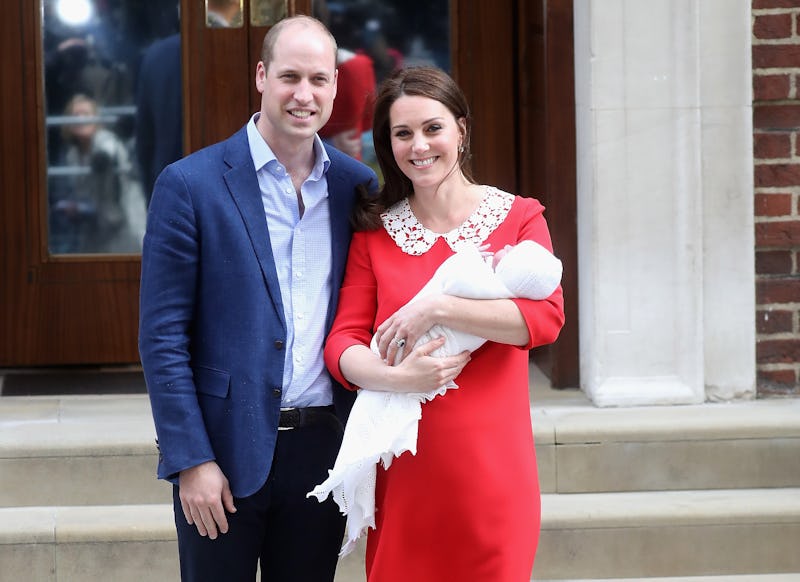 Chris Jackson/Getty Images Entertainment/Getty Images
The name of the Duke and Duchess of Cambridge's third child is finally here. Kensington Palace announced on April 27 that the prince would be known as Louis Arthur Charles. Their baby's name follows a long-standing tradition of royal names containing multiple monikers. So, why do royals have so many names? There are a couple of reasons for it.
First of all, Prince Louis's name follows a well-established family tradition of giving royals multiple names. Everyone from his father, Prince William (William Arthur Philip Louis) to his great-grandmother, Queen Elizabeth (Elizabeth Alexandra Mary) has a slew of monikers in their names. But, they don't have many names for no reason. There's actually a special reason and significance behind their long names.
For instance, all three of Prince Louis' names have ties back to his family members. His first name has some significance for William's father, Prince Charles, and his grandfather, Prince Philip. It's possible that the royal baby was named with Philip's uncle Louis, the Earl Mountbatten of Burma, in mind. Charles was especially close with the earl and referred to him as "the grandfather he never had," per Daily Mail.
In terms of Louis' middle names, Arthur and Charles, they both have obvious ties back to the family, as well. Arthur, which is what many thought the child would be named, is a middle name that the youngster shares with his father and grandfather (Charles' full name is Charles Philip Arthur George). And, of course, Louis' middle name of Charles is a direct way to honor his grandfather. So, as you can see, having so many names is just one way for the royals to honor those in their family who came before them.
However, it isn't just traditional in the royal sense, but it's also a tradition amongst those in Great Britain, as well. As BBC America noted, it's common practice to pay tribute to another relative with the child's lengthy name. The publication noted that while the royal family in particular embraces this tradition, it's also common amongst the posh-set in the country. They went on to say that British stars such as Hugh Grant (who's full name is Hugh John Mungo Grant) and Rosamund Pike (full name Rosamund Mary Ellen Pike) are just two high-profile actors who have names that embrace this naming tradition in the country. Since the royals embrace the tradition, their multiple names not only honor other family members, but they also denote their upper class standing.
As previously stated, the royal baby's name was revealed on April 27 after much speculation. Ever since the birth was announced on April 23, many were wondering what the little one's name would be and when it would be revealed. In a small break from their own tradition, the name was revealed four days following the birth. Whereas, with Louis' siblings, Prince George and Princess Charlotte, the name was revealed two days after their birth.
This only left more time for people to speculate about the prince's name. The original frontrunner for the name was Arthur (which is one of the prince's middle names), according to TMZ. Yet, some also thought, thanks to a seeming glitch on the royal family's website on April 26, that the little one's name would be Prince Albert, per People. Alas, neither option turned out to be correct, as Kensington Palace delighted royal watchers with their reveal of His Royal Highness Prince Louis of Cambridge.
Now that the young prince's many interesting and significant names have been revealed, the speculation can obviously and finally come to an end.