The Royal Wedding Vows Differ From Traditional American Vows In This Very Subtle Way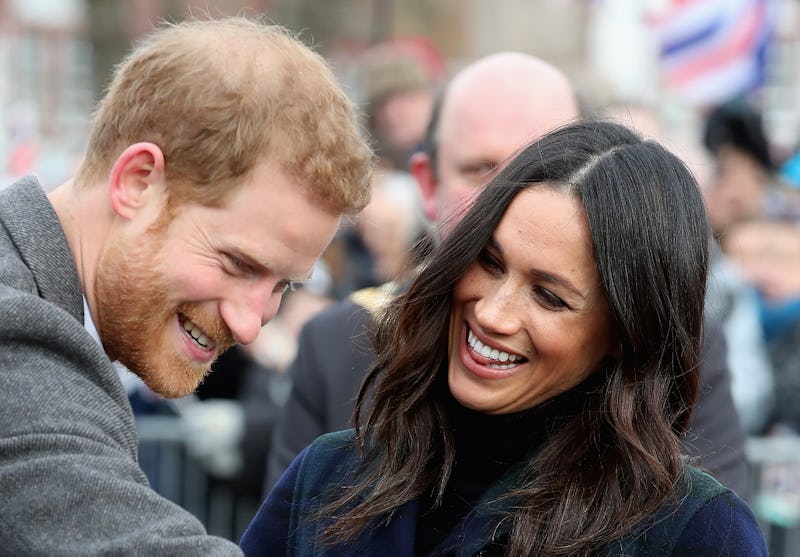 Chris Jackson/Getty Images Entertainment/Getty Images
If you're planning to watch the royal wedding live on May 19, you might be struck by one phrase in the couple's wedding vows. Prince Harry and Meghan Markle will likely say "I will" at the royal wedding, rather than the "I do" that Americans are used to. Prince William and Kate Middleton said the same phrase during their vows, so it's a good possibility that the phrase will pop up again. It all has to do with the language used in the ceremony, which veers towards the more traditional English verbiage. The royal wedding ceremony's wording is based on the Book of Common Prayer and Anglican wedding traditions, as Huffington Post notes, and it stands to reason that Harry and Markle's ceremony will feature the same text.
During Prince William and Kate Middleton's wedding, the Archbishop of Canterbury asked the couple questions using traditional phrasing like "wilt," "thy," and "thou." The way the questions were worded, the natural response would be "I will," not "I do." The Archbishop asked Prince William,
"William Arthur Philip Louis, wilt thou have this woman to thy wedded wife, to live together according to God's law in the holy estate of matrimony? Wilt thou love her, comfort her, honor and keep her, in sickness and in health, and forsaking all other, keep thee only unto her, so long as ye both shall live?"
Prince William responded, "I will," before the Archbishop moved onto similar questions for Middleton, which she also answered with "I will."
After answering the Archbishop's questions with "I will," William and Middleton recited the church's vows, promising "to love and to cherish" each other. Here's what Prince William said during the ceremony:
"I, William Arthur Philip Louis, take thee, Catherine Elizabeth, to my wedded wife, to have and to hold from this day forward, for better, for worse; for richer, for poorer; in sickness and in health; to love and to cherish, till death us do part, according to God's holy law; and thereto I give thee my troth."
The statement Middleton gave included the same vows, with the names and titles being the only difference between the two statements.
There's one portion of the ceremony in which Harry and Markle will likely break from tradition, though. The Church of England's traditional vows include a portion about a wife promising to "obey" her husband, but many modern weddings have eliminated the word, for obvious reasons. William and Middleton's ceremony didn't include the word "obey," according to Huffington Post, and Prince Charles and Princess Diana's wedding didn't, either, as ABC News reports.
Still, there have been some royal weddings in which the couple chose to keep the language about a wife promising to "obey" her husband, even after Charles and Diana's wedding in 1981. As ABC News points out, Sarah Ferguson and Princess Sophie both vowed to "obey" their husbands in their own weddings, which took place in 1986 and 1999. It's safe to guess that Markle will follow in Middleton's footsteps, though, and leave the word out of the ceremony. Markle identifies as a feminist — and she's said that Harry is a feminist, too — so it's unlikely they would choose to use the language of traditional (and outdated) gender roles in their wedding ceremony.
For American fans who aren't familiar with royal wedding traditions and the Church of England's vows, the traditional language can be a bit confusing. It may be challenging for U.S. viewers to understand, but the royal wedding is just following tradition, and that includes using English wording that's different from most wedding ceremonies that take place in the United States.