Why Does Chyna Want A Restraining Order Against Rob?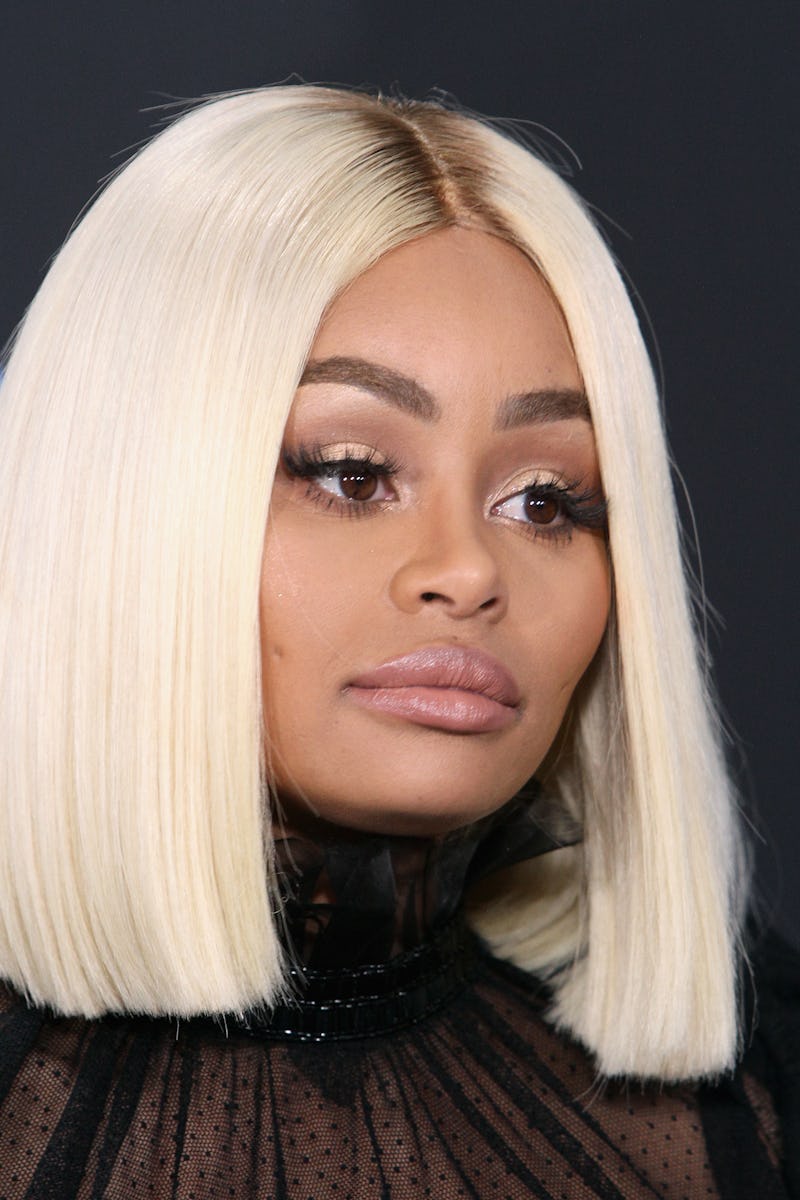 Maury Phillips/Getty Images Entertainment/Getty Images
As TMZ reported and lawyer Lisa Bloom tweeted, Blac Chyna will seek a restraining order against Rob Kardashian. In a tweet, Bloom said that she is representing Chyna and that they will be in court on Monday to seek the order. The news that Chyna wants a restraining order comes after Kardashian made several allegations about Chyna on Instagram and posted what he claimed were nude photos of her on Wednesday. Also on Wednesday, Chyna claimed that Kardashian abused her in Snapchat posts that were soon deleted. Bustle reached out to reps for Kardashian and Chyna for comment on the allegations, and to Bloom for addition information on her representation of Chyna, but did not receive a response at the time of publication.
The ugly feud between Kardashian and Chyna began on Wednesday after Kardashian posted a series of explicit nude photos on Instagram, one of which he claimed Chyna sent to him. Accompanying the photos was a disturbing tirade in which Kardashian accused Chyna of drug use while caring for their daughter, Dream, and infidelity with several men.
In a report published Friday, TMZ claimed that they have obtained legal documents in which Chyna alleged domestic violence. In a declaration, Chyna reportedly claimed that in April, Kardashian was angry and speaking badly about her in front of her son, King. When she asked him to stop, things allegedly escalated, with Rob allegedly yelling, "I can say whatever the f*ck I want!" She claims he then grabbed her phone and pushed her to the ground, "aggressively shoving me by the side of my arm and hitting me on the thigh," after which, she claims, she had bruises and could barely walk. Chyna also reportedly claimed that they have been broken up since December and that "Rob has been violent with me in the past and I am afraid to be around him." Bustle reached out to Chyna's lawyer and Kardashian's rep about this report, but did not receive a response at the time of publication.
The legal recourse that Bloom and Chyna will seek is unclear, but if the nude photos Kardashian posted are considered revenge porn, there could be legal consequences. Revenge porn is illegal in 38 U.S. states, including California and is considered explicit photos that were meant to be privately shared but were shared publicly on the internet by someone formerly in a relationship in order to shame the other person. In 2013 California governor Jerry Brown signed a law classifying revenge porn as a misdemeanor, with first offenders potentially facing a fine of $1000 and six months jail time.
In an interview with the Washington Post published before Bloom announced that she was representing Chyna, Bloom said she believes the law "clearly applies" to what Kardashian posted and said that revenge porn is "disgusting" and "an assertion of control and dominance."
TMZ previously reported that Chyna may not have a case because she allegedly "liked" the nude photos on Instagram, which could contradicts the idea that she suffered emotional distress. It is unclear if this would actually come into play in court.
Bloom, who previously represented Mischa Barton in her revenge porn case, has been tweeting about Chyna and Kardashian since Wednesday. "Revenge porn is a crime, a civil wrong, a form of domestic partner violence, and a violation of social media's terms of use. And truly sick," she tweeted on Wednesday. Another tweet reads, "I will always stand for a woman's right to control images of her own body. Doesn't matter who she is or what she has done in the past." Bloom also called Kardashian a "cyberbully," according to TMZ, and said that the case is a women's rights issue.