Are Rob's Alleged Nude Instagrams Of Chyna Legal?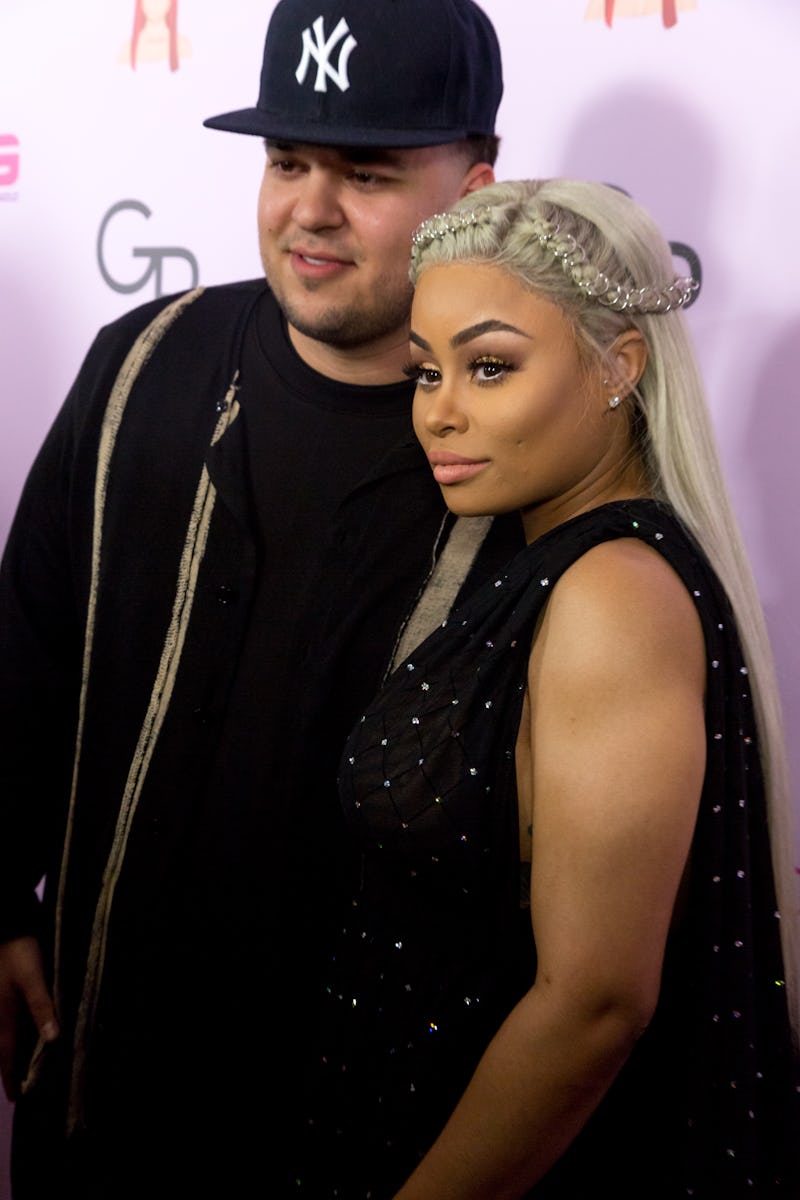 Greg Doherty/Getty Images Entertainment/Getty Images
On Wednesday morning, Rob Kardashian posted a series of Instagrams about Blac Chyna in which he made claims that she cheated on him, that she is on drugs, and that she sent him nude photos of herself the day before. He also posted nude photos allegedly of Chyna that have since been removed from Instagram either by Kardashian himself or by the platform. But are the nude photos Kardashian posted illegal? If they really are of Chyna, there is a California law that could potentially come into play here. Bustle has reached out to reps for Kardashian and Chyna for comment, but did not receive a response at the time of publication.
UPDATE: TMZ reports that Chyna allegedly "liked" the nude photos Kardashian posted (Bustle has reached out to her rep about this, but did not receive a response at the time of publication), which the site claims could prove an issue if Chyna tried to argue that they were revenge porn.
UPDATE 2: Blac Chyna's lawyer told ABC News in a statement "We are considering all legal options and recourses at this time." Bustle has reached out to Kardashian for comment, but did not receive a response at the time of publication.
UPDATE #3: Kardashian's lawyer told TMZ in a statement that Kardashian's actions were a "spontaneous reaction that he regrets" and that they will not be contesting the restraining order. "Rob's only concern is for the well-being of baby Dream," the statement finished.
EARLIER: In October 2013, Reuters reported California Governor Jerry Brown signed a state law criminalizing what is known as revenge porn. Revenge porn is considered to be when explicit photos that were meant to be privately shared are then shared publicly on the internet by someone formerly in a relationship to humiliate the other person. The measure went into effect immediately and is considered a misdemeanor for those who take and then share graphic pictures online without the consent of the individual in the images. Anyone convicted of committing such a crime could potentially face up to six months in jail and a $1,000 fine for a first offense.
According to SHouse California Law Group, revenge porn differs from the invasion of privacy. Though the two share similarities, the latter is when someone records sexual photos/videos of another individual without their knowledge or consent, unlike revenge porn, which is when someone shares nude photos of another individual who is under the impressions that such images will remain private.
In an October 2013 interview with NBC News, Holly Jacobs, who is a victim of revenge porn and the founder of the End Revenge Porn website, explained that as encouraging as the law is, there was still a big issue. According to Jacobs, the law "only addresses images taken or recorded by other individuals, which means that it fails to cover 'self-shots.'" Since that time, the law was updated to include that selfies would be included. Kardashian is alleging Chyna took the nude photos and then sent them to him.
California is one of 38 states with revenge porn laws and had its first revenge porn conviction in December 2014. At this point, it's unclear what will happen or if Chyna would be able to take legal action.
Editor's Note: A previous version of this article stated that 16 states have revenge porn laws. It has been corrected to show that 38 states have revenge porn laws.