Votes Are Still Being Counted In Several States — And That's Totally Normal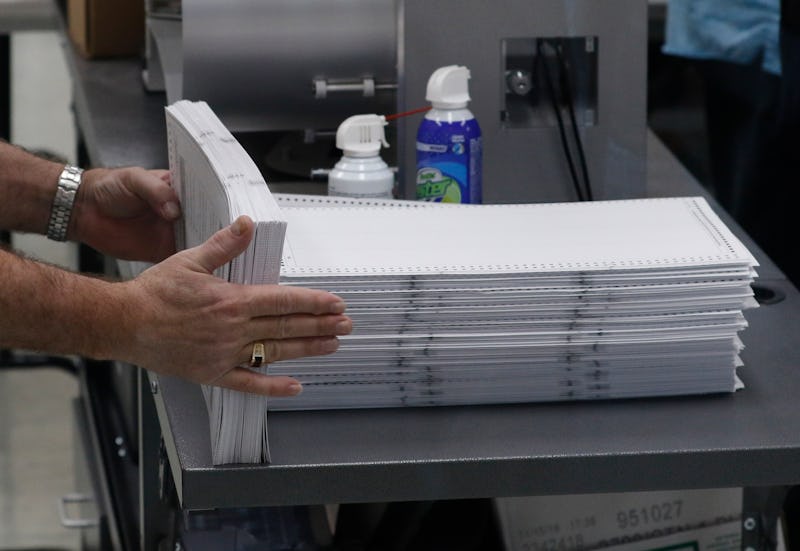 Joe Skipper/Getty Images News/Getty Images
Officially, the 2018 midterms came and went on Tuesday, Nov. 6. However, in several states there are still heated races going on, even though most of the country is basking in the newfound freedom from campaign ads and constant polling updates. After almost a week, you're probably wondering why it takes so long to count votes in elections — and actually, the 2018 midterms are a good way of explaining the many factors that keep the process going long after everyone's vote is cast.
It's easy to think of Election Day as a single-day event, but the fact is that each state has different rules regarding early voting, absentee voting, and voting by mail. In some states, absentee ballots and mail-in ballots have to be received by Election Day — and in others, they just have to be post-marked by Election Day, according to Ballotpedia.
In Arkansas, Maryland, and Ohio, for example, absentee ballots don't have to be received until Nov. 16, according to Business Insider. These ballots also sometimes arrive in a different form than the votes cast in-person on Election Day, so they might need to be hand counted by election officials. And as Vox explained, each jurisdiction has a different vote-counting system, so what seems slow in one part of the country might be totally normal in another.
The major races that America is still following now come from almost opposite sides of the country. In Arizona, Democrat Kyrsten Sinema has an expanding lead over Republican Martha McSally for Jeff Flake's Senate seat, according to USA Today. In Florida, both the Senate and governor's races are still up in the air. In Georgia, finally, Democratic gubernatorial candidate Stacey Abrams still hasn't conceded to her Republican opponent, Brian Kemp. And in each of those races, there are different factors keeping things going, according to Vox.
In Arizona, Sinema holds what her campaign manager called an "insurmountable" lead, according to the Arizona Republic. Officials are still counting the votes, though, because the process of verifying the signatures on mail-in ballots takes several days — and according to NBC News, 75 percent of the Arizona population votes by mail-in ballot.
In Georgia, Abrams continues to claim that not all of the votes have been counted, as CBS News explained, and officials are still going through ballots in some counties. The reason the race is still heated, though, is the fact that Abrams and many others in the Democratic Party claimed that Abrams' opponent, Kemp, had suppressed thousands of votes in his position as Georgia Secretary of State, according to CBS News. Currently, Kemp claims that Abrams can't make up the difference between their vote totals — but Abrams has not yet conceded.
Florida is the most hotly contested of all, because there are two major races at stake. According to CBS News, both the governor's race and the race for the Senate had a small enough difference in vote totals that they automatically went into a recount. Many states have rules like this, where small margins lead to recounts. Both Democrats and Republicans have been hurling negative claims at each other over the Florida races, as CNN wrote — but that won't stop the recounts from continuing.
In short, voting is quick and easy if you're a voter — but counting those votes isn't always so quick and easy.